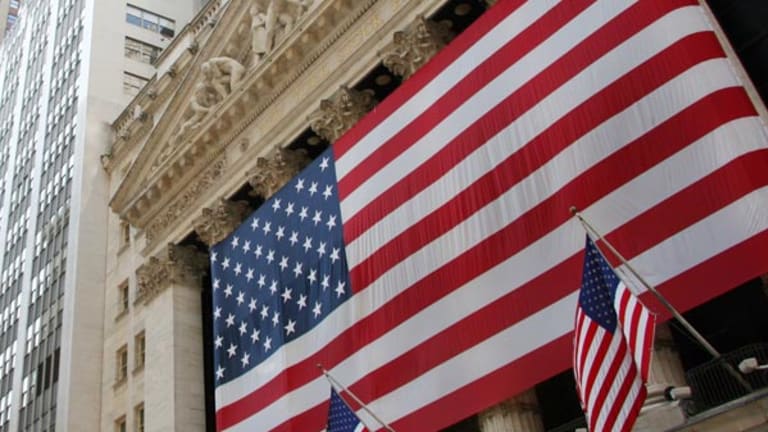 Publish date:
Stocks Start Week on Right Foot
The Nasdaq adds 1.8% as bargain-hunters and bullishness re-emerge.
The Nasdaq adds 1.8% as bargain-hunters and bullishness re-emerge.
Updated from 4:05 p.m. EDT
Stocks ended higher Monday, helped by strength in the technology and communications sectors.
After moving in and out of negative territory in early trading, the
Dow Jones Industrial Average
closed up 67 points, or 0.7%, at 9380. The
Nasdaq
finished up 33 points, or 1.8%, at 1825 and the
S&P 500
closed 10 points higher, or 1%, at 1006.
The Dow is coming off a week in which it fell 3.4%, while the S&P 500 lost 3.8% -- their worst falls in six months. The Nasdaq lost 6% over the five sessions, its worst loss in 17 months.
Monday's total volume was 1.3 billion shares on the
New York Stock Exchange
and 1.6 billion on the Nasdaq. Advancers beat decliners on both exchanges by roughly 2 to 1. The 10-year Treasury bond stayed lower all day, most recently down 16/32 to 101 16/32, yielding 4.06%.
Jim Melcher, a market strategist with Balestra Capital, said Monday's buying reflected investors' faith in stocks' prospects. "There is a lot of money on the sidelines, and people are afraid of missing the bull market," he said.
Still, too much optimism prevailed, Melcher believes. Traders were too eager to embrace news of dubious bullishness. An example was in Monday's personal spending and consumption numbers, noted Melcher. The government reported that personal consumption rose 0.2% in August, slightly less than the estimated 0.3% and July's revised 0.3% gain. Consumer income rose 0.8% last month, in line with estimates, following a 0.9% gain in July.
Although the consumption figure showed consumers continue to buy, Melcher saw the number as bad news. "It's not rip-roaring," he said, especially if the economy is supposed to be beginning a recovery.
"The glass is half full in every case, but in actuality the underpinnings of the economy are weak and haven't strengthened yet. The recession ended two years ago, supposedly," Melcher said. "Earnings growth has been in the form of cost-cutting. That doesn't mean the economy is growing."
The Nasdaq was the strongest gainer, thanks to a boost from
Intel
(INTC) - Get Intel Corporation (INTC) Report
, which closed up $1.10, or 4%, at $28.37.
Adtran
(ADTN) - Get ADTRAN, Inc. Report
added $3.58, or 6%, to $63.55.
Advanced Micro Devices
(AMD) - Get Advanced Micro Devices, Inc. Report
ended up 33 cents, or 3%, to $11.20.
Oracle
(ORCL) - Get Oracle Corporation Report
rose 23 cents, or 2%, to $11.64 after German rival
SAP
(SAP) - Get SAP SE Sponsored ADR Report
said it was losing deals in the U.S. because of Oracle's aggressive pricing, according to
Reuters
.
SAP also reportedly said that uncertainty among customers about Oracle's hostile bid for
PeopleSoft
(PSFT)
was helping to send clients its way. Separately, Oracle CEO Larry Ellison said in an interview over the weekend that he is confident the hostile bid will be completed.
Cell-phone maker
Nokia
(NOK) - Get Nokia Oyj Sponsored ADR Report
ended higher after the company was featured in a
Barron's
article saying the stock has an attractive valuation after having lagged the tech rally. The stock closed up 64 cents, or 4.2%, at $15.90.
Another strong industry was the gold sector.
Meridian Gold
( MDG) closed up 19 cents, or 1.6%, at $12 and
Glamis Gold
(GLG) - Get Bat Group, Inc. Report
finished up 17 cents, or 1.3%, at $13.01.
Freeport-McMoRan
(FCX) - Get Freeport-McMoRan, Inc. (FCX) Report
climbed $1.19, or 3.7%, closing at $33.41.
In analyst research, Deutsche Bank upgraded several chemical stocks,
Dow Chemical
,
Air Products
(APD) - Get Air Products and Chemicals, Inc. Report
and
Praxair
(PX)
, to buy from hold, saying shares are back at attractive levels after the recent pullback. Dow finished up 1.4% at $33.06, Air Products closed up 1.6% at $45.62 and Praxair gained 2.3% to $61.90.
Pep Boys
(PBY) - Get Prospect Capital Corporation 6.25 % Notes 2018-15.06.28 Report
was upgraded to outperform from in-line by Goldman Sachs. The brokerage said the company's turnaround shows potential and that higher earnings over time are possible. The stock rose $1.47, or 10.3%, closing at $15.69.
El Paso's
( EP) investment rating was also cut at Lehman, to equal weight from overweight. The brokerage believes the energy company's earnings momentum is being hurt by asset sales. Additionally, estimates could be hurt from lower gas price forecasts. The stock ended down 24 cents, or 3.3%, at $7.12.
The latest director to resign at the New York Stock Exchange was Juergen Schrempp, chairman of
DaimlerChrysler
( DCX), who said the job had become too time-consuming. Meanwhile, a story in
The Wall Street Journal
Monday said new interim Chairman John Reed will recommend the removal of securities industry executives from the exchange board. Reed takes the reins at the NYSE today.
In terms of the rest of the week, trading will likely remain choppy until Friday, when the Labor Department reports employment data for September, said Donald Straszheim, president of Straszheim Global Advisors.
Charles Ryan, equity analyst at BB&T Asset Management, also believes this week's market will be spotty because it is the end of the month and earnings season begins next week.
In economic news, consumer confidence figures will be released at 10 a.m. Tuesday, and Ryan expects the number to be in line with analysts' consensus of 80.6 vs. 81.3 last month. "If we have a number that's on the upside, it will be a huge positive for the market," he said. The Chicago Purchasing Managers Index will be released at 10 a.m. Analysts expect a reading of 57 vs. last month's 58.9.
Ryan noted that it's important to the market as a whole that capital spending pick up soon. Unfortunately, he doesn't foresee capex spending improving until toward the end of the year. "That is the one thing the market is waiting to see, and any sign is a positive," Ryan said. "The longer we go, though, the more pressure is on the market."