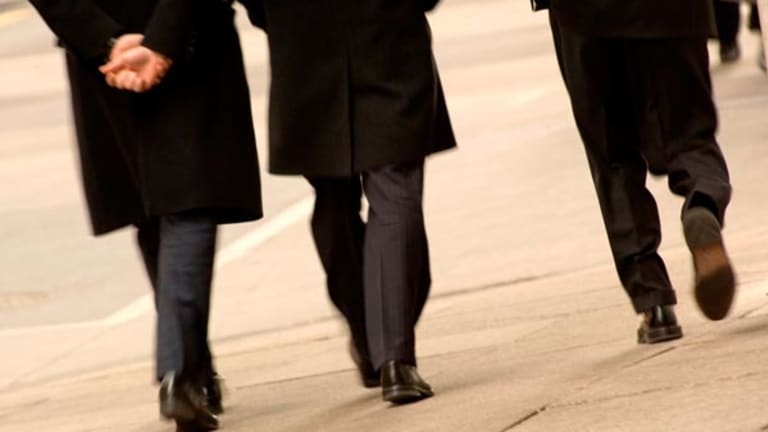 Stocks Stall as Investors Clear Out For Long Weekend
Stronger-then-expected inflation data and a speech from Federal Reserve Chair Janet Yellen fail to stir markets to action.
NEW YORK (TheStreet) -- It was a quiet end to the week on Wall Street with little changed on benchmark indexes ahead of the long Memorial Day weekend.
Even stronger-then-expected inflation data and a speech from Federal Reserve Chair Janet Yellen failed to stir markets to action. 
The S&P 500 was down 0.22% and the Dow Jones Industrial Average fell 0.29%. The Nasdaq slipped 0.03%. 
Still, although Wall Street was quiet, there was a lot to digest on Friday. The U.S. dollar showed renewed signs of life, spiking against a basket of international currencies in response to signs the Fedwill tighten interest rates as other major global economies introduce or show signs of furthering monetary stimulus.
The rise in the dollar caused West Texas Intermediate to close 1.7% lower to $59.72 a barrel. Oil was up 3 cents for the week.
Oil was also under pressure as the pace of rig closures slowed. The number of oil rigs fell by just one over the week to 659, according to Baker Hughes (BHI) data. Crude prices have faced a significant decline since last summer as demand waned and inventories overflowed.
Fed Chair Janet Yellen said in a speech in Providence, R.I., that an interest rate hike would likely come this year if the economy rebounded as expected. Yellen also said the pace of future hikes will be gradual and data-dependent. That's a message the Fed has telegraphed since the beginning of the year.
"That doesn't really narrow down the lift-off date that much," said Paul Ashworth, chief U.S. economist at Capital Economics. "Assuming that economic growth does rebound, and particularly now that there are signs of a pick-up in underlying price inflation and wage growth, we don't think the Fed can wait any longer than September."
Yellen also said the 0.2% increase in first-quarter GDP was likely due to both transitory factors and "statistical noise." The speech comes only days after the Fed released minutes from its April meeting where most Fed officials considered it unlikely the central bank would lift interest rates in June. Click here for more.
A surprisingly strong core consumer price reading also made the case for an interest rate this year, according to a strategist. U.S. core consumer prices rose at a faster pace than expected in April. Headline CPI rose 0.1%, as expected, while core prices excluding energy and food spiked 0.3%, the fastest pace since January 2013. Core prices climbed on rising shelter and medical care costs. Economists had expected core CPI to increase 0.1%.
"The stability seen in core prices has to be encouraging for those on the Fed's board who see support for a rate hike later this year," said Dan Greenhaus, chief strategist at BTIG. "While much attention is paid to Fed President Evans' dovishness, core members including Janet Yellen and Bill Dudley appear to favor raising interest rates in 2015, however modestly that rate adjustment may be. Today's data plays into thought process."
Salesforce.com (CRM) - Get Report spiked more than 2% Friday afternoon on reports Microsoft (MSFT) - Get Report held serious discussions in early spring to discuss a takeover. Talks dissolved over price, according to CNBC, with Microsoft willing to pay roughly $55 billion while Salesforce wanted as much as $70 billion.
Aeropostale (ARO) was lower after posting a first-quarter loss of 56 cents a share and revenue down 20% to $318.6 million. Both missed estimates. Comparable-store sales fell 11% compared to an expected 9.5% decline.
Gap (GPS) - Get Report was lower after missing quarterly estimates on its top- and bottom-lines. The retailer earned 54 cents a share in its first quarter, 2 cents short of forecasts, while sales fell 3% to $3.66 billion and missed expectations by $90 million. Profitability was hit by a stronger dollar, supply delays in the U.S. and soft demand for its headline brand.
Deere (DE) - Get Report was up more than 4% after reporting earnings of $2.03 a share, 48 cents higher than forecast. The heavy machinery manufacturer also raised its profit forecast, anticipating a stronger year in sales despite a pullback in the farm sector.
BlackBerry (BBRY) shares were moving higher after the company launched a buyback program to repurchase 2.6% of the float and 2.2% of outstanding shares. At current levels, that equates to 12 million shares which would cost $126 million.
Time Warner Cable (TWC) shares jumped 3.4% on talk of a bidding war over the company. Controlling shareholder of Altice, Patrick Drahi, met with Time Warner Cable's CEO Rob Marcus earlier this week to discuss a cash-and-stock takeover, according to TheWall Street Journal. Charter (CHTR) - Get Report is reportedly also talking to Time Warner Cable about an offer of greater than $170 a share. Click here for more.
Markets will be closed for the Memorial Day public holiday on Monday but will reopen and operate as normal on Tuesday. 
On the economic calendar next week, durable goods orders and new home sales for April will be released on Tuesday, weekly jobless claims and April pending home sales will be released on Thursday, while the second estimate of first-quarter GDP is scheduled for Friday. 
First-quarter earnings season has all but come to a close given more than 97% of S&P 500 companies have reported. Among the stragglers reporting next week, TiVo (TIVO) - Get Report and Workday (WDAY) - Get Report are due for Tuesday afternoon; Costco (COST) - Get Report, Michael Kors (KORS) , Tiffany (TIF) - Get Report and Toll Brothers (TOL) - Get Report will report Wednesday; Abercrombie & Fitch (ANF) - Get Report and Express (EXPR) - Get Report are due for Thursday; and Big Lots (BIG) - Get Report will report Friday.