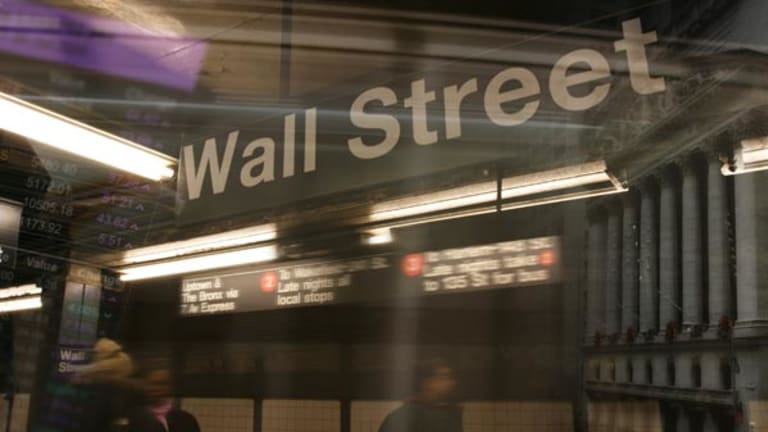 Stocks Sputter to a Weak Close
The Dow loses more than 100 points, and the Nasdaq drops 4% to its lowest point in five years.
The Dow loses more than 100 points, and the Nasdaq drops 4% to its lowest point in five years.
Updated from 4:04 p.m. EDT
Blue-chips and tech stocks saw sellers seize command in the last hour of trading Monday, and the major equity averages finished just above their lows for the session.
The
Dow Jones Industrial Average closed with a loss of 133.47 points, or 1.4%, to 9109.79. The
Nasdaq fell 59.45 points, or 4.1%, to 1403.76, and the
S&P 500 dropped 21.18 points, or 2.1%, to 968.64.
On the economic front, investors had two reports to digest. The Institute for Supply Management said manufacturing activity picked up in June, with the
purchasing managers' index rising to 56.2 from 55.7 in May, beating expectations.
Separately,
construction spending for May fell 0.7% to $852 billion on an annualized basis, the Commerce Department said. Economists were expecting a 0.1% increase, according to
Reuters
.
Industrial conglomerate
3M
(MMM) - Get Report
was doing what it could to prop up the Dow after the company raised its second-quarter earnings outlook, citing better-than-expected sales, particularly in Asia. The stock rose 3.6% to $127.40.
Battered telco
WorldCom
(WCOME)
resumed trading and subsequently fell 93% to 6 cents. It was the first time investors could buy and sell the shares since last Wednesday following disclosures of accounting fraud. During the trading day, 1.5 billion shares of WorldCom changed hands.
Consumer products and drug producer
Johnson & Johnson
(JNJ) - Get Report
and partner
Alkermes
(ALKS) - Get Report
said the Food and Drug Administration rejected their bid to market an injectable version of Risperdal, a treatment for schizophrenia. Alkermes, which makes the device for delivering the medication, plummeted 68% to $5.15, while J&J was off 3.4% to $50.50.
Investors were enthusiastic about
Tyco
(TYC)
and looking forward to the company's planned spinoff of its financial arm CIT Group this week. The offering priced after the market close at $23 a share, raising $4.6 billion. Shares of Tyco were traded up 1.8% to $13.75 ahead of the pricing.
Elsewhere, several earnings warnings, a big defense merger and the reported ouster of
Vivendi's
(V) - Get Report
embattled top executive were also in the headlines. Vivendi's chief executive, Jean-Marie Messier, reportedly agreed to resign after failing to convince board members that he could execute a viable business strategy. Investors bid shares of the French media company up 4.4% to $22.45.
Defense contractor
Northrop Grumman
(NOC) - Get Report
signed a $7.8 billion deal to acquire
TRW
(TRW)
, bolstering the company's position in satellite communications and missile systems. Northrop is offering $60 for each TRW share, a $13 increase from its original offer.
Northrop declined 5.5% to $118.19, and TRW slipped 0.7% to $56.58.
Analysts at Merrill Lynch raised their investment rating on
Comverse Technology
(CMVT)
to long-term buy from neutral, but it did little to boost shares as the stock fell 3.5% to $8.94. Meanwhile, cell-phone maker
Ericsson
(ERICY)
was trading higher on rumors that the company will make an announcement, possibly a major acquisition. Ericsson added 8.3% to $1.56.
U.S. Treasury issues were higher around 4 p.m. EDT. The 10-year note was up 6/32 to 100 25/32, yielding 4.77%. The 30-year was higher by 14/32.
Overseas markets were mixed. London's FTSE 100 rose 0.6% to 4686, while Germany's Xetra DAX lost 0.4% to 4367. Japan's Nikkei 225 fell 0.3% to 10,595. Hong Kong's markets were closed.