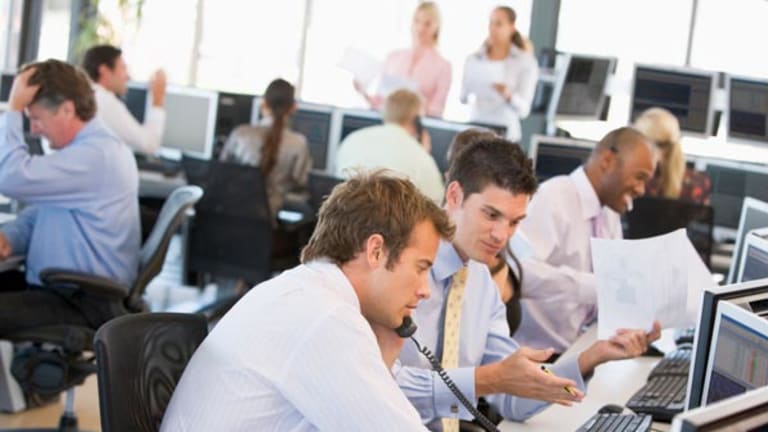 Stocks Spin Wheels
Greenspan's coming congressional testimony freezes traders.
Greenspan's coming congressional testimony freezes traders.
Updated from 4:05 p.m. EST
Looming testimony from Alan Greenspan and a lack of new earnings catalysts left stocks without direction Monday.
After edging into the green for 2005 last week, the
Dow Jones Industrial Average
fell 4.88 points, or 0.05%, to 10,791.13 Monday, weighed down by a 2% decline in
American International Group
(AIG) - Get Report
. The
S&P 500
rose 0.84 point, or 0.07%, to 1206.14, while the
Nasdaq
rose 6.25 points, or 0.3%, to 2082.91.
The 10-year Treasury bond was up 2/32 in price, yielding 4.08%, while the dollar was lower against the yen and euro. March crude futures added 28 cents to finish at $47.44 a barrel.
Volume on the
New York Stock Exchange
was 1.29 billion shares, with advancers beating decliners by a ratio of 9 to 7. Volume on the Nasdaq was 1.64 billion shares, with advancers matching decliners.
"Markets are in a holding pattern ahead of a number of economic reports coming out later this week," said Michael Sheldon, chief market strategist with Spencer Clarke LLC. "In general, the market appears to lack any real catalyst today on the upside or the downside. There's not a lot of drama to speak of."
Among other coming events, the government's retail sales numbers are released Tuesday, while
Fed
Chairman Alan Greenspan delivers his semiannual address to Congress on Wednesday and Thursday.
"Earnings season is wrapping up, and the market will focus on economic numbers," said Jay Suskind, head of institutional equity trading with Ryan Beck & Co. "The market will take a look at the macro-economy and look for direction from reports. The market is also focused on anything Greenspan says or anything he might lend with buzz words, like increasing or tightening."
In the corporate sphere,
Verizon
(VZ) - Get Report
announced a formal pact to acquire
MCI
(MCIP)
Monday for cash and stock worth $5.3 billion. MCI holders will receive total value of about $20.75 a share, including a $4.50 dividend paid by the company. Shares of MCI fell 82 cents, or 4%, to $19.93. Verizon ended down 12 cents, or 0.3%, to $36.19.
MCI's board turned down a competing offer from
Qwest
(Q)
despite a higher stated value, fearing the company's stock price is untenable. Verizon says the transaction will dilute its per-share earnings for two years. Qwest lost 17 cents, or 4.1%, to $3.98.
"Verizon's purchase continues a trend in 2005, showing that it's a very active time for M&A activity," Sheldon said. "With corporate balance sheets in very good shape, we'll probably see more M&A activity, dividend increases and stock buybacks through the rest of the year."
Insurance giant American International Group said Monday that it has received subpoenas from New York Attorney General Eliot Spitzer and the
Securities and Exchange Commission
. AIG said each subpoena relates to "nontraditional insurance products" and "certain assumed reinsurance transactions." Shares finished down $1.63, or 2.2%, to $71.49.
Brokerage CIBC upgraded shares of
Google
(GOOG) - Get Report
on Monday and set a price target of $245, more than 30% above its Friday close of $187.40. CIBC cited a strong domestic search outlook for this year and played down the danger of a 144-million-share lockup expiration Monday. Google rose $5.59, or 3%, to $192.99.
UBS was similarly bullish on
Apple
(AAPL) - Get Report
, raising its price target to $99 from $85 and boosting earnings estimates. UBS said channel checks show strong momentum that it believes will build. Apple gained $3.42, or 4.2%, to $84.63.
In other corporate news,
Smithfield Foods
(SFD)
expects fiscal third-quarter earnings of 86 cents to 87 cents a share, up from 38 cents a year earlier. The pork farmer's estimate is above the Thomson First Call consensus of 61 cents. The company will report full results March 1. Shares added $2.09, or 6.8%, to $33.00.
On Saturday,
Wal-Mart
(WMT) - Get Report
reaffirmed its expection for a 2% to 4% increase in February U.S. same-store sales.
The New York Times
also reported Saturday that Wal-Mart settled U.S. charges that it violated child-labor laws in three states and has agreed to pay a $135,540 penalty. Wal-Mart closed up 5 cents, or 0.1%, to $52.15.
General Motors
(GM) - Get Report
agreed Sunday to pay
Fiat
(FIA)
$2 billion, or 1.55 billion euros, to settle a long-running contract dispute between the two automakers. The payment prevents GM from having to purchase Fiat's loss-generating Fiat Auto unit. GM will take an after-tax charge of $840 million, or $1.49 a share. GM shares rose 10 cents, or 0.3%, to $37.24, while Fiat's were higher 39 cents, or 5.2%, to $7.96.
OfficeMax
(OMX)
said that Christopher Milliken has resigned as CEO and president and will be replaced by George Harad until the board hires a permanent replacement. Also, the company said it will release financial results on March 14, having delayed reporting earnings after an internal investigation into possible accounting fraud. Shares of OfficeMax dropped $1.73, or 5.4%, to $30.02.
Gateway
(GTW)
rose 2.9% after an upgrade from First Albany. The broker upgraded the company to buy from neutral, citing better articulation of Gateway's strategy. Shares added 13 cents to $4.62.
JDS Uniphase
(JDSU)
announced late Friday that CFO Ron Foster is resigning and will be replaced in the interim by controller David Vallequette. Foster, who will stay on with the company until March 1, gave no reason for his departure. Shares of JDS rose 6 cents, or 3.1%, to $1.97.
Taser International
(TASR)
rallied over 8% after the company announced new orders totaling $675,000. Shares finished up $1.03, or 7.6%, to $14.51.
On Tuesday, 12 companies on the S&P 500 will report earnings, including Qwest,
Applied Materials
(AMAT) - Get Report
, and
Network Appliance
(NTAP) - Get Report
, which rose $1.33, or 4.1%, to $33.87 on Monday. Economic data, including January retail sales, December business inventories, and the NY Empire State index will be released Tuesday morning.
Overseas markets were mixed, with London's FTSE 100 ending down 0.05% at 5041 and Germany's Xetra DAX closing off 0.03% to 4386. In Asia, Japan's Nikkei rose 0.7% overnight to 11,632, while Hong Kong's Hang Seng rose 1.2% to 14,017.