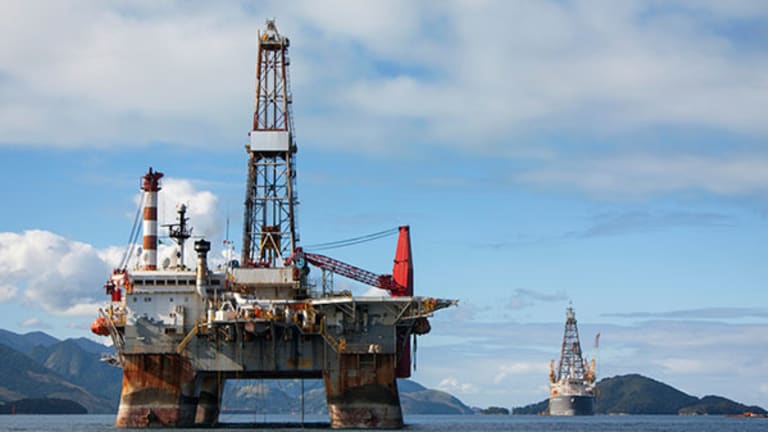 NEW YORK (TheStreet) -- Wall Street forgot about oil for a few peaceful hours Tuesday morning. Alcoa (AA) - Get Alcoa Corp. Report had kicked off earnings season on a good note and European markets surged on stimulus hopes.
The peace was short-lived, though. Volatility returned and benchmark indexes erased all gains by the afternoon session as investors hemmed and hawed over whether lower oil prices were boon or bane for stocks.
"Oil hit a tailspin again this afternoon and that's what's taken equities down. It's a case of the markets worrying about deflation now and what impact that could have on the global recovery," said Chris Gaffney, senior market strategist for EverBank Wealth Management, in a call.
STOCKS TO BUY: TheStreet Quant Ratings has identified a handful of stocks that can potentially TRIPLE in the next 12 months. Learn more.
The day's jittery movements were par for the course for a market that has whipsawed from rallies to selloffs so far this year.
Some analysts trace increasing volatility back to uncertainty over exactly what the Federal Reserve will do this year.
"The Fed [is] on the verge of going from an easing cycle to something tighter ... less easy," said Wells Fargo's Scott Wren in a call. Volatility is common "any time you're typically in that transition and you're unsure of the pace of the Fed's moves, you're uncertain as to when the timing's going to start."
The S&P 500 fell 0.44%, the Dow Jones Industrial Average fell 0.33% and the Nasdaq slipped 0.23%.
"The volatility, I think, is a market trying to figure out what the dominant theme in 2015 is going to be," added David Bechtel, principal at Barrow Funds. On the one hand, there's the possibility of a delayed rate hike on global economic sluggishness, he said, but "another one is oil has been cut in half (from $110 to $50) and people are still calculating the consequences."
West Texas Intermediate fell overnight after the United Arab Emirates reiterated it will not reduce production in the face of global oversupply and faltering demand from key regions including China and Europe.
"The strategy will not change," said UAE Oil Minister Suhail bin Mohammed al-Mazroui. "We are telling the market and other producers that they need to be rational." OPEC has been reluctant to cut output lest the member countries lose market share. OPEC will gather in June for its next scheduled meeting.
WTI was down 1.7% to $45.29 a barrel, bouncing back from losses of more than 3% earlier Tuesday. Since last summer, oil prices have dropped nearly 60%.
Alcoa, the unofficial starter of earnings season, reported fourth-quarter earnings and revenue that beat expectations after the bell Monday. The aluminum producer forecasts a 7% increase in use of the metal this year, driven by the aerospace and auto industries.
"It will be the first real chance we get to see the effect factors such as the strengthening U.S. dollar, depressed energy prices, and a global slowdown have had on individual companies," Raymond James analyst Andrew Adams said of the beginning of the earnings season. "Energy companies, which make up about 11% of S&P 500 earnings, are expected, not surprisingly, to be a major drag on the aggregate profits."
Energy companies are expected to see profits drop 19.1% year over year, according to FactSet. All S&P 500 companies' profits are forecast to increase 1.1%, its slowest pace of growth in two years on the fall in oil and a stronger U.S. dollar.
IHS (IHS) reported fourth-quarter earnings of $1.68 a share, beating estimates by 13 cents, and revenue climbed 4% year over year, while KB Home's (KBH) - Get KB Home Report quarterly revenue jumped 29%.
Amazon (AMZN) - Get Amazon.com, Inc. Report shares were up 1.3% on an upgrade to "buy" from Citigroup. "We believe Amazon's valuation represents a good risk/reward as we see valuation support near $300 and upside to at least $354 without assuming multiple expansion," analysts said.
Apple (AAPL) - Get Apple Inc. (AAPL) Report was also higher after Credit Suisse upgraded the stock to "outperform" and upped its price target. The firm said the revision was based on "sustainable iPhone volume base" and earnings momentum. Separately, a patent filed by Apple was published in which the company detailed plans to develop a sports camera system controlled by phone or watch. GoPro (GPRO) - Get GoPro, Inc. Class A Report , which creates durable cameras, tumbled more than 11%.
MetLife (MET) - Get MetLife, Inc. (MET) Report was 1.7% on news the largest life insurer in the U.S. will file a lawsuit against federal regulators in a challenge to their "too-big-to-fail" designation. The company said the tougher oversight would make its offerings more expensive with little benefit to its fiscal stability.
Philips (PHG) - Get Koninklijke Philips N.V. Sponsored ADR Report fell 2.1% following a warning that full-year earnings will be reduced by about 225 million euros. The Netherlands-based medical equipment company said the hit was due to legal charges and the impact of foreign exchange.
RadioShack (RSH) was more than 15% higher after receiving a financing offer from Salus Capital. The $500 million offer expires Thursday.
STOCKS TO BUY: TheStreet Quant Ratings has identified a handful of stocks that can potentially TRIPLE in the next 12 months. Learn more.
--Written by Keris Alison Lahiff in New York.