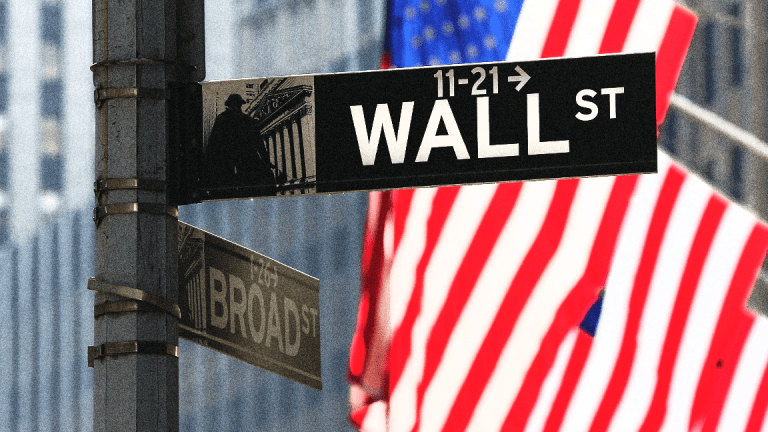 Publish date:
Stocks Just Exploded 669 Points -- Here's What You Need to Know
Stocks rise on Monday following reports the White House was ready to open dialogue with China in an effort to avert a global trade war.
Stocks rise on Monday following reports the White House was ready to open dialogue with China in an effort to avert a global trade war.
Here Are 4 Hot Things to Know About Stocks Right Now
Stocks on Monday trade higher for the first time in four days.
All three major averages closed the day up at least 2.7%, led by the Nasdaq which gained 3.26%. 
The Dow Jones Industrial Average's close on Friday, March 23, of 23,533 was its lowest since Nov. 22, 2017.
The Dow last week declined 5.67%, the S&P 500 dropped 5.95% and the Nasdaq fell 6.54%.
Wall Street Overview
Stocks bounced back in a strong way on Monday, March 26, following reports that the White House was ready to open dialogue with China in an effort to avert a global trade war that has threatened economic growth and hammered the world's financial markets
The Dow Jones Industrial Average closed the day up 669 points, or 2.84% to 24,202, while the Nasdaq rose 3.26% and the S&P 500 gained 2.72%.
Leading the Dow higher Monday were Microsoft Corp. (MSFT) - Get Microsoft Corporation (MSFT) Report  , Intel Corp. (INTC) - Get Intel Corporation (INTC) Report  , Apple Inc. (AAPL) - Get Apple Inc. (AAPL) Report and Goldman Sachs Group Inc. (GS) - Get Goldman Sachs Group, Inc. (GS) Report .
Trade officials from both Washington and Beijing reportedly were holding closed-door discussions in order to iron out terms of a bi-lateral deal that could avert a back-and-forth battle of trade tariffs and import restrictions after last week's decision by Donald Trump to target up to $60 billion in China-made goods as part of his broader "America First" economic strategy.
"As President Trump said, we're not afraid of a trade war, but that's not our objective," U.S. Treasury Secretary Steve Mnuchin told Fox News on Sunday, March 25. "We're having very productive conversations with (China). I'm cautiously hopeful we reach an agreement."
It also was reported over the weekend that U.S. and South Korean officials agreed to revise portions of their trade deal, with Seoul accepting a limit on its steel exports to the U.S. in exchange for an exemption on tariffs and a pledge to open its market to American automakers. 
Stocks finished lower on Friday, March 23, amid fears of a trade war. The Dow fell 424 points, or 1.77%, to 23,586, after losing 724 points on Thursday, March 22. For the week, the blue-chip index slumped 5.7%. The S&P 500 fell 2.10% on Friday and 6% for the week. The Nasdaq slid 2.43% on Friday and for all of last week declined 6.5%.
Shares of Action Alerts Plus holding Facebook Inc. (FB) - Get Facebook, Inc. Class A Report   were able to bounce back from earlier declines to close the day up 0.42%. The rally followed declines last week that chopped more than $50 billion from the company's market value. The Federal Trade Commission said Monday it was investigating the privacy practices of the social media giant.
Meanwhile, some of the world's most powerful CEOs called for stricter government oversight of Facebook following a data scandal that may have affected 50 million users.
Action Alerts Plus holding Apple CEO Tim Cook told the China Development Forum in Beijing over the weekend that "some large profound change is needed" in order to restore public trust in the way that personal data is collected and used by the tech industry, a view echoed by International Business Machines Corp. CEO (IBM) - Get International Business Machines (IBM) Report Virginia Rometty, who called for a new era in which "ownership of the data does belong to the creator."
The comments followed revelations that a controversial political consultancy, Cambridge Analytica, improperly obtained user data from Facebook that it may have used to help sway the 2016 elections in favor of Donald Trump.
Shares of USG Corp. (USG) soared 19.45% to $40.03 on Monday after the company's biggest shareholder, Berkshire Hathaway Inc. (BRK.A) - Get BRK.A Report , said it proposed to allow Knauf Entities to purchase all of Berkshire's USG shares at about a 25% premium.
Knauf was granted the right to purchase the shares for $42 each, which would be a 25.3% premium over USG stock's closing price on Friday. Berkshire made the announcement in a filing with the Securities and Exchange Commission on Monday.
But shortly after Berkshire made the filing giving approval for a Knauf bid, USG announced that its board unanimously rejected the Knauf offer.
"The board carefully evaluated it and determined that it substantially undervalues the company and is not in the best interests of all of USG's shareholders," USG said in a statement.
The U.K.'s JD Sports Fashion PLC agreed Monday to buy Finish Line Inc. (FINL) for $558 million, or $13.50 a share.
Finish Line shares jumped 31.09% to $13.83.
Finish Line, a retailer of athletic footwear and apparel, said Monday, "With JD, Finish Line achieves immediate value for its shareholders and moves into a stronger position to compete as part of a global enterprise that leads in our industry."
The merger is expected to close no earlier than June.
International Paper Co. (IP) - Get International Paper Company (IP) Report   closed the day up 4.43% despite Smurfit Kappa Group PLC on Monday rejecting an increased €9.5 billion ($11.76 billion) bid from International Paper, saying it undervalues the packaging materials company.
Lowe's Cos. (LOW) - Get Lowe's Companies, Inc. (LOW) Report  said CEO Robert Niblock plans to retire from the home-improvement retailer once a successor has been named. The stock rose 6.6%.
Watch all of Jim Cramer's full NYSE live shows right here: