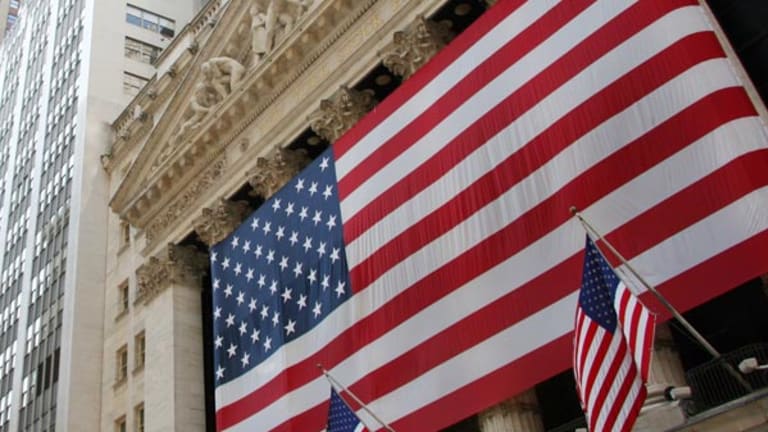 Stocks Soar as Investors Hope for China Stimulus
Stocks rebound sharply Tuesday after the long Labor Day weekend in the U.S.
Stocks rebound sharply Tuesday after the long Labor Day weekend in the U.S.
NEW YORK (TheStreet) -- Stocks rebounded sharply Tuesday after the long Labor Day weekend in the U.S.
The S&P 500 was up 1.5%, the Dow Jones Industrial Average added 1.6%, and the Nasdaq gained 1.8% in early trading.
General Electric (GE) - Get Report  maintained gains of 2% after the European Union approved its $17 billion acquisition of Alstom's power business. The approval will allow GE to go ahead with the its biggest ever deal.
In other deals news, Media General (MEG) surged nearly 10% after agreeing to acquire magazine publisher Meredith (MDP) - Get Report for $2.4 billion in a cash-and-stock deal. The combination will create the third-largest local TV station owner in the U.S.
Concordia Healthcare (CXRX) agreed to acquire niche pharmaceutical company Amdipharm Mercury from private-equity firm Cinven for $3.5 billion. The deal is expected to close in the fourth quarter.
Strategic Hotels (BEE) jumped nearly 4% after agreeing to be acquired by Blackstone Group (BX) - Get Report in a deal worth around $6 billion. Blackstone will pay $14.25 a share, a 13% premium on the intraday price in July when reports of a deal first broke.
China's Shanghai Composite closed 2.9% higher on hopes of further monetary stimulus after fresh trade data triggered more worries over the world's second-largest economy. China's exports fell in 5.5%, their second straight month of declines after a 8.3% decline in July. Imports fell 13.8%.
Separately, China's market regulators detailed plans to introduce a "circuit breaker" to rein in market volatility. Trading will be suspended if stocks swing more than 5% in any direction, while a 7% increase or decrease will close trading for the day.
U.S. markets have endured a wild ride over the past few weeks as investors fretted over the state of the global economy even as the U.S. economy continued to show signs of a robust rebound. Adding to the worry, a September rate hike from the Federal Reserve remained in play after a solid jobs report for August on Friday. The S&P 500 and Dow ended last week down 2.6%.
The Fed will meet on Sept. 16-17 to determine whether the U.S. economy is strong enough to withstand a move off of crises-level interest rates. 
Apple (AAPL) - Get Report shares jumped 2.8% ahead of its hardware event on Wednesday. The tech giant is expected to unveil the updated iPhone 6s and iPhone 6s Plus and a next-generation Apple TV line.
Bank of America (BAC) - Get Report is reportedly increasing efforts efforts to assure shareholders that CEO Brian Moynihan is suitable to also remain in his dual role as chairman. The bank has agreed to a Sept. 22 vote on the matter.
Chinese e-retailer JD.com (JD) - Get Report jumped more than 5% after announcing a share repurchase program of up to $1 billion over the next 24 months. Repurchases will be funded through the company's cash reserves.
Disney (DIS) - Get Report shares were on watch after the company expanded access to its on-demand entertainment to Amazon (AMZN) - Get Report and Microsoft (MSFT) - Get Report . The catalog is also available through Apple's iTunes and Google's (GOOGL) - Get Report Play.