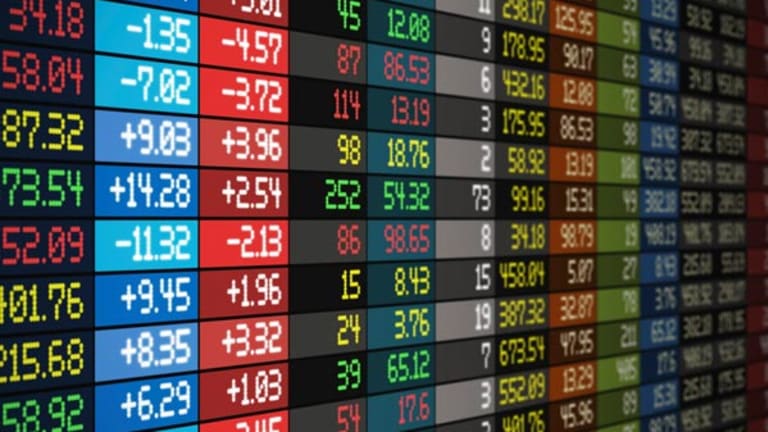 Stocks Soar 11% in Record One-Day Run
The Dow rockets 936 points, as all three major indices surge 11%-plus on an effort by central banks around the world to bolster lending. Alix Steel discusses the day in The Real Story (video above).
Updated from 4:09 p.m. EDT
Stocks in the U.S. followed the worst week in their history with an extraordinary rally Monday, as governments worldwide initiated massive emergency aid packages for struggling banks.
The global efforts resulted in an all-day rally in the three major indices, each of which climbed more than 11%. The
Dow Jones Industrial Average
soared 936.42 points, or 11.1%, to 9387.61. The
S&P 500
jumped 104.13 points, or 11.6%, to 1003.35. The
Nasdaq
rocketed by 194.74 points, or 11.8%, at 1844.25.
The massive single-day gain in the Dow marks its largest ever in terms of a closing-point rally and its fifth largest one-day gain on a percentage basis. The record run came just 11 trading days after the index registered its largest single-day point decline, a 777-point loss on Sept. 29. The rally breaks an eight-day losing streak for the Dow, but the index remains down 13.5% for the month and 29% year to date.
During the previous week, the three major indices took a severe lashing as investors worried that stagnant credit markets weren't responding to curative efforts by the U.S. and other governments. The Dow and the S&P each dropped 18%, and the Nasdaq fell 15%.
Over the weekend, central banks across the globe were initiating policies to offer liquidity to banks and bolster lending markets.
In the U.S., Interim Assistant Secretary for Financial Stability
Neel Kashkari
said Monday that the Treasury Department had enlisted law firm Simpson Thatcher to advise it on a plan to buy equity positions as a measure in its $700 billion relief package for financial firms.
The U.K. also announced a plan to inject capital into three of its struggling banks.
Royal Bank of Scotland
(RBS) - Get Royal Bank of Scotland Group plc Sponsored ADR Report
,
Lloyds
(LYG) - Get Lloyds Banking Group plc Sponsored ADR Report
and
HBOS
will get up to $63 billion in government support, the
said.
Royal Bank of Scotland jumped 33% to $1.93. Lloyds slipped 2.6% to $12.17.
The leaders of European nations announced that they would engage in a coordinated bailout package for the 15-member Eurozone, and European central banks said they would provide dollar liquidity to banks as needed. The program, with participation from France, Germany, Spain, the Netherlands and Australia, amounts to a $1.8 trillion commitment to guarantee bank loans and buy equity positions in financial firms.
Meanwhile, the
Federal Reserve
said it would offer unlimited dollar funding to swap facilities with several European central banks to meet increasing demand.
According to a report by
Bloomberg
,
Treasury Secretary Henry Paulson
was looking into a U.S. program to guarantee debt issued by domestic banks following the significant intervention by European governments.
Paulson called an afternoon meeting with key U.S. banking chiefs. According to the
Journal
, the
Treasury Secretary
invited Ken Lewis of
Bank of America
(BAC) - Get Bank of America Corp Report
, Jamie Dimon of
JPMorgan Chase
(JPM) - Get JPMorgan Chase & Co. (JPM) Report
, Lloyd Blankfein of
Goldman Sachs
(GS) - Get Goldman Sachs Group, Inc. (GS) Report
, John Mack of
Morgan Stanley
(MS) - Get Morgan Stanley (MS) Report
and Vikram Pandit of
Citigroup
(C) - Get Citigroup Inc. Report
.
The cost of borrowing appeared to relax slightly, as three-month dollar Libor fell 6.6 basis points to 4.75%. Overnight Libor rates were not assessed as U.S. bond markets were closed in observance of Columbus Day.
Officials are beginning to move with more urgency this week, Doreen Mogavero, CEO and president of Mogavero Lee, wrote in an email. She said she anticipates disappointments as companies report third-quarter earnings and lower guidance.
"I expect lots of volatility for a while and average volume ... barring news situations. I do feel better today than last week, and I think everyone does," wrote Mogavero. She said that although the global economy is on a road to recovery, there will still be bumps on the way.
After massive declines like the ones seen last week, traders are eventually going to jump in on the buy side to take advantage of lower prices, said Tony Dwyer, equity strategist at FTN Midwest Securities. He also said that the equity markets are hoping that actions by central banks are unfreezing credit markets. "Obviously it's working overseas," he said.
Whether stocks can continue rising depends on improvement in the U.S. Treasury bond markets, said Dwyer. "It's all about the credit market," he said.
In company news, mergers and equity investments were dominating the headlines. Japanese bank
Mitsubishi UFJ
(MTU)
closed a deal with
(MS) - Get Morgan Stanley (MS) Report
to buy a 21% stake in the U.S. bank holding company. Shares of Morgan Stanley skyrocketed 85% to $17.92, while Mitsubishi climbed 15% to $7.68.
Meanwhile,
Banco Santander
( STD) said it may acquire all of troubled U.S. thrift
( SOV). Banco Santander tacked on 11% to $14.50, and Sovereign dropped 3.4% to $3.68.
The Fed said it had cleared the way for
Wells Fargo's
(WFC) - Get Wells Fargo & Company Report
purchase of
Wachovia
(WB) - Get Weibo Corp Sponsored ADR Class A Report
. Wells added 7.4% to $30.40. Wachovia was up 14% to $5.85.
Outside the financials,
General Motors
(GM) - Get General Motors Company (GM) Report
was in discussions with
Cerberus Capital Management
to buy
Chrysler's
automotive operations, according to published reports. Cerberus owns an 80% stake in
. GM shares climbed 33% to $6.51.
Waste Management
( WMI) announced it was backing away from its $6.73 billion bid to take over fellow trash hauler
Republic Services
(RSG) - Get Republic Services, Inc. Report
. Waste Management shares added 18% to $30.39, and Republic Services rose 8.9% to $24.50.
In analyst actions, Goldman Sachs predicted that the S&P 500 would climb 11% to reach 1000 at the end of the year. There's a high probability of a rally, Goldman said, but the rebound would not mark the beginning of a new bull market.
Merrill Lynch also upgraded Royal Bank of Scotland and German bank
Commerzbank
to buy from neutral.
Barclays
(BCS) - Get Barclays PLC Sponsored ADR Report
,
Credit Suisse
(CS) - Get Credit Suisse Group AG Sponsored ADR Report
and
Allied Irish Bank
(AIB)
got bumped to neutral from underperform. Merrill said it revised its ratings on the banks based on valuation.
Among technology shares, Friedman Billings reduced price targets on a wide array of technology companies, including
Microsoft
(MSFT) - Get Microsoft Corporation (MSFT) Report
,
McAfee
( MFE) and
Adobe Systems
(ADBE) - Get Adobe Inc. Report
.
In terms of breadth, advancers beat decliners 16-to-1 on the
New York Stock Exchange
. On the Nasdaq, advancers outnumbered decliners 6-to-1.
As for commodities, crude oil settle $3.49 higher at $81.19 a barrel, and gold was lower by $16.50 at $838.50 an ounce.
The market for U.S. Treasury securities was closed. The dollar was falling substantially vs. the euro and pound but rising against the yen.
Europe's exchanges, such as the FTSE in London and the Dax in Frankfurt, were trading higher. In
, Hong Kong's Hang Seng gained 10%. Japan's Nikkei was closed for a holiday.