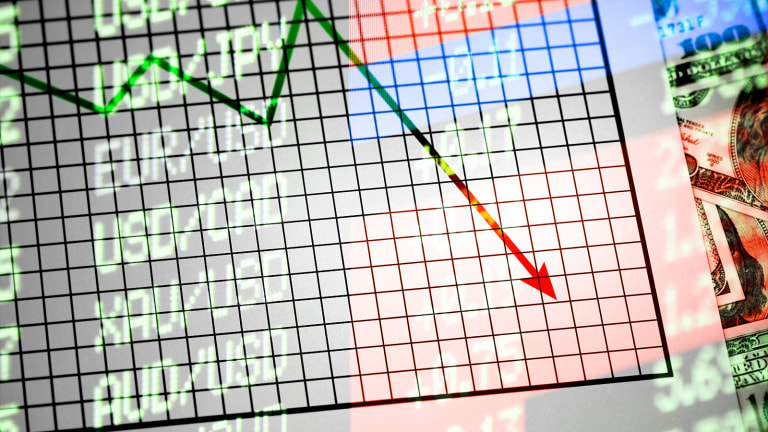 U.S. Futures Rise 1%; Asian Stocks Mixed After Tuesday's Failed U.S. Rally
Asian stocks were mixed Wednesday after a big rally in U.S. markets collapsed and left stocks lower. U.S. futures are rising more than 1%.
NEW YORK (TheStreet) -- Asian stocks closed mixed Wednesday after a big rally in U.S. markets collapsed and left stocks lower. U.S. stock futures are rising anew, though, with S&P 500 futures up 1.4%, Nasdaq futures jumping 1.33% and Dow futures heading 1.3% higher.
Most Chinese indices extended losses despite Tuesday's rate cut and relaxation of banks' reserve requirements. The Shanghai Composite index closed down 1.27% at 2,927.29. In Hong Kong, the Hang Seng closed down 1.52% at 21,080.39.
But in Tokyo, stocks defeated a six-day losing streak. The Nikkei 225 jumped 3.2% to close at 18,376.83 and the Topix moved in tandem to close up 3.23% at 1,478.97.
Meanwhile, investors resumed their selloff of European stocks on Wednesday. In London, the FTSE 100 struggled to stay over the 6,000 mark and by late morning was down 1.34% at 5,999.81. In Frankfurt, the DAX fell 1.12% to 10,015.17, and in Paris, the CAC 40 was down 1.16% at 4,507.55.
In U.S. markets Tuesday rally momentum faded in the final hour of trading after a promising morning that wiped out the losses of "Black Monday."
"This is typical after a wild swing we had" on Monday, Peter Cardillo, chief market economist at Rockwell Global Capital, told CNBC on the step back from highs. "It's just going to take some time for confidence to rebuild in the market."
In U.S. trading Tuesday, the S&P 500 slipped 1.3%, and the Dow Jones Industrial Average closed down 1.3%, or 205 points, while the Nasdaq fell 0.44%. Benchmark indices had each traded more than 2% higher earlier in the day. 
Still, many believe the massive losses on Monday may have been an overreaction and that a potential rebound could still be in play. 
"The response looks to be completely out of proportion with the economic fundamentals in both countries," Capital Economics economists wrote in a note on Monday's selloff. "Since exports to China account for only 9% of the total and 1.2% of U.S. GDP, even in the unlikely event that China did suffer a hard landing, the impact on the U.S. economy would be muted." 
The Dow remained in correction territory, having dropped 14.5% from its May record. The S&P 500 re-entered a correction, down 12.2% from its May record. The Nasdaq also entered a correction after falling 10.9% from its April high.
High-momentum tech stocks hit hard on Monday clawed back from those losses. Netflix (NFLX) - Get Netflix, Inc. (NFLX) Report , Apple (AAPL) - Get Apple Inc. (AAPL) Report , Amazon (AMZN) - Get Amazon.com, Inc. Report , and Facebook (FB) - Get Facebook, Inc. Class A Report were all more than 2% higher. The Technology SPDR ETF (XLK) - Get Technology Select Sector SPDR Fund Report jumped 2.6%.
The People's Bank of China helped to ease concerns over China's economic future after its latest attempt to revive growth. The central bank cut its benchmark interest rates and deposit rates on Tuesday by a quarter of a percentage point to reduce the cost of corporate borrowing.
Nonetheless, news of the actions came too late to boost China's stock market as the Shanghai Composite tumbled 7.6% on Tuesday, extending losses following a drop of more than 8% a day earlier.
To the U.S. economy, consumer confidence in August jumped to its second-highest level since the end of the recession. The Conference Board's index climbed to 101.5 in August, far higher than an expected reading of 94. The index climbed to 92.5 from 82.3 in July, driven primarily by an improving labor market.
The U.S. housing market continued to improve at an assured pace. New home sales rose 5.4% to an annual rate of 507,000 in July. However, the increase was less than an expected jump to 516,000 after a reading of 481,000 in June.
Crude oil made a comeback on Tuesday after closing below $39 a barrel for the first time since 2009 on Monday. West Texas Intermediate rose 2.7% to $39.28 a barrel.
In earnings news, Best Buy (BBY) - Get Best Buy Co., Inc. Report rocketed 12.6% higher after net income of 49 cents a share soared past estimates of 34 cents. Same-store sales rose 3.8%, well above forecasts of 0.9% growth, driven by a 2.7% increase in domestic sales.
DSW (DSW) - Get Designer Brands Inc. Class A Report fell 11.4% after the shoe retailer reported a mixed quarter. Second-quarter earnings of 42 cents a share was in-line with estimates, while sales of $627 million climbed 6.8% but missed expectations by $10 million.
BHP Billiton (BHP) - Get BHP Group Ltd Sponsored ADR Report added 2.3% despite posting its worst annual profit in a decade. The Australian mining company earned $6.4 billion over its fiscal year, down 52% from a year earlier and well below estimates of $7.5 billion.