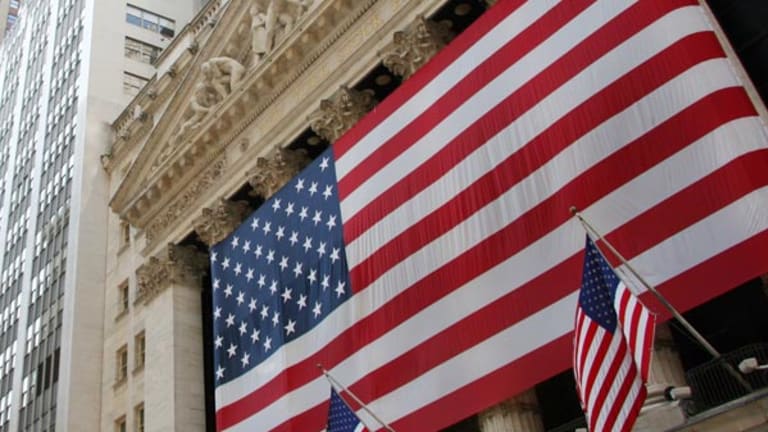 Publish date:
Stocks Remain at Lows as Crude Closes Below $33
Stocks hover near lows by midday Tuesday as another slump in crude oil prices pressures the energy sector.
Stocks hover near lows by midday Tuesday as another slump in crude oil prices pressures the energy sector.
Stocks hovered at lows by mid-afternoon Tuesday as another slump in crude oil prices pressured the energy sector. 
The S&P 500 was down 1%, the Dow Jones Industrial Average fell 1%, and the Nasdaq slid 1.1%.
Commodity traders were growing impatient over negotiations among members of the Organization of Petroleum Exporting Countries on Tuesday. Saudi Arabia's oil minister said producers will convene again in March to negotiate a production freeze. Negotiations have been ongoing since last week as oil producers face a global oversupply crisis. WTI crude fell 3.8% to $32.11 a barrel.
The energy sector was the worst performer Tuesday. Major oilers Exxon Mobil (XOM) - Get Report , PetroChina (PTR) - Get Report , Royal Dutch Shell (RDS.A) , Chevron (CVX) - Get Report  and Total (TOT) - Get Report were lower, while the Energy Select Sector SPDR ETF (XLE) - Get Report fell 2.8%. 
Lower oil prices continued to hurt major energy companies. BHP Billiton (BHP) - Get Report fell more than 5% after cutting its dividend for the first time in 15 years as profits declined. The mining giant had said that action would be unlikely six months ago, though a continued rough commodities environment had made it necessary. The company said it had suffered a $5.67 billion loss in the first half to its fiscal year.
The latest reading on consumer confidence came in at the lowest level in seven months. The consumer confidence index fell to 92.2 in February, its lowest level since July, down from a revised reading of 97.8 in January, the Conference Board said. Economists had expected a reading of 96.9. Consumers grew more anxious over general business conditions over the month.
"After maintaining momentum in January, the volatility in equity markets appears to have adversely affected consumers' assessment of the current economic landscape," Wells Fargo analysts wrote in a note.
The number of home sales for properties already built climbed in January at their highest pace since 2007. Existing home sales rose 11% from a year earlier to a seasonally adjusted rate of 5.47 million, according to the National Association of Realtors. Analysts had expected a rate of 5.3 million.
In a separate reading on housing, U.S. home prices remained steady in December with half of the 20 cities studied showing increases, according to the Case-Shiller 20-City Index. Prices rose much faster from 2015, jumping 5.7% over the full 12 months. Portland, San Francisco and Denver enjoyed the largest gains, while prices in Washington, D.C., climbed just 1.7%. 
Viacom (VIA.B)  spiked more than 1% after Chairman Phillipe Dauman said he is in "substantive discussions with a select group" of possible investors to sell a minority stake in its Paramount movie studio. The company is targeting an agreement by the end of its fiscal third quarter, around the middle of this year. 
Macy's (M) - Get Report climbed 2.6% after breezing past fourth-quarter estimates. The retailer earned an adjusted $2.09 a share in its holiday quarter, above estimates of $1.89. Revenue fell to $8.9 billion from $9.4 billion a year earlier, though came in above estimates of $8.8 billion.
United Technologies shares fell 1% after the aerospace company confirmed it talked with Honeywell (HON) - Get Report about a merger. However, the company said negotiations stalled after the two recognized that regulatory obstacles would prove "insurmountable."
Home Depot (HD) - Get Report added 1% as demand in the home-improvement space remained robust. The retailer said U.S. same-store sales rose 8.9% in its fourth quarter and that revenue of nearly $21 billion topped estimates. Home Depot raised its quarterly dividend 17% to 69 cents a share.
Toll Brothers (TOL) - Get Report moved slightly lower on a disappointing first quarter. The homebuilder earned 40 cents a share over the quarter, missing estimates by a penny. Expectations were likely high given the strength of the housing market in recent quarters.
Fitbit (FIT) - Get Report slumped 20% after its first-quarter guidance came in far weaker than analysts had expected. The fitness tracker company said it expects sales no higher than $440 million, falling short estimates of $484.4 million. The company warned that new product sales including its Apple-competing smartwatch would weigh on results.