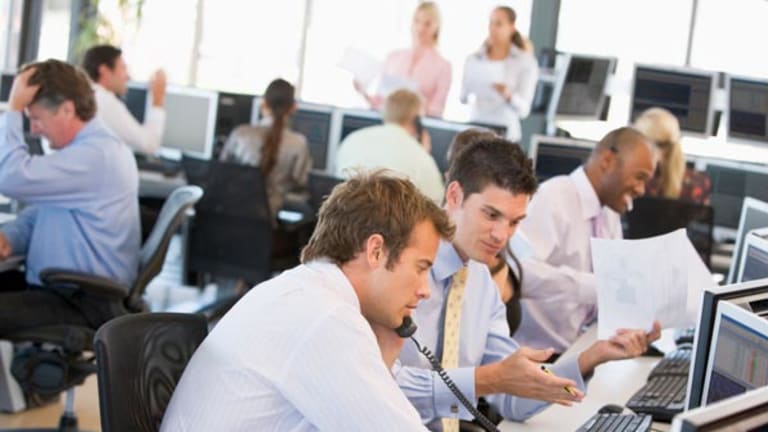 Stocks Slip on Jobs Data
Nonfarm payrolls grew by just 112,000 in June, defying expectations.
Updated from 4:06 p.m. EDT
Stocks fell for the second day in a row Friday after the government's jobs report for June came in well below expectations and traders used another round of weak second-quarter earnings guidance to back off positions going into the long Independence Day weekend.
The
Dow Jones Industrial Average
dropped 53.76 points, or 0.52%, to 10,280.40; the
S&P 500
closed down 3.84 points, or 0.34%, to 1125.10; and the
Nasdaq
was down 9.40 points, or 0.47%, to 2006.15. The 10-year Treasury bond rallied after the employment report, gaining 27/32 in price and sending the yield down to 4.46%. The dollar fell against the euro but gained on the yen.
Volume was particularly light before the weekend, approaching only 1.1 billion shares on the
New York Stock Exchange
where advancers held a 2-to-1 majority over decliners. On the Nasdaq, nearly 1.2 billion shares changed hands, and decliners had about a 5-to-4 edge.
Tech stocks led declines, with the Philadelphia Semiconductor Index ending down almost 2.1%.
"The country will be more on guard during these patriotic holidays than other normal days," said Robert Pavlik, portfolio manager at Oaktree Asset Management. "Traders are taking the position that they don't want to be long into the weekend, but that gives regular long-term investors a chance to step in and pick up some bargains."
On the economic front, the U.S. added 112,000 new jobs to nonfarm payrolls in June, down from Wall Street's consensus estimate of 250,000 and below May's downwardly revised addition of 235,000 jobs. The unemployment rate held steady at 5.6% as expected, and hourly earnings grew by 0.1%, down from the previous estimate of 0.3%. Also, the average work week shortened to 33.6 hours from 33.8 hours.
"This is a very interesting 'good news/bad news' report," said Barry Ritholtz, chief market strategist with Maxim Group. "On the one hand, this doesn't appear to be an economy that's in danger of overheating anytime soon. But, while we've said that the Fed is behind the curve on raising interest rates, the data, at the very least, call the sustainability of the recovery into question.
"I don't want to say the economy is fragile here, but this is not a rip-roaring type of expansion," Ritholtz added. "You don't want to see it get too hot, so that the Fed has to crank up rates too fast, but you also don't want to see things soften to the point where the expansion stops and reverses. I'd like to see a little more vigor in the economy, but you can't put too much stock in one month's data, so now we're back on job watch for another 30 days."
Vincent Ambrose, trader at Fox Investments, took a more optimistic view of the report. "The nonfarm payrolls is still a good number; it's just that consensus estimates were too high," he said. "This may not bode well for stock trading in the near term, but now bond yields are lower again, so the threat of higher interest rates that we've had for the last couple of weeks has gone away.
"I don't think this really hurts the equity markets one bit," Ambrose added. "No one wants to take a position before this three-day weekend, but next week, people will start looking at strong earnings and equities will do OK. I think we'll make new highs in the stock market soon."
Separately, the government said factory orders dipped less than expected in May, by 0.3% compared to the consensus estimate of 0.7% and April's revised drop of 1.1%.
Oil prices, which had a brief spike Thursday that contributed to the selloff in stocks, were easing Friday morning, with Nymex crude for August delivery closing down 39 cents, or 1%, at $38.35. Traders chalked up Thursday's jump to buying by speculators who considered the commodity oversold after futures fell to a two-month low earlier in the week.
All the major stock indices ended lower during a week that began with the surprise early handover of sovereign powers to a new Iraqi government, then later saw the Fed's decision to raise rates by a quarter-point as expected, and was capped off by the disappointing employment news. The Dow dropped 0.9%, leaving it with a two-week losing streak; the S&P closed down 0.8%, finishing its third losing week in a row; and the Nasdaq lost nearly 1%.
Profit warnings from tech companies caused the most damage on Thursday. Warnings from
Emulex
(ELX)
,
Amkor Technologies
(AMKR) - Get Amkor Technology, Inc. Report
and
Iona
(IONA)
, combined with a
Yahoo!
(YHOO)
downgrade took the Nasdaq Composite 1.6% lower and cut 101.3 points out of the Dow in a single day.
That trend continued Friday, with software giant
Sybase
(SY) - Get So-Young International, Inc. Sponsored ADR Class A Report
saying second-quarter earnings and revenue would trail estimates because of weak North American sales. Sybase sees revenue of $188 million to $192 million and pro forma earnings of 17 cents to 20 cents a share. Analysts were looking for revenue of $198.6 million on earnings of 24 cents a share. The stock closed off $1.90, or 10.7%, to $15.77.
Another key technology supplier, disk-drive maker
Maxtor
(MXO)
, expects to lose between $40 million and $50 million, or 16 cents to 20 cents a share, in the second quarter, well wide of analysts' estimates. Maxtor also expects second-quarter revenue of $820 million to $825 million -- below current estimates of $953.8 million. Its stock closed down 17 cents, or 2.6%, to $6.30.
eSpeed
(ESPD)
, which runs a platform for electronic bond trading, said fierce competition and weak overseas results will leave second-quarter earnings and revenue below estimates. The company expects to report operating earnings of 15 cents to 16 cents a share on revenue of $42 million to $43 million in the three months to June 30. Analysts had been forecasting earnings of 20 cents a share on revenue of $46.4 million. Its stock closed off $4.56, or 26.1%, to $12.90.
Also, shares of
Apple Computer
(AAPL) - Get Apple Inc. (AAPL) Report
lost $1.30, or 4%, to $31 after the company said it would delay the release of the next version of its popular iMac personal computer.
Overseas markets closed lower, with London's FTSE 100 down 0.4% to 4407 and Germany's Xetra Dax off 0.8% to 4004. In Asia, Japan's Nikkei fell 1.5% to 11,721, while Hong Kong's Hang Seng slid 0.5% to 12,220.
The markets will be closed Monday in observance of Independence Day. Action will return Tuesday with the Institute for Supply Management's report on economic activity in the services industries due out at 10 a.m. EDT. The ISM services index is expected to have dipped to 65 in June from its May reading of 65.2.
No major earnings announcements are expected Tuesday, but the second-quarter earnings season will begin Wednesday with quarterly reports due from Yahoo! and
Alcoa
.