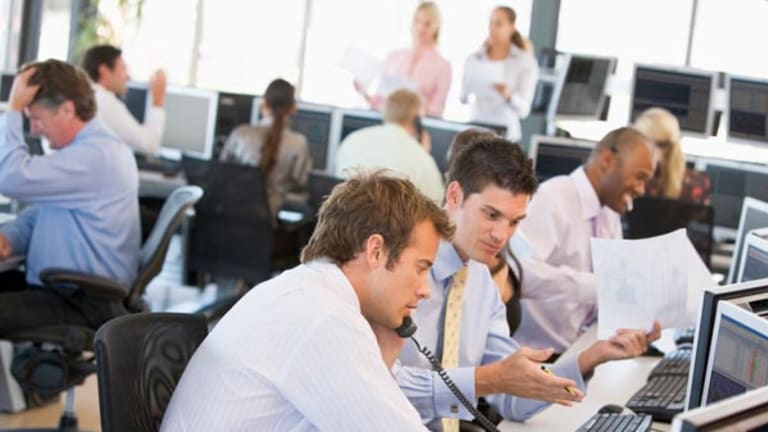 Stocks Are Lower; Humana Rockets Higher on Deal Reports
Stocks are modestly lower on the final trading day of May as investors shift their attention to the jobs report for May out in a week.
NEW YORK (TheStreet) -- Stocks were modestly lower on the final trading day of May as investors shifted their attention to next week's jobs report for May.
The S&P 500 fell 0.47%, the Dow Jones Industrial Average slipped 0.47%, and the Nasdaq declined 0.43%.
Economists hope to see continued strength in the labor market, proof that March's disappointing number was an aberration in a weak first quarter. 
The data "will go a long way toward helping validate if the Federal Reserve is correct in its assumption that a lot of the things that negatively impacted the first quarter were transitory," said Eric Wiegand, senior portfolio manager at U.S. Bank.
Economists expect the economy to add 210,000 jobs in May with the unemployment rate remaining unchanged at 5.4%. Hourly earnings are forecast to increase 0.2% month on month. The Labor Department will release the data on Friday, June 5.
First-quarter gross domestic product, originally seen up 0.2%, was revised down to negative 0.7% in a second estimate. The contraction was slightly narrower than economists had expected, though marked a stark reminder of how bad economic growth truly was at the start of the year.
The value of inventories increased by $95 billion, down from a previously estimated increase of $110.3 billion. Exports fell 7.6%, while imports were revised up to 5.6% from 1.8%, leading to a larger trade deficit which reduced GDP.
Economists expect the economy to bounce back in the latter half of the year, and second-quarter data including monthly housing figures support this. Second-quarter GDP is expected to rise 3%.
"Second estimates of GDP are generally "old news" and today's report falls along those lines," said BTIG Research chief strategist Dan Greenhaus. "The Fed, market participants and just about everyone believes first-quarter issues were transitory in nature and as such, a revision into negative territory is unlikely to affect the broader debate."
Humana (HUM) - Get Report shares jumped 19.3% following a report in The Wall Street Journal that the health insurer was considering a sale.
American Express (AXP) - Get Report President Ed Gilligan died on Friday after becoming suddenly ill on a flight to New York. American Express Chairman and CEO Kenneth Chenault broke the news in a letter to employees and contractors. 
United Rentals (URI) - Get Report dropped after analysts at Bank of America downgraded the equipment rental company to "underperform" from "neutral." Analysts said pricing power continues to be pressured by the collapse in crude oil prices. Click here for more.
Intel (INTC) - Get Report was higher after reportedly nearing a deal to buy Altera (ALTR) - Get Report, according to the New York Post, adding further fuel to reports of deal negotiations between the two companies. Intel could offer Altera $15 billion, a deal that would value Altera shares at $54, a 15% premium to Thursday's close. Intel shares rose more than 1% on Friday, while Altera increased 4.4%. Click here for more (paywall).
GameStop (GME) - Get Report jumped 7.3% after beating analysts' estimates on its top- and bottom-lines. The company earned 68 cents a share, 10 cents higher than expected, while sales increased 8.1%.
Splunk (SPLK) - Get Report tumbled 5.1% after reporting a wider-than-expected loss of 57 cents a share in its first quarter. Analysts had expected the software developer to report a loss of 43 cents a share.
Snapchat is reportedly in the process of raising $650 million in a new round of financing. That would value the app developer at $16 billion, according to CNBC.
Syngenta (SYT) shares were on watch as the company reportedly builds its defenses against another potential takeover bid from Monsanto (MON) . The agricultural company had added UBS as its adviser alongside Goldman Sachs as it prepares for a higher bid than the $45 billion offer it previously rejected.
Chicago PMI fell to 46.2 in May from 52.3 in April, the lowest reading since February. Economists had expected the measure to hover at 53.1 in May after new orders recorded their largest monthly swing in more than 30 years in April.
"The disappointing performance in the Chicago PMI report has injected some concern that the US economic recovery may still be struggling to move beyond the first-quarter soft patch, and the weak tone suggests the the drag on growth may have extended beyond the temporary impact from the bad weather and East Coast port shutdown," said Millan Mulraine, deputy head of U.S. strategy at TD Securities.
Stocks closed only slightly lower Thursday, recovering from heavier losses sustained earlier in the day. Crude oil, which had been pressured earlier in the session, reversed course by the afternoon and closed higher. Click here for more.
Though lower for the day, Wall Street was on track to close May in the green, a surprise for those who subscribe to the "sell in May and go away" philosophy. At current levels, the S&P 500 will close with gains of 1.5%, the Dow will add 1.3%, and the Nasdaq will climb 3.1%.