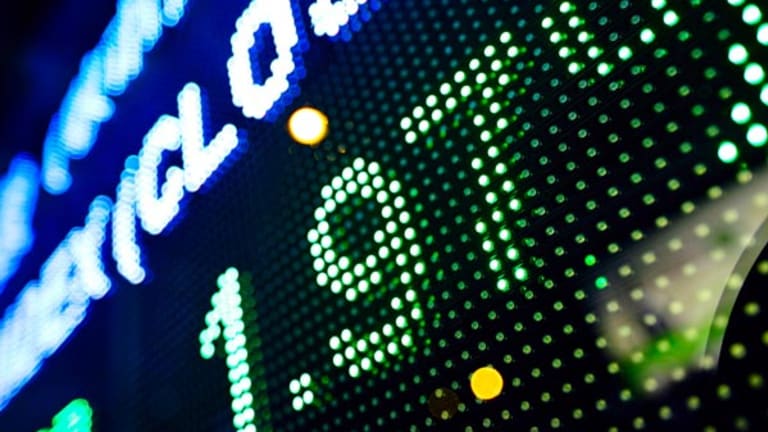 Stocks Sell Off on Fed Jitters; Oil Rallies as Yemen Fights Intensify
Stocks are lower in a volatile trading session on Wednesday.
NEW YORK (TheStreet) -- Markets lost their bottom by the afternoon session Wednesday in volatile trading amid uncertainty over the Federal Reserve's rate plans. 
The S&P 500 dropped 1%, the Dow Jones Industrial Average fell 1.2%, and the Nasdaq slid 1.9%.
"It's jitters as to the Fed rate hikes and kind of the divergence in central bank policy ... This year we're going to see more volatility than we've seen in the last three or four years," said Luis Gonzalez, managing director of Snowden Lane Partners, in a call.
Benchmark indexes have whipsawed from near-record highs and back into the red over the past week since the Fed removed its "patient" language from its policy statement and reiterated data dependence.  
"If you were to shut your eyes on Jan. 1 and open your eyes and look at your statement on Dec. 31, I think you'll see that the markets were positive but you're going to see some big swings through the course of the year," Gonzalez added.
Oil prices rallied as increased fighting in Yemen threatened oil shipments from the Middle East. West Texas Intermediate surged 3.6% to $49.24 a barrel on reports Yemen's president had fled the city of Aden as militants drew closer to a oil chokepoint in the region. 
The rally came despite U.S. crude inventories adding 8.2 million barrels over the week ended March 20, higher than an estimated increase of 5.1 million barrels.
The Nasdaq was particularly hard hit on Wednesday with highly volatile biotech companies and chipmakers sinking the tech-heavy index. Among the worst-performing semiconductor stocks, Advanced Micro Devices (AMD) plummeted 5%, Nvidia (NVDA) sank 5.6% and Micron Technology (MU) fell 5.1%, while the iShares PHLX Semiconductor ETF (SOXX) tanked 4.3%.
In biotech, Alexion (ALXN) declined 3.2%, Ariad (ARIA) fell 2.9% and NewLink Genetics (NLNK) tumbled 10.3%, while the iShares NASDAQ Biotechnology Index ETF (IBB) slid 3.6%. 
Durable goods orders in the U.S. unexpectedly slipped 1.4% to $231.3 billion in February, an unexpected drop compared to estimates of a 0.4% increase. In January, durable goods increased 2%.
"This is essentially three out of four of the last months [of missed expectations]. We haven't had a run like this since 2008/early 2009," said James Abate, chief investment officer at Centre Funds, over the phone. "This is quite consistent with our view that the economy is actually weakening and not strengthening."
Kraft (KRFT) shares were keeping markets active on Wednesday after the company announced plans to merge with privately held Heinz to create Kraft Heinz Co. Kraft shares surged more than 34%.
Heinz, owned by private-equity firm 3G Capital and Warren Buffett's Berkshire Hathaway (BRK.A) , will hold a 51% stake in the new company. The combined companies will form the third-largest food and beverage company in North America.
In more deals news, computer imaging company Lexmark (LXK) agreed to buy software developer Kofax (KFX) for about $1 billion, or $11 a share. Lexmark shares popped 5.5% and Kofax rocketed 45.8% higher.
There is more uncertainty for Europe on reports Greece will run out of money by April 20, according to Reuters. The unofficial deadline puts even more pressure on Greek Prime Minister Alexis Tsipras to resolve discussions with European Union creditors sooner rather than later. This week Tsipras met with German Chancellor Angela Merkel and agreed to present a comprehensive list of reforms by Monday.
Separately, German business confidence hit its highest level since July 2014, according to the Ifo Institute's indicator of business climate. The measure rose to 107.9 in March, its fifth straight increase and above economists' estimates of 107.3.