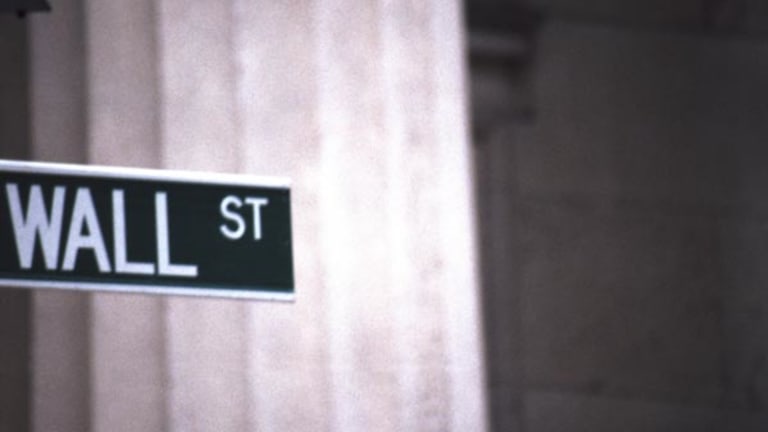 Stocks Slip, Hamstrung by Micron News
The Dow loses 1.1%, while the Nasdaq sheds 2.2%.
Updated from 4:06 p.m. EST
The bears were out on Wednesday, fueled by a grim earnings report from
Micron Technology
(MU) - Get Free Report
and
Conseco's
(CNCE) - Get Free Report
bankruptcy -- the third largest in U.S. history.
The
Dow Jones Industrial Average
fell 88.04 points, or 1%, to 8447.35, while the
Nasdaq
dropped 30.56 points, or 2.2%, to 1361.49. The
was off 11.87 points, or 1.3%, to 891.12.
Technology shares, which had been rising in recent weeks, took a hit after Micron reported a steeper-than-expected loss for its fiscal first quarter and said product prices have dropped roughly 12% from the previous quarter. Micron fell 23% to $10.22.
The news hit semiconductor stocks particularly hard, with the Philly Chipmakers dropping 7.1%. The American Stock Exchange Networking Index dropped 3.5% while the American Stock Exchange Disk Drive Index fell 4.9%. Some notables:
Intel
(INTC) - Get Free Report
, off 4.3%;
Lucent
(LU) - Get Free Report
, down 4.4%; and
Sun Microsystems
(SUNW) - Get Free Report
, down 4.3%.
A negative tone was set early, when
Conseco
(CNCE) - Get Free Report
filed for bankruptcy protection, just one week after
UAL
(UAL) - Get Free Report
filed the largest bankruptcy in the history of aviation.
The news was another reminder of the soft economy. Over the past 12 months, eight of the dozen largest bankruptcies have been filed, with Conseco and UAL joining a list that includes
WorldCom
,
Enron
,
Global Crossing
,
Adelphia
,
Kmart
and
NTL
. Combined, the eight companies have sought protection on $328 billion in assets.
The weak dollar spooked the broader market, as well. While the current level of the dollar provides a short-term boost to American multinational corporations, the long-term ramifications of foreign investment going elsewhere would be devastating to the U.S. economy. On Wednesday, the dollar made up some of the ground it lost recently, as currency investors reacted to weak economic data across the pond.
In corporate news,
Halliburton
(HAL) - Get Free Report
settled all past, present and future asbestos claims against it, funding a trust with cash, stock and notes worth more than $4 billion that will cover the 300,000 claims against it. The stock, which had been halted pending the news, fell 3.9% to $19.55.
Video store chain
Blockbuster
(BBI) - Get Free Report
lowered estimates for the fourth quarter, saying sales are coming in weaker-than-expected due to a large number of movie titles available for sale at deeply discounted prices, and a shorter holiday season. Parent company
Viacom
(VIA) - Get Free Report
, however, stood by its guidance. Blockbuster plummeted 32.3% to $13.13, while Viacom slid 3.1% to $41.68.
Other movie rental outfits were also down, with
Movie Gallery
undefined
off 17.1% to $15.05,
Hollywood Entertainment
undefined
off 14.4% to $16.48 and
Netflix
(NFLX) - Get Free Report
off 13.3% to $10.99.
Elsewhere in the consumer entertainment industry,
Activision
(ATVI) - Get Free Report
, maker of the best-selling Tony Hawk videogame series, saw shares plunge 19.7% to $12.63 after the company lowered its outlook based on weaker-than-expected holiday sales. Rivals
Electronic Arts
undefined
, maker of Madden 2003, and
Take-Two Interactive
(TTWO) - Get Free Report
, maker of the controversial Grand Theft Auto series, were down in sympathy. EA lost 5.1% to $56.65, while Take-Two dropped 4% to $23.61.
More retail woes came to light on Wednesday, when
Kirklands
(KIRK) - Get Free Report
, a home-furnishings chain based in the Southeast, warned that it could post negative annual growth in the fourth quarter if holiday sales continue to slide. The announcement comes just one day after rival
Pier 1 Imports
(PIR) - Get Free Report
made similar comments and helped pressure retail stocks. Kirklands fell 21.2% to $10.47, while Pier 1 dipped 1% to $19.70.
Federal Express
(FDX) - Get Free Report
reported second-quarter earnings of 81 cents a share, topping Wall Street estimates by 2 cents on a year-over-year revenue increase of 10.4%. But because of the weak economic growth here in the States, FedEx lowered third-quarter expectations and said it could possibly hit full-year targets if there's a modest economic recovery in the second half. Shares fell 1.3% to $52.91, while rival
UPS
(UPS) - Get Free Report
fell one penny to $63.89.
General Mills
(GIS) - Get Free Report
, a staple of the cereal cabinet, reported second-quarter earnings of 77 cents per share, topping Wall Street estimates by 3 cents a share on a 57.7% year-over-year revenue increase. Going forward, General Mills said that third-quarter earnings will be in line or slightly below current estimates, but projected full-year earnings that will top estimates. Shares gained 2.4% to $45.97.
Homebuilders, which have been a notable strong spot in a down market, got more good news, when
Lennar
(LEN) - Get Free Report
raised guidance for its fourth quarter and fiscal year 2003. The builder, a bellwether in the industry, says it will top Wall Street estimates by 10% or more in the fourth quarter, raising 2003 guidance to $8.50 a share, 40 cents higher than expected. Shares rose 0.3% to $52.52.
Another kind of housing, mobile homes, were doing shockingly well.
Winnebago Industries
(WGO) - Get Free Report
reported first-quarter earnings of 85 cents a share, a whopping 14 cents better than Wall Street expectations. Revenue increased 31.7% year-over-year, coming it at $234.1 million, blowing away the $215.9 million expected by analysts. Nonetheless, shares fell 10.6% to $40.83.
Financial services firm
Citigroup
(C) - Get Free Report
is reportedly prepared to agree to pay a $350 million fine for misleading investors with skewed equity research in a settlement with U.S. regulators, according to the
Wall Street Journal
. Citigroup was up 0.1% to $37.15 on the news.
In merger and acquisition news,
General Electric
(GE) - Get Free Report
announced it will purchase Finland's
Instrumentarium
, one of Europe's biggest suppliers of medical equipment, for approximately $2 billion. GE fell 1.3% to $25.66.
Biomet
undefined
, a maker of orthopedic medical equipment, reported a 15% rise in second-quarter earnings thanks to strong sales of reconstructive and spinal implants and improving results overseas. Biomet rose 4.2% to $29.10 on the news.
In the drug sector, shares of
Corixa
undefined
soared 5.1% to $7.62 after receiving a recommendation for approval from an advisory panel to the Food and Drug Administration for its experimental cancer drug Bexxar.
FuelCell Energy
(FCEL) - Get Free Report
whiffed Wall Street targets and dipped 1.8% to $7.45. The company, which creates alternative energy sources, reported a fourth-quarter loss of 53 cents a share, which was 13 cents worse than Wall Street consensus. The company booked $13.7 million in revenue, $10 million short of Wall Street expectations, but more than double last year's levels.
Overseas markets closed lower, with London's FTSE 100 down 1.9% to 3835 and Germany's Xetra DAX down 3.7% to 3023. Japan's Nikkei 225 fell 2% to 8344, while the Hang Seng closed down 1.7% to 9548.
U.S. Treasury issues were rallying with the 10-year note up 19/32, yielding 4.05%. The 30-year bond was gaining 23/32, to yield 4.97%.