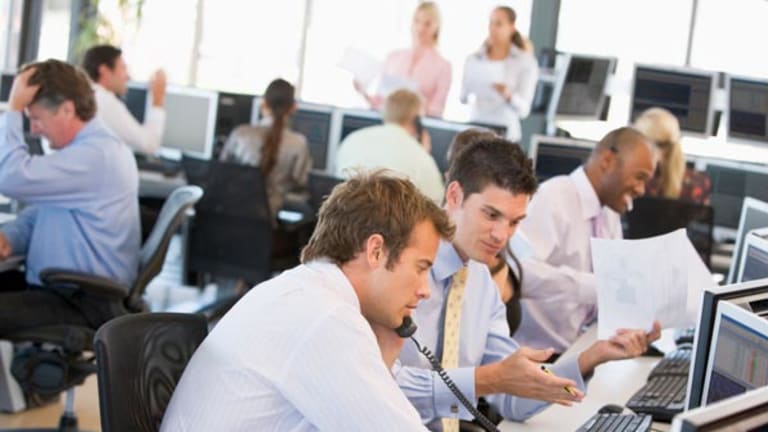 Stocks Slip; Earnings Bar Rises
Stocks edge lower Tuesday despite a handful of better than expected earnings, as economic data mostly disappointed. Gregg Greenberg reviews the day in The Real Story.
(Updated with stock and commodity prices.)
NEW YORK (
) -- The major averages declined Tuesday despite a handful of better than expected earnings reports. Wall Street apparently has raised the bar for earnings, and economic data disappointed.
Immediately after the close,
Yahoo!
(YHOO)
and
SanDisk
(YHOO)
reported better than expected results, sending the stocks higher in afterhours trading.
But after reports from five of its components, including better than expected releases from
and
, the
Dow Jones Industrial Average
ultimately fell 50.71 points, or 0.5%, to 10,041.48 in the regular session. The
gave up 6.85 points, or 0.6%, to 1,091.06, and the
Nasdaq
shed 12.85 points, or 0.6%, to 2,163.47.
"It's just a little bit of digestion of the gains that we've had over the last two weeks," says Bill Stone, chief market strategist at PNC Wealth Management. "We were up about 7% in a little over two weeks, and it was based on the fact that at least early on it seemed to be indicated that earnings would be better than expected -- but at some point that gets priced in."
Stocks came under early pressure as new
, fell unexpectedly and housing starts increased by 20,000 less than expected.
Permits fell to 573,000 from 580,000, vs. expectations for an increase to 595,000. Housing starts increased by 3,000 to 590,000.
"
The housing data are not as impressive as we had really hoped for," says Hugh Johnson, CIO of Johnson Illington Advisors. "So what it all says is 'look folks, yes the economy may be recovering, and yes the housing sector of the economy may be recovering, but the truth is that it's not recovering as robustly and as strongly as we expected.'"
On the other hand, "yes, they weren't as good as expected, but with starts and permits, frankly you don't want to those to be very high because the point is to get the existing stuff off the market," says Stone.
Elsewhere, the producer price index showed wholesale prices unexpectedly fell 0.6% in September on lower energy costs. Meanwhile, JPMorgan Chase said the economy is too fragile to sustain oil prices above $80 a barrel. That news helped to pressure oil; crude futures fell 52 cents, to $79.09 and the Philadelphia Oil Service Sector Index gave up 1.6%.
Earnings, however, continued to show upside as
Caterpillar
(CAT) - Get Free Report
zoomed past estimates and lifted the low end of its guidance.
"Everybody asks the question is the economy starting to recover, but more importantly is the fiscal stimulus starting to impact?" says Johnson, "and the name of the game in the case of Caterpillar is quite clearly that they're benefitting from the stimulus."
Click below to hear more from Johnson on earnings and economic data.
Caterpillar advanced 3.04% to $59.61, and
Apple
(AAPL) - Get Free Report
and
Texas Instruments
(TXN) - Get Free Report
added 4.7% and 0.6%, respectively, after topping expectations with their reports late Monday.
Meanwhile,
Pfizer
(PFE) - Get Free Report
, which advanced earlier in the day after reporting better than expected earnings, ultimately lost 0.3%, to $17.93.
Also,
Coca-Cola
(KO) - Get Free Report
and
DuPont
(DD) - Get Free Report
shares fell, by 1.3% and 2.2%, respectively, after their reports.
reported that third-quarter profit rose by less than 1%, in line with expectations, on lighter than anticipated revenue. DuPont topped earnings expectations but mainly because of aggressive cost-cutting.
Stocks overseas were mixed. In Europe, the FTSE in London and Dax in Frankfurt edged down 0.7% each. In Asia, Japan's Nikkei and Hong Kong's Hang Seng added 0.9% and 0.8%, respectively.
-- Written by Elizabeth Trotta in New York.