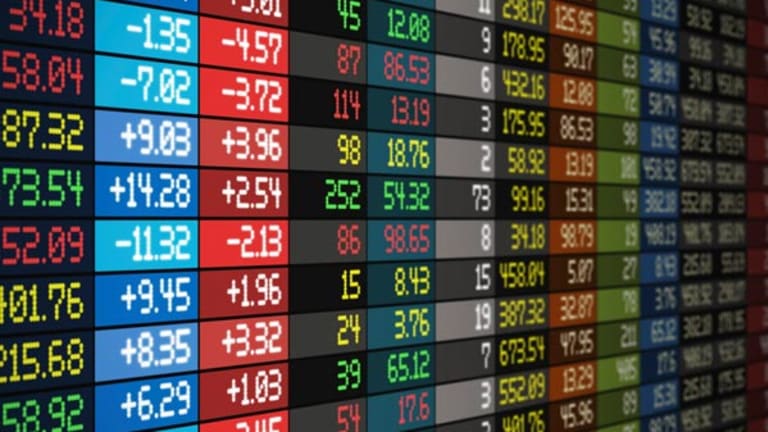 Stocks Are Mixed as Confidence Rebounds, Yellen Speech Approaches
Stocks turn mixed by mid-morning Tuesday after consumer confidence rebounds in March and ahead of a speech from Federal Reserve Chair Janet Yellen.
Stocks turned mixed by mid-morning Tuesday after consumer confidence rebounded in March and ahead of a speech from Federal Reserve Chair Janet Yellen.
The S&P 500 fell 0.16%, the Dow Jones Industrial Average slipped 0.24%, and the Nasdaq was up 0.17%. Stocks started the day modestly lower. The S&P 500 remained lower for the fourth time in five sessions. 
Consumers felt more confident in March as stock markets rebounded from a devastating start to the year, while talk of a possible recession became less frequent. Confidence rose to 96.2 in March, up from a revised 94 in February, the Conference Board said. Economists expected the index to rise to 94.2. 
Yellen is scheduled to address the Economic Club of New York on Tuesday about monetary policy and the economic outlook for the U.S. economy. Investors will parse Yellen's comments for clues as to when the central bank could next raise interest rates.
"Chair Yellen will have an opportunity later today to clarify the mixed message that has emerged from the Fed in recent weeks," TD Securities analysts wrote in a note. "We expect her remarks to echo the tone of the FOMC statement where 'global economic and financial developments continue to pose risks'."
At its recent March meeting, the Fed downgraded its forecasts to two rate hikes this year from four. However, recent comments from Fed members such as St. Louis Fed President James Bullard suggested an April rate hike isn't off the table.
Home prices jumped in January as tight inventories continue to push values higher. House prices rose 5.7% at the beginning of the year, according to the S&P/Case-Shiller 20-city index, with double-digit percentage increases seen in Denver, San Francisco and Seattle.
The hijacking of a domestic Egyptian flight and subsequent hostage situation came to a close Tuesday with the hijacker surrendering, according to reports. An Egyptian man hijacked an EgyptAir flight overnight, forcing the plane to land in Cyprus. Officials have assured that the incident isn't related to terrorism but instead to the hijacker's ex-wife. The situation added fears over the vulnerability of airline security just a week after a terrorist attack in Brussels.
Crude oil slumped again as a hangover from last week's disappointing domestic data on the oil industry continued through to the new week. Oil has seen a renewed push lower on signs a domestic supply glut is worsening as inventories build by millions of barrels each week. The American Petroleum Institute will release data on crude inventories this evening. West Texas Intermediate crude fell 2.7% to $38.33 a barrel. 
Chipotle (CMG) fell 2% after Wedbush downgraded the stock to underperform from neutral with a $400 price target. Analysts said unit economics may remain poor even if sales rebound. The firm said a sales recovery by 2018 is more likely than forecasts in the shorter term. 
LinkedIn (LNKD) was under pressure after Barclays downgraded its stock to equal weight from overweight. Analysts said it expects a "decent period of consolidation" for the professional social network as investors assess its new growth trajectory. 
The standoff between the FBI and Apple (AAPL) abruptly ended on Monday after prosecutors asked a federal judge to vacate a disputed order for Apple to break into a phone used by the San Bernardino terrorists. The FBI said it had used an alternative method to unlock the phone, though did not divulge its workaround. The case had triggered debate over whether Apple should acquiesce and potentially weaken all customers' security.
Apple is a holding in Jim Cramer's Action Alerts PLUS portfolio.
Exclusive Look Inside:
You see Jim Cramer on TV. Now, see where he invests his money and why Apple is a core holding of his multi-million dollar portfolio.
Want to be alerted before Jim Cramer buys or sells AAPL?Learn more now.
Yahoo! (YHOO) reportedly has given potential buyers an April 11 deadline to submit bids for its core Internet business and Asian assets, such as its stakes in Alibaba (BABA) and Yahoo! Japan. The company is looking to narrow the field to around 40 bidders.
SunEdison (SUNE) tanked nearly 30% on reports the Securities and Exchange Commission is investigating whether the company misled investors over its liquidity position. Regulators are reportedly looking into whether the claim it had $1.4 billion in cash last year during a share price collapse was accurate.
Lennar (LEN) climbed more than 2% after topping analysts' estimates on its top- and bottom-lines during its fiscal first quarter. The homebuilder earned an adjusted 63 cents a share, 11 cents above estimates, while revenue of nearly $2 billion surged 21% from a year earlier.
McCormick (MKC) added 1.3% after raising its outlook following a better-than-expected first quarter. The spices company expects sales to climb 1% to 3% this year, or between 4% and 6% on a constant-currency basis. First-quarter profit jumped 32% thanks to acquisitions and cost-cutting efforts.