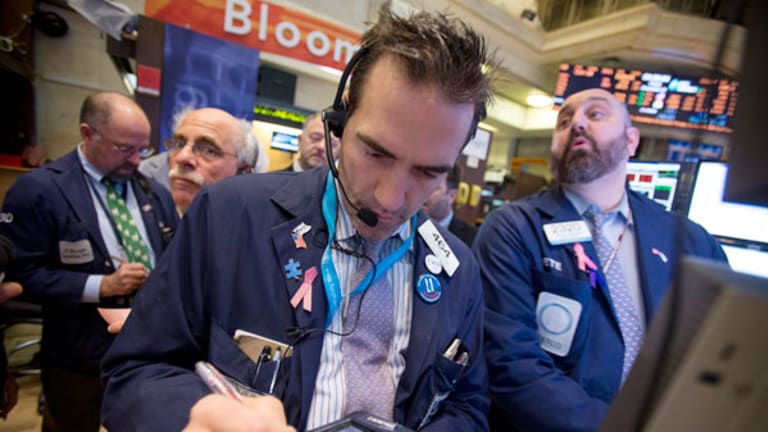 Stocks Slip During Choppy Session on Fed Uncertainty
Markets finished lower on Thursday as concern that the Federal Reserve will curb its stimulus program in the coming months outweighed positive earnings reports.
NEW YORK (TheStreet) -- Markets slid Thursday in a volatile session as concern that the Federal Reserve will begin to curb its stimulus program sometime in the coming months offset positive sentiment on corporate earnings.
The Fed earlier this week reiterated its outlook that a move to scale back monetary stimulus would require signs that the U.S. labor market is strengthening. A U.S. Labor Department jobs report issued Thursday showed that initial claims for state unemployment benefits fell by 10,000 to 340,000 last week, a sign viewed as modest at best. The data was nearly inline with economists' estimate for a decline to 339,000.
The S&P 500 fell 0.37% to close at 1,756.75 while the Dow Jones Industrial Average lost 0.42% to 15,552.55 and the Nasdaq dropped 0.28% to 3,919.71.
"We are seeing some profit taking with October 31 being the end of the fiscal year for many mutual funds, but earnings are coming in, at, or above expectations and profit margins are holding up," Eric Marshall, portfolio manager with Hodges Mutual Fund who helps oversee $1.4 billion in funds, said in a phone interview. 
"The [jobless claims] reduction is welcome but given the slow feed through of second-round effects of fired-workers filing unemployment claims relating to the closure in Washington, it will take a couple more weeks before the true trend reasserts itself," Andrew Wilkinson, chief economist strategist at Miller Tabak in New York said in a note.
Technical problems in California have distorted the claims data since September, though the impact of the partial government shutdown on data appeared to be diminishing, the Department said.
Avon Products (AVP)  tumbled 22% to $17.47 as federal regulators sought penalties from the manufacturer of beauty products to resolve a bribery investigation which has cost the company about $340 million in legal costs. The Securities and Exchange Commission and Justice Department are looking into whether Avon breached the Foreign Corrupt Practices Act making payments or giving gifts to Chinese officials for licenses to sell its products.

Starbucks (SBUX)  added 0.28% to $81.06 as revenue fell short of analyst expectations for the coffee-focused retailer's September-ending fourth quarter. U.S. operations had comp sales growth of 8% in the quarter. Starbucks said comparable sales in its China and Asia Pacific markets rose 8%, but just 2% comp growth in its Europe, Middle East and Africa markets.
Though sales rose 10.6%, Sonyundefined, the entertainment and electronics giant, posted a loss of 19.3 billion yen ($196 million) in the July-September quarter largely because of losses at its movies division. Sony slashed its profit forecast for the fiscal year ending in March to 30 billion yen from 50 billion yen, due to weak sales and strong price competition. Its shares fell 11.2% to $17.24. 
The largest U.S. oil and gas company Exxon Mobil (XOM)  posted an 18% fall in profit from last year but still beat expectations for earnings per share. Exon reported third-quarter income of $7.87 billion, or $1.79 per share against expectations of $1.77 earnings per share on revenue of $107.39 billion. Its shares rose 1% to $89.70.
Facebook's  (FB)  earnings topped Wall Street expectations after market close on Wednesday, but the social networking giant noted teens are using the service less. Facebook reported third-quarter earnings of 25 cents a share on revenue of $2.02 billion. Chief Financial Officer David Ebersman said that teens are using the service the same, but daily users in the teen demographic slid from the second to the third quarter. Shares were up 2.4% to $50.21 on Thursday.
The Chicago purchasing managers' index unexpectedly jumped in October, coming in at 65.9, up from 55.7 a month earlier. Expectations had been for a reading of about 55.0. A reading above 50 in the Institute for Supply Management-Chicago business barometer suggests expansion in the manufacturing sector.
The benchmark 10-year Treasury was falling 2/32 to boost the yield to 2.552%. The dollar was up 0.64% to $80.26, according to the U.S. dollar index. Oil futures for December closed down 39 cents to $96.38 a barrel, and gold for December delivery tumbled $25.60 to $1,323.70 an ounce.

--By Jane Searle and Joe Deaux in New York