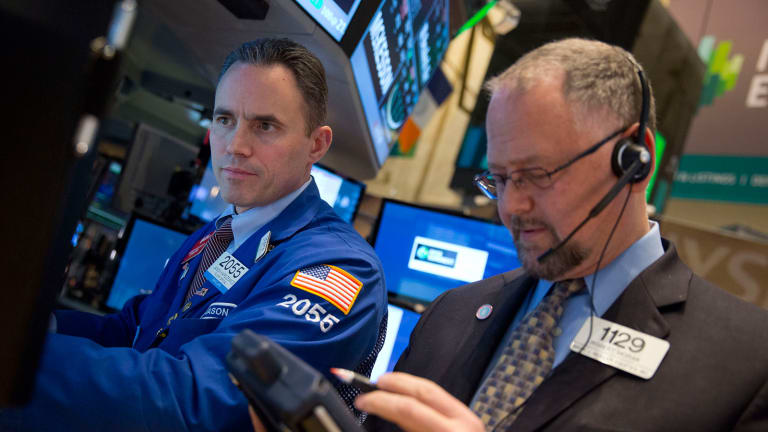 Stocks Slip as Deutsche Bank Leads Financials Lower
Stocks retreat on Thursday after third-quarter U.S. GDP slows and as Deutsche Bank leads the financial sector lower.
Stocks retreated on Thursday from the previous day's rally after third-quarter U.S. GDP slowed.
The S&P 500 was down 0.32%, the Dow Jones Industrial Average fell 0.5%, and the Nasdaq slid 0.43%.
The U.S. economy slowed significantly in the third quarter, according to the Department of Commerce. The first estimate of quarterly GDP rose 1.5% after a 3.9% reading in the second quarter. The slowdown was attributed to a negative swing in inventory investment, though demand in the domestic economy remained robust. 
"While a below-trend quarter for growth implies the accumulation of some economic slack, the Federal Reserve will be comforted by the momentum in the domestic economy," David Tulk, head of global macro strategy at TD Securities, wrote in a note. "While this print is inherently backwards looking, it is not inconsistent with a December hike."
Deutsche Bank (DB) - Get Free Report  weighed on the financials sector after declining 8.6% after detailing plans to exit 10 countries and reduce its workforce by around 35,000 jobs. Management also told shareholders it would not offer a dividend this year or next as it focus on restructuring efforts. The bank said it intends to offer a common share dividends beginning fiscal year 2017.
Other banking stocks such as Wells Fargo (WFC) - Get Free Report , JPMorgan (JPM) - Get Free Report , Bank of America (BAC) - Get Free Report , Citigroup (C) - Get Free Report , and Westpac (WBK) - Get Free Report moved lower, while the Financial Select Sector SPDR ETF (XLF) - Get Free Report fell 0.5%. 
Markets moved unpredictably on Wednesday, plummeting before rallying more than 1%, after the Fed held rates steady but left a potential December rate hike in play. Investors had hoped the Fed would provide further clarification on how likely a rate hike this year might be.
Pending home sales in the U.S. fell in September for the second straight month, the National Association of Realtors said Thursday. The index fell 2.3% to its second-lowest level of the year, though remained up 3% from a year earlier. Weather could have played a role in weakness after heavy rainfall in the Northeast over the month. 
Jobless claims rose less than expected in the week ended Oct. 24. The number of new claims for unemployment benefits in the U.S. increased by 1,000 to 260,000, compared to an expected increase to 263,000. Continuing claims fell by 40,000 to 2.14 million.
Both Allergan (AGN) - Get Free Report  and Pfizer (PFE) - Get Free Report  confirmed they are in talks regarding a potential merger. However, disagreements over price could delay proceedings. Allergan shares jumped more than 9%, while Pfizer slid nearly 1%.
MGM Resorts (MGM) - Get Free Report spiked 4.8% after detailing plans to create a real estate investment trust containing ten of its casinos. The REIT transaction is expected to be completed in the first quarter of 2016. Separately, the casino operator reported better-than-expected earnings and sales in its third quarter. 
ConocoPhillips (COP) - Get Free Report slipped 0.1% after posting its biggest loss in seven years in its third quarter. The oil company also cut capital spending to $10.2 billion for the full year from $11.5 billion as lower commodity prices continue to eat into its earnings. 
MasterCard (MA) - Get Free Report shares rose 0.6% after the credit card company reported a better-than-expected quarter. Sales climbed 8% on a constant-currency basis boosted by a 12% increase in worldwide purchase volume. 
French drugmaker Sanofi (SNY) - Get Free Report warned that diabetes revenue will likely decline over the next three years as its line of treatments face increasing competition in the U.S. Division sales are expected to fall every year by 4% to 8%. Shares fell 5.3% on the news. 
Time Warner Cable (TWC) reported a mixed quarter. The cable company earned $1.62 a share, a nickel above estimates, while revenue of $5.92 billion missed forecasts by $40 million. Overall sales climbed nearly 4% from a year earlier.
PayPal (PYPL) - Get Free Report fell 4.3% after reporting its first quarter as a standalone company in more than a decade. The online-payments company earned 31 cents a share, 2 cents above estimates, while revenue of $2.26 billion fell short of forecasts. PayPal added 4 million active customer accounts over the quarter.
Yelp (YELP) - Get Free Report jumped 5% after quarterly sales surged 40% to $143.6 million, led by a 35% increase in online reviews. The internet site said it expects fourth-quarter and full-year revenue of at least $149.5 million and $545.5 million, respectively. Sales outlook beat analysts' forecasts.
Buffalo Wild Wings (BWLD) tumbled more than 13% after reporting its third quarter. The wings chain earned $1 a share, 29 cents below estimates, while total sales missed forecasts. Buffalo Wild Wings reported a same-store sales increase of 3.9%.
GoPro (GPRO) - Get Free Report slumped 14% after missing analysts' expectations on its top- and bottom-line. The action camera maker earned 25 cents a share, 4 cents under estimates. CEO Nicholas Woodman said the quarter was "more difficult than anticipated" after fewer sales of its new line of cameras.
Amgen (AMGN) - Get Free Report added more than 1% on strong quarterly sales tied to its arthritis drug, Enbrel. The biotech company also increased its full-year earnings guidance to between $9.95 and $10.10 a share from previous guidance no higher than $9.80 a share.