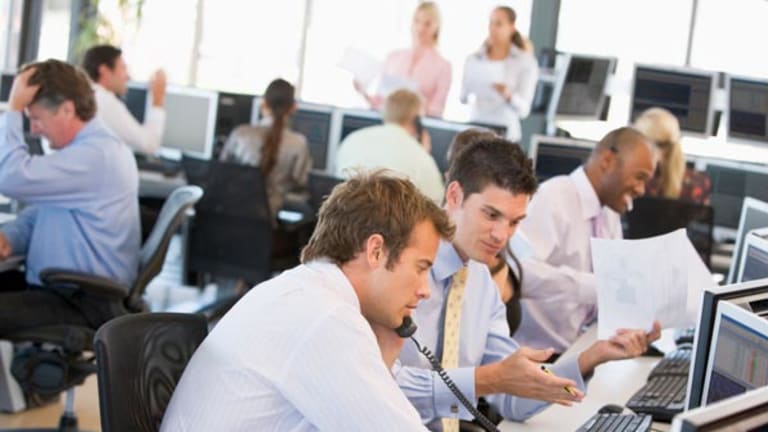 Publish date:
Stocks Slip a Bit as Banks Dip
The major averages stay in neutral before the Memorial Day weekend as the president signs stricter regulations on credit card issuers. Frank Curzio reviews the action in The Real Story (above).
The major averages stay in neutral before the Memorial Day weekend as the president signs stricter regulations on credit card issuers. Frank Curzio reviews the action in The Real Story (above).
Updated from 4:21 p.m. EDT
Stocks in New York sold off slightly into the close after a mostly positive session, marking the fourth consecutive day of losses, but the major indices were positive for the week.
The
Dow Jones Industrial Average
shed 14.81 points, or 0.2%, to 8277.32, marking its longest losing streak since March 3, while the
S&P 500
lost 1.33 points, or 0.2%, to 887. The
Nasdaq Composite
gave up 3.24 points, or 0.2%, to 1692.01.
For the week, however, the Dow added 0.1%, the S&P 500 rose 0.4%, and the Nasdaq advanced 0.7%.
Financials underperformed, with the KBW Bank Index down 1.9%, after the president signed the new restrictions on credit card issuers. Also, Federal Deposit Insurance Corp. board members approved a special assessment of 5 basis points on banks, totaling $5.6 billion industrywide and reserved the option to assess other charges in the future.
Among financials,
Bank of America
(BAC) - Get Report
lost 3%,
Wells Fargo
(WFC) - Get Report
gave up 2.9% and
American Express
(AXP) - Get Report
dropped 3.1%.
Stocks had pulled back on Thursday as Standard & Poor's warned that the U.K. could lose its AAA credit rating, but investors seemed more at ease as Moody's said it is comfortable with the U.S. triple-A sovereign rating and stocks stayed in positive territory for most of Friday's session.
Of the better performers on the Dow,
Kraft
(KFT)
gained 2.1%,
Disney
(DIS) - Get Report
added 2%, and
McDonald's
(MCD) - Get Report
tacked on 2.5%.
Sears Holdings
(SHLD)
was rising 10.4% after it beat profit estimates.
General Motors
(GM) - Get Report
, on the other hand, was off by 25.5%.
The Obama administration is preparing to send GM into bankruptcy under a plan that would provide it just under $30 billion in additional federal loans,
The Washington Post
.
But that report came after news yesterday that GM had
with the United Auto Workers union and the government, one of the criteria for the company to receive more loans and effectively avoid a bankruptcy filing. There were also reports that the U.S. Treasury is giving the company's GMAC
financing unit
at least $7.5 billion in aid.
The latest news also comes after members of a House Judiciary Committee hearing Thursday on automaker bankruptcies
of quick moves to force
Chrysler
and General Motors to restructure or seek bankruptcy court protection.
Meanwhile, a bit of controversy has emerged around retailer
Target's
(TGT) - Get Report
board. A group backed by William Ackman's Pershing Square Capital, which has been fighting to change the board, said Friday that two members, Solomon Trujillo and Anne Mulcahy,
because their employment status has changed. Specifically, Trujillo and Mulcahy are no longer CEOs of Telstra of Xerox, respectively. The retailer holds its annual meeting next week in which shareholders will elect directors.
Target shares dropped 2.1% on Friday.
Underscoring the worries about regional banks,
Florida's
BankUnited
(BKUNA)
Thursday, saying it was undercapitalized and in an unsafe condition to conduct business. It was the 34th FDIC-insured U.S. institution to fail this year and the third in Florida.
The FDIC was appointed as receiver of the $13.1 billion Coral Gables-based bank. Per the results of an auction, the bank's new ownership group includes WL Ross & Co., Carlyle Investment Management, a unit of
Blackstone Group
(BX) - Get Report
, Centerbridge Capital Partners, LeFrak Organization, The Wellcome Trust, Greenaap Investments and East Rock Endowment Fund.
Stocks overseas were mixed. The FTSE in London and Dax in Frankfurt were up by 0.5% and 0.4%, respectively. In Asia, the Nikkei in Japan and Hang Seng in Hong Kong fell 0.4% and 0.8%, respectively.
The dollar was recently stronger vs. the yen, but weaker against the pound and euro. Longer-dated Treasuries were falling; the 10-year was lower by 22/32, yielding 3.45%, while the 30-year was down 1-06/32, to yield 4.38%.
Crude oil rose 62 cents to $61.67, while gold was higher by $7.70 to $958.90.