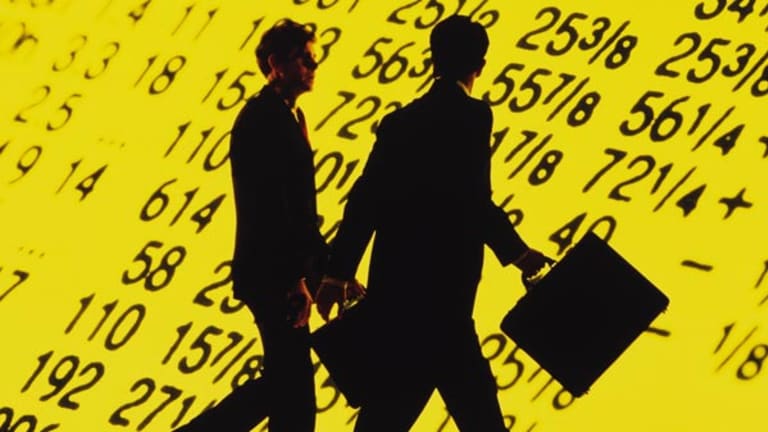 Stocks Slink to Mixed Finish
The averages maintain a narrow range in another lightly traded session.
Updated from 4:09 p.m. EST
Stocks staggered to a mixed close Monday as lackluster economic data and continued anxiety about global politics kept investors sidelined in the year's penultimate trading session.
The
Dow Jones Industrial Average
finished up 29 points, or 0.35%, to 8332. The
was up 4 points, or 0.46%, to 879. The
Nasdaq
was down 8 points, or 0.65%, to 1339.
"The Dow and S&P have been stronger than the techs all day," noted Peter Blatchford, a trader at Miller Tabak & Co.
Traders said the broader market was hit harder than the Nasdaq last week and was seeing more of a bounce as a result. The S&P 500 gave up 2.3% last week while the Dow fell 2.4%. The Nasdaq shed just 1.1%.
Still, market watchers noted that trading was quiet and the tone generally cautious as investors continued to worry about geopolitical events.
"What's really haunting the market is the rise in oil prices," noted Peter Cardillo, chief strategist at Global Partners Securities. "And there's an absence of volume, so the market remains vulnerable."
Volume on the NYSE reached just 1.03 billion, with declines outpacing advances by 9 to 7. On the Nasdaq, 1.04 billion shares changed hands with losers beating winners by about 2-to-1.
Oil prices rose to a two-year high early Monday, moving above $33 per barrel as fears about a war with Iraq continued to mount. A labor strike in Venezuela and concerns about terrorism around the globe also sent crude oil higher. Still, oil pared its gains in late trade, falling $1.41 to $31.31 on speculation that OPEC might increase supply.
While the rumors helped the market to firm somewhat, investors remained on edge following some recent geopolitical developments. The U.N. searched Iraq's customs department over the weekend as weapons inspections continue. Meanwhile, the Bush administration has said it is prepared to step up economic pressure on North Korea after the country made moves to resume its nuclear weapons program.
In other news, the FBI said it is looking for five Arab men who may have illegally entered the United States on Christmas Eve. Separately, three U.S. missionaries were shot dead and a fourth seriously wounded when a Muslim extremist opened fired in a hospital in Yemen.
The latest events sent the dollar down to 118.39 yen, its lowest level since Sept. 9, and $1.048 per euro. That's its lowest level versus the European currency since November 1999.
"The dependable seasonalities have been notably absent this year," noted Larry Wachtel, senior vice president at Prudential Securities.
The month of December, normally one of the strongest months in the market year, is on course to have its worst showing since 1931, Watchel said, adding that the so-called Santa Claus Rally, encompassing the last five trading sessions of the old year and the first few sessions of the new year, has failed to appear.
Economic data did little comfort investors Monday. Existing home sales fell 3.5% in November to an annual rate of 5.56 million. Still, November sales were 5.9% higher than last year. In the manufacturing arena, activity slowed in December with the Chicago purchasing managers' index falling to 51.3 from 54.3 in November. Readings over 50 indicate growth.
"We're probably not going to have a January effect because of the geopolitical concerns, so what we're looking at here is a market that just stays range-bound but trendless," Cardillo said.
Chip stocks fell about 2% on average Monday despite a report showing that global semiconductor sales rose 1.3% in November over October to $12.68 billion. Hardware and networking stocks also lost ground, but retailers rose slightly after
Wal-Mart
(WMT) - Get Free Report
said it expects December same-store sales to rise between 2% and 3%. The firm lowered its targets just last week from a previous range of 3% to 5%.
In corporate news, J. P. Morgan Chase
(JPM) - Get Free Report
said it has signed a seven-year contract with
IBM
(IBM) - Get Free Report
for information technology services in a deal worth more than $5 billion.
GlaxoSmithKline
(GSK) - Get Free Report
said it has acquired five skin-care products from Irish drugmaker
Elan
(ELN)
, including treatments for eczema and cold sores. Elan, which is exiting the dermatology business, said the five treatments have generated $62 million in 2001 revenue and $35 million in the first six months of this year.
Tribune
(TRB)
said it was buying a pair of radio stations in St. Louis and Portland, Ore., from
Acme Communications
(ACME)
for $275 million.
Elsewhere, Prudential upgraded
St. Jude Medical
(STJ)
to buy from hold and raised its price target to $52; the shares trade around $39. And
Endo Pharmaceuticals
(ENDP) - Get Free Report
raised its estimate for 2003 sales to $440 million; analysts surveyed by First Call were predicting $386 million.
Treasuries rose, with the 10-year note up 4/32 to yield 3.80%. The 30-year Treasury bond was up 8/32, sending its yield down to 4.77%.