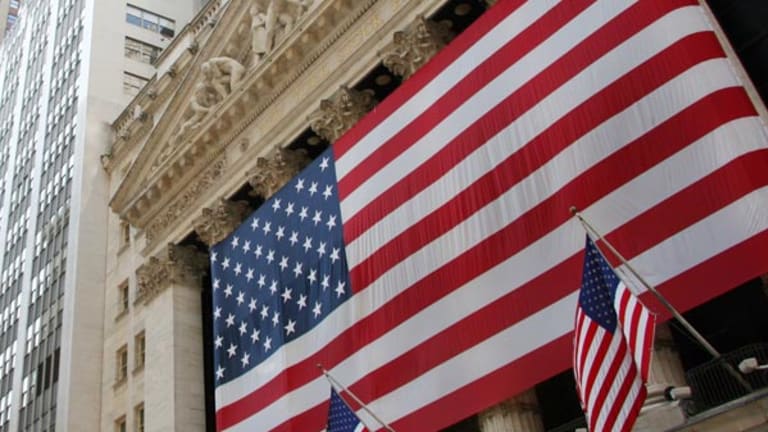 Stocks Slide to May Lows
The latest round of earnings warnings, a terrorism warning and an oil-price surge keep buyers sidelined.
Updated from 4:02 p.m. EDT
The major stock indices tumbled Thursday to their lowest closing levels since late May, as investors already sifting through further profit warnings from the tech sector heard a foreboding message about terrorism in the U.S. that sent oil back up above the $40-a-barrel mark.
The
Dow
closed down 68.73 points, or 0.67%, to 10,171.56; the
S&P 500
fell 9.23 points, or 0.83%, to 1109.10; and the
Nasdaq
lost 30.76 points, or 1.56%, to 1935.32. The 10-year Treasury note traded up 1/32 in price to yield 4.47%, while the dollar was higher against the yen and lower against the euro.
In moderate summer trading, volume approached 1.4 billion shares on the
New York Stock Exchange
, where decliners outnumbered advancers by about 2 to 1. On the Nasdaq, almost 1.8 billion shares changed hands, and decliners held about a 7-to-2 majority.
Homeland Security Secretary Tom Ridge said in a news conference that American intelligence analysts have credible information that al Qaeda terrorists are planning another attack in the U.S., but he had no specifics and said there was no reason to raise the terrorist-threat level for now.
"The latest White House announcement about terrorism certainly set the stage for oil prices to rally, and that is causing further pressure in the market," said Peter Cardillo, chief market analyst with S.W. Bach & Co. "There's a host of woes out there now that will likely take us down to the bottom of our trading range."
Crude oil prices rose for the fourth session in six on Thursday, closing above $40 a barrel for the first time in five weeks. The benchmark U.S. crude gained $1.12, or 3%, to $40.20, after closing lower Wednesday. Gasoline futures rose almost 5 cents, or 3.7%, to $1.32 a gallon.
Adding to pressure on stocks, reports of violence in Iraq continued. Insurgents fired mortar rounds at an Iraqi National Guard headquarters in the city of Samarra on Thursday, killing four U.S. soldiers and one Iraqi guardsman, according to
The Associated Press
. A fifth U.S. soldier was unaccounted for and 20 people were wounded.
On the home front, Wall Street observers spent much of the day preoccupied with legal developments in two of the most sensational corporate fraud stories of recent years. Former
Enron
Chief Executive Kenneth Lay pleaded not guilty to federal charges relating to the collapse of the energy company, the landmark chapter in a series of corporate frauds that came to define the post-Internet boom era. Lay held an extraordinary news conference with reporters in which he took responsibility for the failure of the company but denied any criminal activity.
Also, a federal judge denied Martha Stewart's latest request for a new trial based on allegations that a government ink expert lied on the witness stand at her first trial. Shares of
Martha Stewart Living
(MSO)
dropped 32 cents, or 3.6%, to $8.56.
Thursday's downward trajectory extends a trend that has now governed four of the last five sessions, a period that has been marked by more than a dozen marquee earnings warnings from the tech sector and last night's news from
Yahoo!
(YHOO)
. The week's bloodletting has left the Dow down over 1%, the S&P down over 1.4%, and the Nasdaq lower by a whopping 3.5%.
While the broader market's selloff has been steady, the pain felt in individual names has been excruciating, frequently approaching 20% in a single day. Investors' willingness to pull the cord on technology companies that fail to live up to high expectations reflects a growing skepticism that earnings growth in 2004 will be sufficient to justify the rally that indiscriminately powered almost any speculative name in 2003.
Getting the session off to a shaky start, Yahoo!'s stock dragged down the entire Internet search engine space and fellow tech heavyweights
Amazon.com
(AMZN) - Get Amazon.com, Inc. Report
and
eBay
. The main culprit was its third-quarter revenue guidance, whose high end barely encompassed the existing Thomson First Call estimate, a stumble that sent nervous investors fleeing shares that priced in a great deal more performance.
Yahoo! closed down $2.52, or 7.7%, to $30.08, while Amazon.com was off $1.50, or 2.9%, to $49.50, and eBay was losing $3.22, or 3.7 %, to $83.65.
Trip Jones, managing director at SunGard Institutional Brokerage, said the fact that Yahoo's release was considered a negative after the company doubled earnings and revenue shows that investors' expectations are too high.
"The highest of expectations are built into the market for earnings right now, which turns anything lower, even if the numbers are good, into a disappointment.
"The bottom line is that the market is in the midst of a sideways move that always happens in the third year of an earnings recovery, because the
Fed
chairs up to the table to have a chat," Jones added. "The rate of change in earnings peaks, and the rate of GDP growth peaks. Those three things cause a pause in the market, and then you throw on top an election, terrorism, war and an oil situation, and it gets a little hairy."
Also causing jitters was a profit warning from
Siebel
(SEBL)
, which said second-quarter revenue would be about 5% below estimates because of delayed orders at the end of the quarter. The preannouncement followed similar warnings from
Veritas Software
(VRTS) - Get Virtus Investment Partners, Inc. Report
and
PeopleSoft
(PSFT)
, although the latter blamed bad press associated with
Oracle's
(ORCL) - Get Oracle Corporation Report
attempt to buy the company.
Siebel closed down $1.23, or 13.4%, to $7.98.
BMC Software
(BMC)
, which issued its own warning after the bell, dropped $2.51, or 15.1%, to $14.16.
June retail sales reports added another negative wrinkle to the markets. In the biggest report,
Wal-Mart
(WMT) - Get Walmart Inc. Report
said sales at stores open more than a year rose a paltry 2.2% in June, a performance at the low end of previous guidance. The comparable measure at
Target
(TGT) - Get Target Corporation Report
was up just 2.3%.
Wal-Mart closed down 14 cents, or 0.3%, to $52.18, while Target shares shed 69 cents, or 1.7%, to $40.80.
Elsewhere, goth-clothes purveyor
Hot Topic
(HOTT)
was falling after saying a software glitch was forcing it to lower second-quarter earnings guidance. The stock closed down $1.05 cents, or 5.1%, to $19.70.
In other economic news, initial jobless claims dropped well below expectations for the week ended July 3, to 310,000, the lowest in almost four years. Claims for the previous week were revised slightly higher to 351,000. Economists had expected claims to dip to 345,000, but the startling drop was mainly attributed to seasonal adjustment factors. The surprising weekly figures follow a report last Friday showing disappointing nonfarm job creation in June.
Overseas markets closed mixed, with London's FTSE 100 up 0.5% to 4381 while Germany's Xetra DAX was up 0.1% to 3934. In Asia, Japan's Nikkei closed down 62 points to 11,322, while Hong Kong's Hang Seng lost 200 points to 12,119.
Before Friday's opening bell, second-quarter earnings releases are expected from
General Electric
(GE) - Get General Electric Company Report
, expected to report profits before special items of 37 cents a share, down from last year's 38 cents a share; and
Abbott Labs
(ABT) - Get Abbott Laboratories Report
expected to report 54 cents a share, which would be 2 cents higher from last year.
At 10 a.m. EDT, the government is expected to report that wholesale inventories increased by 0.5% in May after dipping 0.1% the month before.