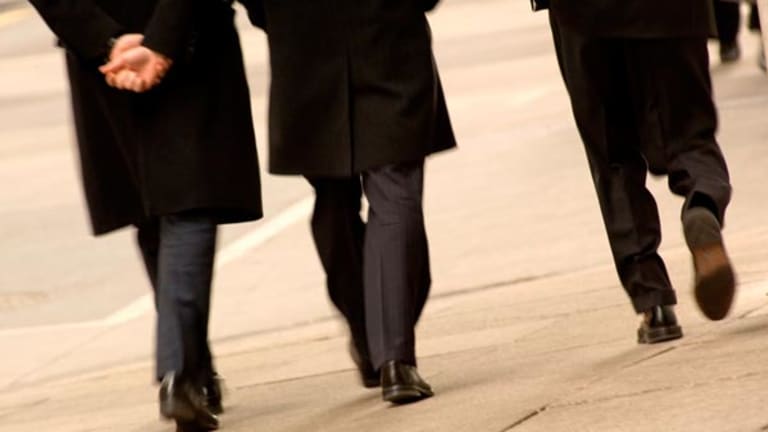 Stocks Slide Lower
Early optimism over the Iraq inspection agreement wanes as the Dow and S&P 500 both lose 2%.
Updated from 4:07 p.m. EDT
Stocks fell victim to a late-session selloff Tuesday as skepticism about Saddam Hussein's offer to allow weapons inspections combined with a profit warning from
McDonald's
(MCD) - Get McDonald's Corporation (MCD) Report
to kill off early optimism.
The
Dow Jones Industrial Average closed down 172.63 points, or 2.1%, at 8207.55. The
Nasdaq lost 15.94 points, or 1.3%, to 1259.94. The
S&P 500 fell 17.58 points, or 2%, to 873.52.
Biotech and consumer electronics showed the most strength, while oil services, defense stocks, and restaurants were weaker. Volume was 1.37 billion on the NYSE and 1.47 billion on the Nasdaq Stock Market. Decliners beat advancers 22 to 10 on the NYSE and by 21 to 12 on the Nasdaq.
The semiconductor sector, which showed some strength early after
Microchip Technology
(MCHP) - Get Microchip Technology Incorporated (MCHP) Report
said it would beat forecasts, resumed its fall, with the Philadelphia Semiconductor Index losing 2.1%. The Amex Biotechnology Index added 0.8% and the Philadelphia Oil Service Index plunged 3.7%.
In a letter to the U.N. on Monday, Iraq said weapons inspectors may return without conditions. The White House called the move "a tactical step by Iraq in hopes of avoiding strong U.N. Security Council action." The Vienna-based International Atomic Energy Agency said it was ready to resume inspections in Iraq "as early as tomorrow" if authorized by the Security Council. The U.N. Security Council was meeting Tuesday to discuss Iraq's decision.
Meanwhile, McDonald's, the world's largest fast-food restaurant chain, pared its third-quarter and full-year earnings forecast, citing lower-than-expected sales at home and abroad. The company said it expects to earn 38 cents to 39 cents a share in the third quarter and $1.31 a share or more for 2002. Analysts' estimates had called for earnings of 42 cents and $1.49 a share, respectively. The stock was down 12.8% at $18.91 on the news.
Separately, the
Federal Reserve
said
industrial production, which measures the change in the production of the nation's factories, mines and utilities, fell 0.3% in August due to weakness in the automobile and utility sectors, reversing a 0.4% increase in July. The decline marks the end of eight consecutive months of gains. Economists were expecting a 0.2% rise. Capacity utilization inched lower to 76.0% in August from 76.2% the previous month.
In Tuesday's corporate news, home-furnishing retailer
Pier 1
(PIR) - Get Pier 1 Imports, Inc. Report
said its quarterly profit rose 64% on stronger sales, as the company continues to expand its reach and open new stores. The company posted a net profit of $22 million, or 23 cents a share, compared with $13.8 million, or 14 cents a share, in the year-ago period. The results were in line with analysts' revised expectations. Revenue for the quarter rose 15% to $410.9 million from $357.2 million last year. Despite a solid quarter, Pier 1 was down 2.9% at $19.60.
Consumer-electronics chain
Best Buy
(BBY) - Get Best Buy Co., Inc. Report
reported a drop in second-quarter earnings, citing a price war and weak demand for its stereos, DVDs and other major appliances. The company posted net income of $62 million, or 19 cents a share, down from $85 million, or 26 cents a share, it earned in the year-ago quarter. Despite the 27% earnings decline, the company still managed to top analysts' earnings-per-share forecasts by a penny. Best Buy also ratcheted up its third-quarter and full-year earnings outlook. The shares climbed 5.7% to $25.46 on the revised outlook.
In the financial sector,
Charles Schwab
(SCH)
set plans to cut 10% of its workforce, and warned on third-quarter earnings, sending its shares down 6.1% to $9.17. And, after the bell,
J.P. Morgan Chase
(JPM) - Get JPMorgan Chase & Co. (JPM) Report
warned its third-quarter earnings would be well below estimates.
Embattled conglomerate
Tyco
(TYC)
disclosed details from an internal investigation, which revealed $100 million in phony bonuses and the forgiving of millions of dollars in executive loans. After being halted in the opening minutes for news pending, Tyco traded up 2.1% at $16.89.
Shares of wholesale drug distributor
D&K Healthcare
(DKWD)
were getting hammered, losing more than 60% of their value, after the company sharply lowered its earnings guidance. The company blamed lower sales and margin trends as the principal cause for the revision. Subsequently, Lehman Brothers downgraded the stock to equal-weight from overweight.
Another stock getting hit was
JDA Software
(JDAS)
, which makes software for the retail industry. The company warned that third-quarter operating results wouldn't meet their targets due to slumping sales. The company outlined its revenue outlook as recently as two weeks ago, calling for $18 million to $20 million in sales. The shares closed down 37.7% at $8.02.
U.S. Treasuries were mixed, with the 10-year note up 14/32 at 104 6/32, to yield 3,86%.
In overseas trading, London's FTSE 100 fell 0.4% to 4028.80, and Germany's Xetra DAX dropped 1% to 3284.44. Japan's Nikkei 225 rallied 3.3% to close at 9543.9, while the Hang Seng closed up 2.1% at 9707.3.