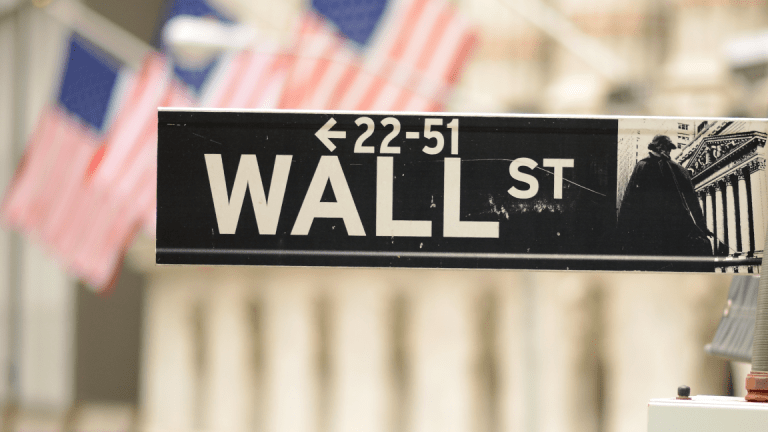 Stocks Slide, Dollar Weakens as Trade, Trump and Tariffs Hold Down Sentiment
Global stocks started the week on a downbeat note amid increasing concerns for growth prospects amid the escalating trade war rhetoric, offsetting what is shaping up to be one of the best quarters for U.S. earnings in nearly 10 years.
The Monday Market Minute
Global stocks start week on a cautious note as Trump's comments on dollar, rates and Iran rattle markets.
G-20 finance ministers pledge to "step up dialogue" on trade as Trump vows he's "ready to go" on China tariffs.
Asia stocks slide, with Nikkei slumping hard after reports say BoJ is looking to pullback on stimulus.
Auto stocks lead Europe lower after failing health causes Fiat's Marchionne to step down and investors await Juncker meeting in Washington
U.S. equity futures point to softer open on Wall Street, with Alphabet kicking off FAANG reports this week as S&P 500 looks to grow Q2 earnings by 22%.
Market Snapshot
Stocks traded lower around the world Monday, while the U.S. dollar weakened and commodity prices extended declines, as investors picked through myriad headline developments in the ongoing trade disputes with the White House and await a key meeting between Trump administration and EU officials later this week in Washington.
President Donald Trump's comments regarding his frustration with the U.S. Federal Reserve's interest rate policy and the strength of the greenback on global foreign exchange markets, has sparked a turnaround in the dollar's recent rally and lifted benchmark 10-year U.S. Treasury yields to a one-month high of 2.9%. A series of weekend Tweets, one of which threatened Iran with "consequences the likes of which few throughout history have ever suffered before", have left investors on edge amid signs of slowing global growth and fading sentiment. 
In fact, the official communique a meeting of G-20 finance ministers and central bankers in Buenos Aires this weekend reiterated the downside risks to growth, saying they included "rising financial vulnerabilities, heightened trade and geopolitical tensions, global imbalances, inequality and structurally weak growth" following Trump's declaration last week that he is "ready to go" in imposing tariffs on $500 billion worth of China-made goods in his effort to reduce a record trade deficit with the world's second-largest economy.
"Global economic growth remains robust and unemployment is at a decade low," the communique read. "However, growth has been less synchronised recently, and downside risks over the short and medium term have increased."
The group also pledged to the need to "step up dialogue and actions to mitigate risks and enhance confidence." 
That could come as early as this week, with a key meeting on trade between Trump and European Commission President Jean-Claude Junker in Washington, which comes amid increasing pressure from the White House for other nations to revert to "zero tariff" barriers in bi-lateral agreements with the United States.
The simmering trade tensions, which have for the moment failed to elicit a formal response from China, have nonetheless overshadowed a solid U.S corporate earnings season and held down gains for global equity markets, where only 9 of the 45 MSCI country indices have outpaced 3-month U.S. Treasury bills on a year-to-date basis.
Stocks again started the week on the back foot, with the  Nikkei 225 sliding 1.33% on the session amid reports that the Bank of Japan is looking for ways to slowly pullback from its years of extraordinarily loose monetary policy. The report sent the yen to a two-week high of 110.91 against the greenback and hammered export stocks, although bank shares surged as 10-year Japanese government bond yields hit a six-month high.
In Europe, the Stoxx 600 benchmark fell 0.21% by mid-day in Frankfurt, led to the downside by auto sector and basic resource stocks, while the euro was little changed from Friday's close at 1.1717.
Fiat Chrysler (FCA) shares were marked 2.44% lower at €16.01 each following news that CEO Sergio Marchionne was forced to step down from his post after complications from weekend surgery led to a serious deterioration in the health of the respected auto industry veteran. He will be replaced by British-born Michael Manley, the company said.
Early indications from U.S. equity futures, however, suggest only a modest pullback on Wall Street, with contracts tied the Dow Jones Industrial Average undefined called 26 points lower from last week's 25,058.12 point close while those linked to the broader S&P 500 undefined were indicated 4.2 points lower.
Earnings are likely to dominate near-term headlines this week, with 160 S&P 500 companies publishing second and third quarter reports as tech giants Alphabet Inc. (GOOGL) (Monday), Facebook Inc. (FB) (Wednesday) and Amazon Inc. (AMZN) (Thursday) headline the calendar.
With 87 companies in the S&P 500 reporting so far, analysts are expecting second quarter earnings to grow by 22% from the same period last year, up from 20% at the start of the month. To date, around 90% of the reported earnings have topped expectations, a rate that's well above the five-year average of 64%.
Away from equities, the U.S. dollar index, which tracks the greenback against a basket of six global currencies, steadies at 94.50 Monday but has fallen 1% from its one-year high last week after Trump told CNBC last week that he "wasn't thrilled" with the Fed's signalling of future rate hikes, and the dollar strength it inevitably creates, when China's yuan is "dropping like a rock" and the European single currency is declining.
"It puts us at a disadvantage," he said.
Global oil prices were little-changed from their Friday close in early European trading, but rebounded sharply later in the session as the U.S. dollar steadied and the developing tensions between Washington and Tehran, as well as North Sea supply constraints, offset concerns over softer demand prospects in some of the world's biggest economies.
Brent crude contracts for September delivery, the global benchmark for prices, were seen $1.01 cents higher from their Friday close in New York and changing hands at $74.08 per barrel while WTI contracts for the same month were marked 68 cents lower at $68.94.