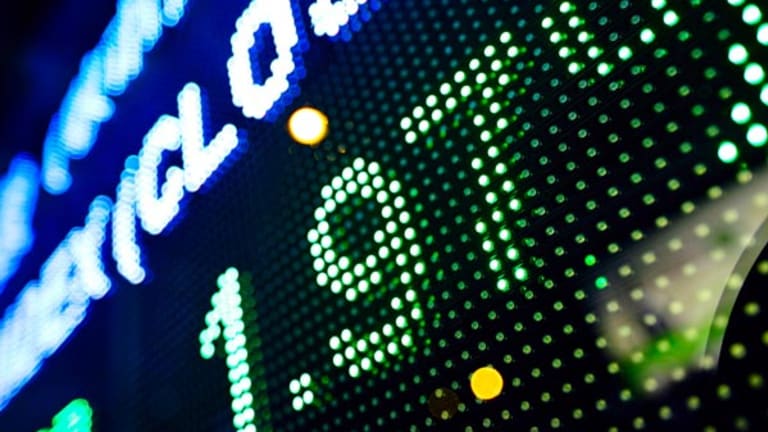 Stock Markets Decline as Crude Oil Inventories Are Growing
Stocks are moving lower as the Federal Reserve wraps up its March meeting.
NEW YORK (TheStreet) -- Stocks were moving lower as new crude oil added to current U.S. reserves showed no signs of slowing down even as rig counts dropped on production cuts. 
The S&P 500 was down 0.24%, the Dow Jones Industrial Average fell 0.32%, and the Nasdaq dropped 0.13%.
Crude prices dropped in their seventh straight session Wednesday as West Texas Intermediate tumbled 2% to $42.60 a barrel. Crude inventories added 9.6 million barrels in the week ended March 13, more than double a forecast 3.7 million, according to the Energy Information Administration. 
Overnight, the American Petroleum Institute confirmed the trend, reporting a 10.5-million-barrel increase in crude inventories.
Also pressuring markets, the Federal Reserve neared the end of its March meeting. The Fed will publish economic forecasts and a statement Wednesday afternoon, followed by Fed Chair Janet Yellen's press conference in which she is expected to hint when an interest rate hike might occur. Investors will watch whether the Fed removes its "patient" phrasing, a move that could signal a rate hike as soon as the summer.
"We look for the curve to whipsaw as Yellen leans against any overly large market reaction, stressing the 'data dependent' theme and noting that the Fed will begin hiking rates only when there is 'reasonable confidence' that inflation is moving toward their 2% target," said TD Securities' U.S. strategist Gennadiy Goldberg.
Israel's stock market climbed after incumbent Prime Minister Benjamin Netanyahu secured a decisive victory in an election Wednesday. Netanyahu's Likud party scored a fourth term, allowing the sitting leader to become the country's longest-serving prime minister. 
European shares were mixed as a protest outside the European Central Bank in Frankfurt turned violent. Around 10,000 protestors were involved in anti-austerity demonstrations outside of the headquarters. Germany's DAX was down 0.6%, though the FTSE 100 in London added 0.95%.
China's Shanghai Composite rose for its sixth straight session, adding 2.1% as investors await the next round of government stimulus. Economic data in the world's second-largest economy has shown significant weakness recently. On Wednesday, data showed China's property prices falling 5.7% in February, the sixth month of declines.
Japan's Nikkei gained 0.55% to a 15-year high as exports grew at a faster-than-expected pace of 2.4% in February, their sixth straight month of increases and far better than estimates of 0.3%. Sony (SNE) - Get Report helped to push markets higher after reporting better-than-forecast quarterly results. U.S.-listed shares of the Japanese company added 4.6%.
Chinese e-commerce site Alibaba (BABA) - Get Report was under pressure on Wednesday as 18% of its shares expire from their 180-day lock-up period following the company's initial public offering in September. Shares were down 1.2%.
Oracle (ORCL) - Get Report shares were up 2.8% after the tech company reported earnings of 68 cents a share in the three months to February, level with a year earlier, as currency exchange undercut sales and profits. Revenue missed estimates with total sales of $9.32 billion showing no growth from a year earlier.
Adobe (ADBE) - Get Report tumbled 2.5% after issuing soft guidance for its current quarter. The software company expects earnings as high as 47 cents a share in its second quarter, below average consensus of 48 cents.
FedEx (FDX) - Get Report dropped 2.2% as annual guidance missed estimates. Though its third quarter was better than expected, full-year earnings expectations of between $8.80 and $8.95 a share missed expectations of $8.97.
General Mills (GIS) - Get Report fell 0.8% despite beating third-quarter profit estimates by 3 cents a share and recording a 3% increase in net sales on a constant-currency basis.
Apple (AAPL) - Get Report will replace AT&T (T) - Get Report in the Dow Jones Industrial Average after market close Wednesday. Apple will account for just under 5% of the Dow's weight.