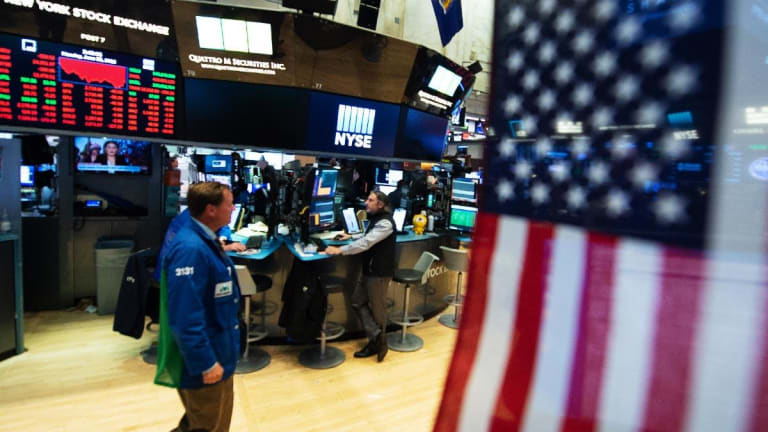 Stocks Slide as Weakness in Asia, Political Crisis in Germany Pounds Sentiment
Global stocks started the third quarter deeply in the red Monday, as economic weakness in Asia and a developing political crisis in Germany kept investors on the defensive and pulled U.S. equity futures sharply lower.
The Monday Market Minute
Global stocks slide as China weakness, Japanese pessimism and German politics pound market sentiment.
China stocks slump deeper into bear market territory following soft manufacturing data that suggests trade tensions are sapping growth prospects.
Euro slides to session-low of 1.1630 as Germany faces political crisis over immigration that could toppled Chancellor Angela Merkel's coalition government.
Oil prices dip, but Trump Tweets have limited impact as crude holds near 3.5 year highs.
Wall Street futures suggest a heavy opening bell slump as China tariff deadline looms and trade tensions brew with Brussels, Beijing, Tokyo and Ottawa. 
Market Snapshot
Global stocks fell across the board Monday, as economic weakness in Asia and political uncertainty in European kept investors on the defensive and pulled Wall Street futures into the red as the cost of trade tensions between Washington and its major economic partners continues to weigh on market sentiment.
With just days to go before President Donald Trump's decision to impose fresh tariffs on $34 billion in China-made goods comes into effect, and with investors in the region fearing a prolonged trade war will sap growth prospects in the world's second-largest economy, shares around the region extended declines again Monday, pushing the benchmark Shanghai Composite index further into bear markets territory with a 2.52% session slide while the blue-chip CSI 300 slumped 2.93%.
In Japan, the Nikkei 225 fell 2.21% to a two-and-a-half month low of 21,811.93 points after a quarterly survey of business optimism fell for the second consecutive quarter, the first back-to-back quarterly decline in five year for the world's third-largest economy. That slide, as well as the weakness in China shares, pulled the MSCI Asia ex-Japan index 0.72% lower heading to the close of the session.
European markets were also notably weaker on the first trading day of the third quarter, owing to both the rising uncertainty of trade relations with the United States after Trump described the EU as "as bad as China" in a weekend interview on Fox News.
"The EU is possibly as bad as China, just smaller, okay. It's terrible what they do to us," Trump said. "Take a look at the car situation, they send their Mercedes in, we can't send our cars in. Look what they do to our farmers, they don't want our farm products. In all fairness they have their farmers so they want to protect their farmers," he added. "But we don't protect ours and they protect theirs."
Stocks were also softer thanks to the escalating political crisis in Germany that threatens the Chancellorship of Angela Merkel.
Horst Seehofer, Germany's interior minister and chairman of the Christian Socialists, a centre-right party that has propped-up Merkel's three-month old coalition, has said he will resign rather that accept the compromise Merkel brokered on EU migrants this weekend in Brussels, a move that could trigger the collapse of the government and fresh national elections. 
Europe's Stoxx 600 index, the broadest measure of regional share prices, was marked 0.91% lower by mid-day in Frankfurt, led by a 0.58% decline for the DAX performance index and a 0.96% slide for the CAC-40 in Paris. The euro was also under pressure, falling to a session low of 1.1629 against the U.S. dollar before paring the decline to around 1.1643. 
Nestle SA (NSRGY) - Get NSRGY Report shares were one of the biggest European stocks in focus Monday, with shares drifting lower in early trading in Zurich Monday even as investors scanned a letter from activist Dan Loeb that called for faster asset sales from the iconic food group and further simplification of its corporate structure.
Third Point LLC, the activist hedge fun managed by Loeb that unveiled a $3 billion holding in Nestle last year, published a letter to investors on Sunday that called for "urgency - rather than incrementalism" in changes to the group's broader strategy, which Loeb insists should be focused on three main business areas -- beverages, nutrition and groceries -- and must include the sale of divisions such as frozen foods and confectionary.
Early indications from U.S. equity futures suggest a day of heavy selling on Wall Street, with contracts tied to the Dow Jones Industrial Average I:DJI pointing to a 125 point decline and those linked to the S&P 500 undefined suggesting an 11.8 point pullback for the broader benchmark. Nasdaq Composite I:IXIC futures were pointing to a 39 point decline for the tech-focused index.
Global oil prices were lower, as well, although the dip wasn't as extreme as first anticipated given that Trump had Tweeted over the weekend that Saudi Arabia had agreed to increase crude output by 2 million barrels a day -- a figure that was disputed by officials in Riyadh -- and voiced his displeasure with OPEC, which he accused of manipulating global oil markets, in the same Fox interview.
"OPEC is (manipulating prices) and they better stop it because we're protecting those countries, many of those countries," Trump said.
Brent crude futures contracts for September delivery were seen 69 cents lower from their Friday close in early European trading and changing hands at $78.54 per barrel while WTI contacts for August delivery were marked 41 cents lower at $73.74 per barrel.