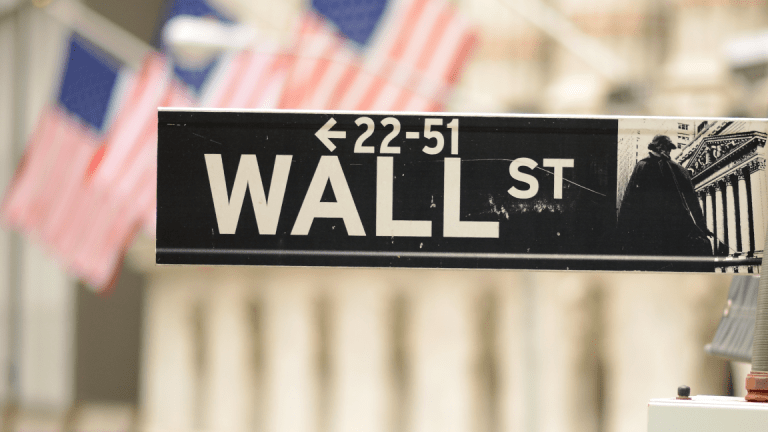 Stocks Slide as US.-China Trade Rally Fades; Bond Yields Signal Weakening Growth
Global stocks weakened Tuesday, with investors fading yesterday's rally amid concern over a lack of detail in the recent U.S-China trade talks and signals from the bond market that suggest slowing growth in the world's largest economy.
The Tuesday Market Minute
Global stocks weaken as investors fade Monday's rally amid a lack of detail from U.S.-China trade talks and signs of an inverting Treasury yield curve.
Benchmark 10-year note yields drift to 3 month lows on growth concerns, putting 2s/10s gap to just 14 basis points, the narrowest since July 2007.
U.S. dollar weakens as yields head south, but pound defies markets are investors dump sterling amid ongoing Brexit uncertainty and parliamentary chaos.
Oil grinds higher ahead of Thursday's OPEC meeting in Vienna, with investors watching for the impact of planned cuts from Alberta on well-supplied markets around the world.
U.S. equity futures trade red, with the Dow poised to slide 110 points at the opening bell, ahead of Wednesday's market close to observe the passing of former President George HW Bush. 
Market Snapshot
Global stocks weakened Tuesday, with investors fading yesterday's rally amid concern over a lack of detail in the recent U.S-China trade talks and signals from the bond market that suggest slowing growth in the world's largest economy.
White House officials attempted to add specifics to the headlines generated from last weekend's trade summit between President's Donald Trump and Xi Jinping late Monday, withe Economic Adviser Larry Kudlow telling reporters in Washington he expected certain tariffs on goods heading into China to "fall to zero" and the nation's broader commitment to removing barriers to accelerate under the supervision of President Xi. However, confusion over the start date for the 90-day truce agreed Saturday -- which the White House said was December 1 while China insisted didn't apply until the New Year -- alongside the fact that no commitments from either side were put in writing, encouraged some investors to fade yesterday's rally and put pressure on Asia stocks at the start of trading Tuesday.
The defensive tone to the late Monday session also put downward pressure on U.S. Treasury bond yields, sending benchmark 10-year notes to a three-month low of 2.937% and putting the gap between 2-year and 10-year notes at just 14 basis points, the narrowest since July 2007. With bond investors focused on Fed rate hikes, which lift short-term interest rates, and worried about longer-term growth prospects, which lower 10-year rates, the chances of a so-called inverted yield curve -- one of the financial market's more accurate predictors of recession -- looks to have increased.
With those dynamics in play, U.S. equity futures weakened overnight, with contracts tied to the Dow Jones Industrial Average I:DJI indicating a 110 point decline for the 30-stock benchmark while those linked to the S&P 500 I:GSPC suggest a 9.6 pullback for the broader benchmark at the opening bell. 
Apple Inc. (AAPL) - Get Report shares slumped again in pre-market trading Tuesday following a report that the tech giant is considering promotional tactics such as promotional discounts and trade-ins to boost iPhone sales over the key holiday shopping period. HSBC analyst Erwan Rambourg also cut his price target on the group to $200 per share, and lowered the bank's rating on the stock to hold from buy, in a report published late Monday.
Apple shares were marked 1.6% lower in pre-market trading Tuesday, indicating an opening bell price of $181.81 each, a move that would take the decline from its October 3 peak to around 21.8% and value the Cupertino, Calif.-based group at just over $859 billion.
European stocks were also weaker at the opening bell, with investors taking a cautious stance in risk markets amid both the ominous signals coming from U.S. Treasuries and the ongoing uncertainty associated with Britain's Brexit process, which hit a procedural snag last night in London with the release of legal advice to the government that had previously been held back by the ruling Conservative Party.
The Stoxx 600 benchmark slipped 0.35% buy mid-day in Frankfurt as the euro edged to 1.1395 against the weaker U.S. dollar and markets in Germany and France dipped modestly into the red. A softer pound allowed the FTSE 100 to book early gains in London, only to reverse that move after an opinion by the European Court of Justice that suggested Britain could unilaterally ends its Brexit process, sending the pound higher at 1.2815 and the FTSE 100 0.54% into the red.
Markets in Asia were also weaker across the board Tuesday, with the region-wide MSCI Asia ex-Japan index falling 0.26% heading into the final hour of trading while Japan's Nikkei 225 was hit by foreign selling of domestic assets and a stronger yen, both of which combined to take stocks down 2.39% from the six-week high on Monday to close at 22,036.05 points.
The flattening U.S. yield curve added downward pressure to the dollar index as well, pushing the metric that tracks the greenback against a basket of six global currencies 0.32% lower to 96.728 in early European trading, while 10-year notes were marked at 2.953%.
Global oil prices, which normally move inversely to the dollar, were modestly higher Tuesday as investors continued to count the cost of a planned shutdown of production in the Canadian province of Alberta, which will take 325,000 barrels of oil from the market each day from January 1, as well as the outcome of this week's OPEC summit in Vienna, where cartel leaders are expected to agree a production cut that, along will Russia, will trim output by 1.4 million barrels per day.
Brent crude contracts for January delivery, the global benchmark, were seen $1.45 higher from their Monday close in New York and changing hands at $63.14 per barrel while WTI contracts for the same month, which are more tightly liked to U.S gas prices, were marked $1.13 higher at $54.08 per barrel.