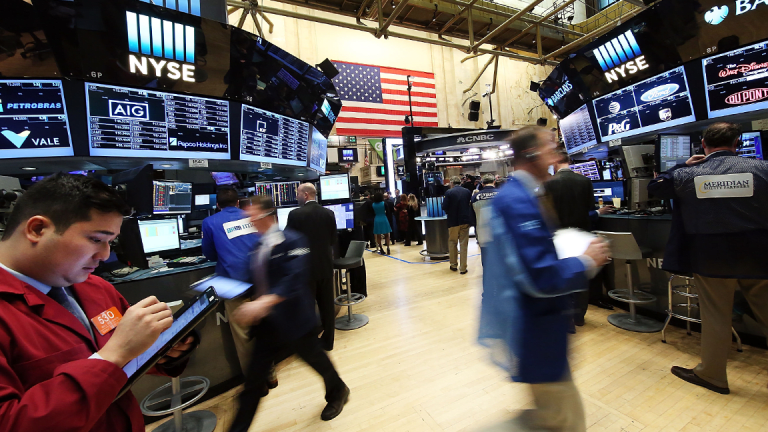 The Tuesday Market Minute
Global stocks slides as Italy's political crisis crushes risk appetite 
Italy's caretaker government, led by former IMF official, may not last the week, setting up fresh autumn elections
U.S. Dollar index hits six-month high, on track for biggest monthly gain in more than 1.5 years. 
European banks slump as Italy's government bond yields spike; financial sector subindex falls to fresh 16-month low
U.S. stock futures point to notable opening bell declines as Treasury yields fall, risk sentiment fades 
European stocks fell sharply Tuesday, as Italy's rumbling political crisis pulled the euro past a six-month low against the U.S. dollar, lifted domestic government bond yields to multi-year highs and blunted risk appetite in markets around the world amid concern that the region's third largest economy could conceivablyexit the single currency.
Italy's benchmark FTSE MIB index fell 2.6% to a fresh 10-month low, while a subindex of bank shares slumped 5.15% to a 13-month low, after President Sergio Mattarella appointed a caretaker government, led by a former IMF official, and paved the way for new national elections in the fall that could be fought over Italy's Eurozone membership. Benchmark Italian government bond yields spiked nearly 50 basis points from last week's close and were marked at 3.08% in early Milan trading, taking the spread against triple-A rated German bunds to 2.93%, the widest in nearly five years.
Italy's 2-year government bond yields rose an astonishing 138 basis points, the most since 1992, to trade at 2.48%, extending their rise from -0.2% since the start of the year. 
Early indications from Wall Street futures suggest a similar start to the trading day, with contracts tied to the Dow Jones Industrial Average I:DJI pointing to a 220 point opening bell decline for the 30-stock average and those linked to the S&P 500 undefined indicating a 24-point pullback for the broader benchmark.
Italy's Prime Minister-designate, Giuseppe Conte, abandoned plans to form a government Sunday after Mattarella refused to accept the appointment of Paolo Savona, an 82-year old economist and vocal anti-euro critic, to the post of finance minister. Mattarella will now attempt to form a "technocratic" government this week, led by a former International Monetary Fund official Carlo Cottarelli, but that is unlikely to survive a confidence vote in parliament, meaning Italy will likely return to the polls in the fall to elect a new leadership that could seek an exit from the single currency.
"The uncertainty over our position has alarmed investors and savers both in Italy and abroad," Mattarella said Monday. "Membership of the euro is a fundamental choice. If we want to discuss it, then we should do so in a serious fashion."
The Stoxx Europe 600 index fell 1.22% to 385.08 points in the opening hour of trading trading as investors piled into safe-have assets, taking the yield on 10-year German bunds to 0.28% and pushing the euro past a six month low of 1.1547 against the greenback.
Bank stocks led the decline in broader European trading as well as in Italy, with the Stoxx 600 Banks index falling 2.8% to its lowest level since February 2017. Germany's two biggest lenders, Deutsche Bank AG (DB) - Get Deutsche Bank AG Report and Commerzbank AG (CRZBY) , fell 3.4% and 3.8% respectively in the opening 45 minutes of trading while Italy's Intesa Sanpaolo  (ISNPY) slumped 5.19%, UniCredit SpA (UNCRY) slid 5.02%. Spain's Banco Santander (SAN) - Get Banco Santander S.A. Sponsored ADR Report was marked 5.09% lower by late-morning in Frankfurt.  
Overnight in Asia, stocks were stung by both the developments in Italy, news of a no-confidence vote scheduled for Friday that could topple the center right government of Mariano Rajoy, and little clarity on the on-again/off-again nuclear Summit that may or may not take place next month in Singapore.
The region-wide MSCI Asia ex-Japan index, the region's broadest measure of share prices, neared the close of the session nursing a 0.53% loss while Japan's Nikkei 225 index fell 0.55% to end the day at 22,358.43 points.
The lack of risk appetite ploughed cash into the U.S. dollar, lifting the dollar index, which benchmarks the greenback against a basket of six global currencies, to 94.66, the highest since November 9. At the same time, benchmark 10-year government bond yields fell to a six-week low of 2.85% in overnight trading.
Global oil prices were mixed overnight, despite both the stronger U.S. dollar and new reports that Saudi Arabia may lead an effort to pump more crude into the market in an effort to offset lost production from OPEC member state Venezuela, which may come under international sanctions following the disputed election of President Nicolas Madura.
Brent crude contracts for July deliver were seen 30 cents higher from their Monday close at $75.60, but still well below the $80 a barrel mark touched earlier last week, while WTI contracts for the same month were seen 26 cents lower at $66.78 per barrel.