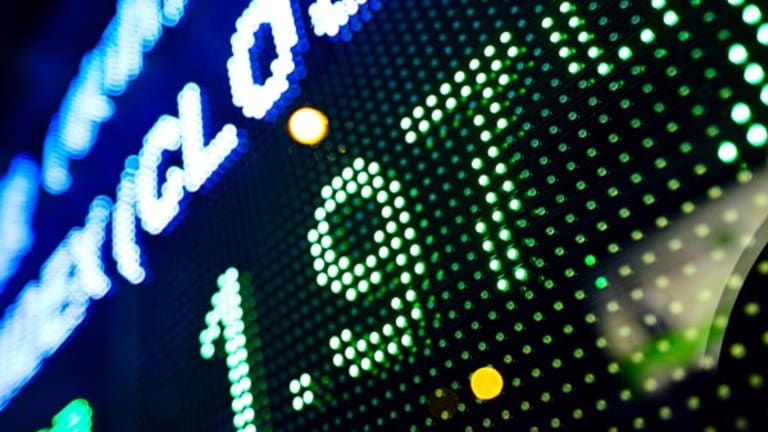 Stocks Slide as Fears of China Slowdown Send Crude Lower
Investors have a lot on their plates on Monday from plunging oil prices and conflicting data on the U.S. economy to a spike in volatility.
NEW YORK (TheStreet) -- Investors had a lot on their plates on Monday from plunging oil prices and conflicting data on the U.S. economy to a spike in volatility. 
Uncertainty triggered shaky trading with equities moving from slight to modest to deep losses and back again in the space of hours. The S&P 500 closed down 0.28%, and the Nasdaq fell 0.25%. The Dow Jones Industrial Average nearly halved earlier losses, closing 0.5% lower. The Volatility IndexI:VIX, otherwise known as the 'fear index', rose 5.2% to 12.75.
Crude oil prices tumbled on Monday as manufacturing activity in China slowed to its lowest level in two years in July. The world's second-largest economy reported manufacturing PMI of 47.8 in July, down from 49.4 in June and its weakest level since July 2013. West Texas Intermediate crude closed 4.1% lower to $45.17 a barrel, its lowest level since March.
"The market is focused on the possible slowing of China's demand, and this paired with large production coming from OPEC and the U.S. has the bears skipping hibernation," said Brian Swan, commodity analyst at Schneider Electric. "Look for selling pressure to persist."
Chevron (CVX) - Get Report and Exxon Mobil (XOM) - Get Report were the worst performers on the Dow. Other major oilers including PetroChina (PTR) - Get Report , Kinder Morgan (KMI) - Get Report , and Statoil (STO) were also lower, while the Energy Select Sector SPDR ETF (XLE) - Get Report fell 2.1%.
Cratering oil prices proved a boon to airlines, though. DeltaAir Lines (DAL) - Get Report, Alaska Air Group (ALK) - Get Report, Hawaiian Holdings (HA) - Get Report, American Airlines (AAL) - Get Report, Southwest Airlines (LUV) - Get Report, and United Continental (UAL) - Get Report were all trading higher. 
It was hard to get a read on where the U.S. economy stood on Monday as investors digested a rush of data from construction spending to manufacturing activity. Construction spending rose just 0.1% in June, its smallest gain in five months and well below an expected 0.5% increase. The measure had jumped 0.8% in May.
Manufacturing activity in July was in dispute as two separate data points on the sector came into conflict. On the one hand, Markit's manufacturing PMI data showed activity moved slightly higher in July to a final reading of 53.8, above a 53.6 level in June.
In a separate survey, the Institute for Supply Management said factory activity fell to 52.7 in July, down from 53.5 in June. Economists had expected the manufacturing sector to record an unchanged reading. New orders were a silver lining, rising 56.5 from 56 to their highest reading since December.
Consumer spending rose a soft 0.2% in June as shoppers spent less on big-ticket items such as cars. Economists had expected a slightly faster pace of 0.3% after a 0.9% jump in May. Personal income rose 0.4% in June, its fourth straight month at that pace and slightly above economists' estimates for a 0.3% increase.
Auto sales came in better than expected. General Motors (GM) - Get Report reported a 6.4% increase in unit sales, more than double estimates. Its Chevrolet brand saw the biggest jump, up 7.8% to 188,790 sales. 
Ford (F) - Get Report added 0.7% after reporting a 4.9% increase in U.S. sales in July, well above the estimates 1.8% increase. A drop in passenger car sales was offset by a 5.7% jump in truck sales. Fiat Chrysler (FCAU) - Get Report enjoyed its best month of June sales since 2005. Jeep sales climbed a record 23% to 73,216 units. Overall sales increased 6.2% to 178,027.
Twitter (TWTR) - Get Report wasn't having a great day, after falling to all-time lows by the afternoon session. Shares fell more than 5% to $29.27 on heavier-than-normal trading volume. The social network has plummeted 20% since reporting earnings last Tuesday. The stock sold off after management said engagement growth would slow until the company could appeal to mainstream users.
The earnings calendar wasn't as busy as the past few sessions. Tyson Foods (TSN) - Get Report fell more than 9% after reporting third-quarter earnings of 80 cents a share, 12 cents below estimates. Sales were hit hard by higher cattle costs. Pork revenue tumbled 32% to $1.207 billion as prices slid 28%.
Sears (SHLD) shares plummeted 10% after comparable-store sales fell 10.6% in the second quarter. The company also said it expects to report its first profit in three years thanks to its $1.4 billion spinoff which triggered a sizable tax benefit.