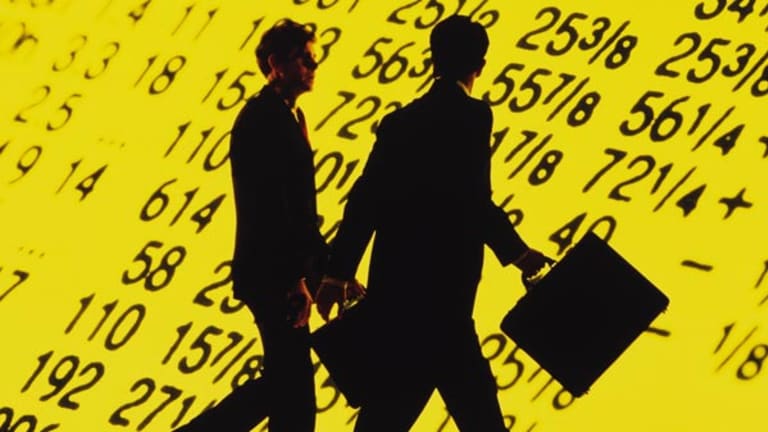 Stocks Skittish Over Frisky Fed
The market slides after several Fed officials suggest the rate-hike schedule must be flexible.
The market slides after several Fed officials suggest the rate-hike schedule must be flexible.
Updated from 4:04 p.m. EDT
Stocks fell Monday after comments from
Federal Reserve
officials over the weekend further spooked investors already looking nervously ahead to the government's report on consumer prices.
The
Dow Jones Industrial Average
fell 75.37 points, or 0.72%, to 10,334.73; the
S&P 500
shed 11.21 points, or 0.99%, to 1125.26, while the
Nasdaq Composite
was off 29.88 points, or 1.49%, to 1969.99. The 10-year Treasury note was down 17/32 to yield 4.87%, while the dollar was higher against the yen and lower vs. the euro.
The Nasdaq dropped below its 50-day moving average of 1980 but managed to close above its 200-day moving average of 1968.
"Tomorrow's inflation report is ramped up obviously because of the 'Fed speak' that we've heard in the last week," said Barry Hyman, equity market strategist at Ehrenkrantz King Nussbaum. "
Fed Chairman Alan Greenspan et al. have given us reason to think there's a potential that interest rates will be ramped up faster than originally expected, and tomorrow's release could be the ammunition they need to make a more-than-25-basis-point hike at the end of June.
"The Fed is being very presumptive that inflation, based upon the last few months, is probably somewhat higher than we would have liked to have seen," he added. "I think they're making a proactive move here to try to tell Wall Street that, should inflation be more vigorous than expected, they are going to be more aggressive than they have previously indicated."
"I think there's plenty of reason to worry that inflation is getting out of the Fed's control," Trip Jones, managing director at SunGard Institutional Brokerage said. "For the market, it's all about tomorrow's CPI report, and there's a possibility that we could get a real ugly number."
Economists are predicting that the consumer price index rose 0.4% in May, compared with 0.2% in April. Excluding food and energy prices, Wall Street is expecting the index to slow to 0.2% growth, down from an April 0.3% increase. If the numbers come in higher than expected, speculation is spreading that the rate hikes instituted by the Fed in the coming months could be more aggressive than planned, which could weigh heavily on stock prices.
The most recent monetary warning came Sunday, when Minneapolis Fed President Gary Stern said the Federal Open Market Committee would not be bound by its commitment to gradual rate increases if prices moved up quickly.
Stern, who is not currently a voting member of the FOMC, said the Fed "does not make very many once-and-for-all decisions. If we're wrong ... once we realize that, we can change."
The comment echoed a speech given Friday by Atlanta Fed President Jack Guynn, who called the Fed's commitment to "measured" rate hikes "more a plan than a pledge." Guynn, who currently votes on the FOMC, noted several signs of price pressure in the economy, including big jumps in the price of lumber and milk.
"When viewed in the historical context and measured in the aggregate, the rate of inflation we are currently seeing appears to be comparable to rates observed just prior to 2001," Guynn said. "In my mind, these are acceptable levels for inflation and they fall within my own definition of price stability.
"At the same time, I don't want to dismiss the compelling evidence of rising prices. As I have tried to suggest, a great deal depends on how much of the recent spate of price increases turns out to be transitory. And I would conclude that these recent developments on the price front warrant significant attention in our analysis and policy debates," Guynn said.
Cleveland Fed President Sandra Pianalto was more blunt.
"I do know this -- the current
federal funds rate, at 1%, is too low to be sustainable. Inflation expectations appear reasonably stable right now, but I am concerned about the potential for them to drift up in this environment," said Pianalto, who also votes on the FOMC.
On Monday, the market's direction was once again led by tech stocks, with the Philadelphia Semiconductor Index closing down 2.3% and the Amex Network Index down 2.1%. Particular weakness also showed up in real estate and gold-related stocks.
Jeff Kleintop, chief investment strategist at PNC Financial Services, noted that earnings revisions continued to point toward a positive sales environment for companies, but he said the market has likely already factored such news into stock prices, and other macroeconomic issues are weighing on investor sentiment.
"I think we're probably trapped in a range here until the fourth quarter, when some of the issues surrounding the election, Iraq and energy prices having come down begin to lift and investors can once again focus on the fundamentals," said Kleintop. "In the near term, I think probably all the good news is priced in."
The government reported earlier Monday that the U.S. trade deficit was larger than expected in April, totaling $48.33 billion, compared with a revised $46.57 billion in March. Economists were expecting the deficit to shrink to $45 billion.
Separately, the government said retail sales grew 1.2% in May, meeting Wall Street's estimate. In April, sales decreased by a revised 0.6%. Excluding auto sales, retailers fared slightly better than expected, with sales rising 0.7%.
On the geopolitical front, two car bombs exploded in Iraq Monday, killing an estimated 16 people, according to the
Associated Press
. One took place in central Baghdad, where a crowd gathered after the attack, shouting "Down with the USA," and setting fire to an American flag while a group of 20 young men danced around a charred body. The other bomb went off near the town of Salman Pak, southeast of Baghdad.
Oil prices fell back below $38 a barrel, following the end of a brief strike in the major oil-producing nation Nigeria on Friday. The benchmark U.S. crude fell 81 cents, or 2.1%, to $37.84, while gasoline prices fell 4.1 cents, or 3.4%, to $1.147 a gallon.
Monday morning's biggest corporate story was the revised bid from
MGM Mirage
(MGG)
to buy
Mandalay Resort Group
(MBG)
for $71 a share in cash. The offer follows rejection Friday night of the previous $68-a-share offer. Mandalay's board said it would consider the increased bid, which comes out to about $7.9 billion, including assumed debt.
Shares of Mandalay lost 82 cents on the day, or 1.2%, to close at $67.60, while shares of MGM Mirage added 60 cents, or 1.3%, to $48.20.
Elsewhere,
Nokia
(NOK) - Get Report
closed off 16 cents, or 1.2%, to $14.08 after revising its market share estimate for the first quarter to 32%, down from 35%, and said it would scale back its product offerings to 35 from about 40 in a bid to win back market share. The company unveiled five new phone models Monday, saying it planned to reach 40% of the global market share in 2004.
Overseas markets closed lower across the board, with London's FTSE down 1.1% to 4433 and Germany's Xetra DAX losing 1.6% to 3949. In Asia, Japan's Nikkei ended down 0.3% to 11,492, while Hong Kong's Hang Seng lost 2.6% to 12,077.
On Tuesday, the government's report on consumer prices, due out at 8:30 a.m. EDT, will be joined by a report on business inventories in April, expected to slow to an increase of 0.4% from the 0.7% jump logged for March.
Later at 9:45 a.m. EDT, the University of Michigan is scheduled to release preliminary figures for its consumer sentiment index in June, expected to tick up to 90.8 from May's final reading of 90.2.
At 10 a.m. EDT, Greenspan will testify before the U.S. Senate for his nomination hearing, and Wall Street will be listening for his reaction to the CPI report.
Before the opening bell, earnings releases are due out from
Circuit City
(CC) - Get Report
, expected to report a first-quarter loss of 7 cents a share, compared with last year's loss of 21 cents a share;
Lehman Brothers
(LEH)
, expected to report second-quarter earnings of $1.90 a share, up from last year's $1.67 a share; and
Pier 1 Imports
(PIR) - Get Report
, expected to report fourth-quarter earnings of 13 cents a share, down from last year's 21 cents a share.
After the close,
Oracle
(ORCL) - Get Report
is expected to report fourth-quarter earnings of 18 cents a share, up from last year's 16 cents a share.