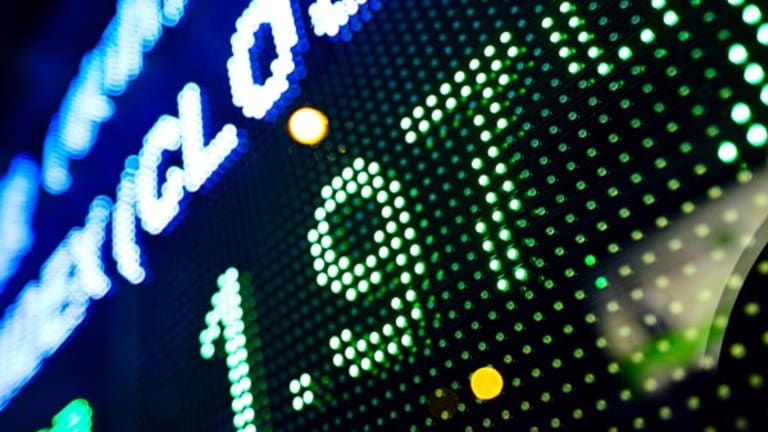 Stocks Skirt Rout With Late Surge
Bargain hunters come to the rescue in the last hour.
Updated from 4:04 p.m. EDT
Stocks recovered in the final hour of trading Wednesday after hitting their lowest levels of the year, as bargain hunters surfaced in a session dominated earlier by oil and interest rate paranoia. The market's bottom occurred just above a key technical support level on the
S&P 500
.
The
Nasdaq Composite
closed down only 5.76 points, or 0.3%, to 1925.59 after spending most of the session below 1900. The tech-heavy index was held down by semiconductors, as the Philadelphia Semiconductor Index fell 1.7%.
Among the semiconductor index components,
Broadcom
undefined
was down 99 cents, or 2.5%, to $38.76,
Xilinx
(XLNX) - Get Xilinx, Inc. Report
was off $1.65, or 4.5%, to $35, and
Altera
(ALTR) - Get Altair Engineering Inc. Class A Report
was losing 48 cents, or 2.2%, to $21.55.
Meanwhile, the
Dow Jones Industrial Average
-- which was off 150 points earlier -- finished up 25.69 points, or 0.26%, to 10,045.16.
In fact, the Dow's gain may have been larger were it not dragged down by
Altria
(MO) - Get Altria Group Inc Report
, which fell $3.60, or 6.7%, to $49.80 after Florida's Supreme Court agreed to hear arguments about a $145 billion punitive award that was dismissed last year. The so-called Engle verdict held the tobacco industry responsible to sick smokers throughout Florida but was tossed in May 2003 because of Florida's involvement with the national tobacco settlement.
The
S&P 500
closed up 1.81 points, or 0.17%, to close basically flat at 1097.26, after bouncing from a technically significant 200-day moving average of 1078. The 10-year Treasury bond was trading down 12/32 in price to yield 4.80%, while the dollar was lower against the yen and euro.
Volume on the New York Stock Exchange approached 1.7 billion shares, with advancers barely edging out decliners. On the Nasdaq, almost 1.9 billion shares changed hands, and advancers and decliners were about even.
All indices opened lower and moved steadily to set intraday lows for the year. "We're still in a process of trying to form a bottom here and testing Monday's low, which is pretty much the same thing as the March low as well," said Ken Tower, chief market strategist at CyberTrader. "This is still a market where good news does not provide any follow-through, and that shows that we're still in a down draft. People's worries about what comes next are stronger than what pleasure they get from good news in the present."
"As far as oil goes, commodities in general tend to get squeezed every now and then," he added. "We're in a spike period now for oil, and the big question in everyone's mind is how far does this spike have to go."
Crude oil futures trading on the Nymex settled at $40.77 a barrel, a new all-time record high. Traders ignored Tuesday's call from Saudi Arabia for OPEC to loosen its limits on production and focused on recent attacks to Iraq's oil pipeline that have put the future of the country's oil output under more scrutiny and evidence of rising calamity in the region.
"This is creating some havoc in general, and people are afraid of the inflationary implications if oil prices continue to rise," said Peter Cardillo, chief market analyst at S.W. Bach & Co. "I think what's really frightening the market is the fact that oil is going up not just based on speculation, but the fundamentals of the oil market are getting stronger and stronger. The supply factor is a major concern."
Thanks to rising energy prices, the U.S. logged its biggest international trade deficit ever in March. Topping the expectations of Wall Street, the trade gap hit $46 billion, up from $42.1 billion in February. Export prices, excluding agriculture, rose 0.4% in April compared with 0.6% in March, and import prices, excluding oil, rose 0.3%, up from the 0.2% growth reported for the month before.
In other economic news, the U.S. treasury ran a larger deficit in April than expected, but it was considerably smaller than last year's. The spending gap totaled $17.6 billion for the month, down from $51.1 billion in the April of 2003.
On the geopolitical front, two more American soldiers have been ordered to stand trial in the Abu Ghraib prisoner abuse scandal, although no dates for the courts-martial were set, according to the
Associated Press
. Also, American troops launched an attack on a mosque in the Iraqi city of Karbala, the largest assault yet against the forces of the young rebel Shiite cleric Moktada al-Sadr who has been leading a forceful insurgency against the U.S.-led occupation.
The elevating of violence taking place in Iraq over the last two months, coupled with recent revelations about the prisoner abuse scandal, has brought new questions about the outcome of the war to the fore. The subsequent wave of uncertainty and apprehension has taken a toll on investor sentiment on Wall Street.
"It's hard to think about Iraq right now, and not think about how everything there is in terrible shape," said CyberTrader's Ken Tower.
Mark Arbeter, chief technical analyst at Standard & Poor's, said the main culprit in the market's recent weakness was the action in the bond market and the fear of even higher yields on the horizon. "We believe there has been a long-term, negative reversal in bonds and that the 10-year treasury could hit 5% to 5.5% by the end of the year," Arbeter said. "If the stock market is going to remain in a bull market, it is going to have to used to higher yields."
"The major indexes have undercut their respective March lows and further weakness is certainly possible," Arbeter added.
Bonds were down despite another successful sale of by the U.S. Treasury. In the second of three days of the so-called quarterly refunding, the Treasury sold $15 billion of five-year notes at a low bid of 3.93%, receiving a solid 2.6 orders for every bond sold. Foreign participation in the auction was relatively high for a second straight day.
"We think that we're in a long-term consolidation period here, and I don't think that an oversold condition is going to be a long-term reason to be getting in the market," said Doug Sandler, chief equity strategist at Wachovia Securities.
Sandler advised investors to avoid interest-rate sensitive and cyclical stocks, like financial and technology names, and focus on stocks that can do well regardless of what goes on in the economy, like healthcare companies and consumer staples. "Our overall theme, which we've had since the beginning of the year, has been to prune some of your riskier positions and plant some quality positions."
"Investors need to hear some sign that inflation isn't as strong as people think, or that the Fed is going to act more decisively for stocks to begin to make any real progress here," he added.
Lingering concerns about an imminent interest rate-hike by the
Federal Reserve
were apparent in a release out Wednesday from the Mortgage Bankers Association that showed a steep drop in refinancing activity by homeowners in the week ending May 7. The group's refinancing index tumbled 13% from the previous week, while a gauge of lending activity saw a 5% decline. The trends reflect a steady climb in interest rates pegged to the 10-year note, which has seen its yield jump by a full percentage point over the last six weeks.
In corporate news,
Walt Disney
(DIS) - Get Walt Disney Company Report
beat expectations for its second-quarter earnings, released after the bell Wednesday, thanks to a strong performance from ESPN and increased travel to its theme parks. Its profit rose to $537 million, or 26 cents a share, from $314 million or 15 cents a share in the same quarter last year. Disney shares were recently up 40 cents, or 1.7%, to $23.40 in after-hours trading, after finishing the session up 0.1%.
Qualcomm
(QCOM) - Get Qualcomm Inc Report
, a wireless technology company, raised its guidance for the third quarter because of unexpected revenue streams from licensing royalties and stronger demand for its cell-phone chips. The company said it will earn between 51 and 53 cents a share, excluding its investment arm, up 55% to 61% from last year's results. Its earlier forecast had been 48 to 50 cents a share. Its shares closed down 82 cents, or 1.3%, to $63.90.
Federated Department Stores
undefined
more than doubled its first-quarter earnings, posting profits of $96 million, or 52 cents a share, up from $46 million, or 24 cents a share, in the same quarter last year. Its shares closed up $1.01, or 2.2%, to $47.81.
After the bell Tuesday, networking giant Cisco posted pro forma earnings of $1.4 billion, or 19 cents a share, for its fiscal third quarter, up from $1.1 billion, or 15 cents a share, last year. Sales rose 22% to $5.6 billion. Analysts had been forecasting pro forma earnings of 18 cents a share on revenue of $5.55 billion.
Cisco forecast a fourth-quarter sales increase of 3% to 5% over last year, which is toward the high end of expectations, and also revealed that it spent $3 billion on stock buybacks last quarter. Its stock -- the most-traded name on the Nasdaq Wednesday -- closed down 29 cents, or 1.3%, to $21.96, and the Amex Network Index dropped 0.6%.
Overseas stocks were mixed Wednesday, with London's FTSE 100 closing down 0.9% to 4413 and Germany's Xetra DAX off 1.9% to 3776. In Asia, Japan's Nikkei finished up 2.3% to 11,154 while Hong Kong's Hang Seng added 0.2% to 11,528.
New inflation-related data will be in focus on Thursday. At 8:30 a.m. EDT, economists expect the government to report that the producer price index rose 0.3% in April, down from March's 0.5% jump. Excluding food and energy, the index is expected match the 0.2% increase recorded in March. Also, initial jobless claims for the week ended May 8 are expected to rise by add 10,000 from the previous week to reach 325,000 claims, and the Census Bureau is expected to say retail sales wilted by 0.2% in April, compared with a 1.8% rise in March.
At 11 a.m. EDT, Fed Chairman Alan Greenspan is scheduled to address the Money Smart Conference in Chicago.
Quarterly results from some major retailers are due out before the opening bell, such as
Wal-Mart
(WMT) - Get Walmart Inc. Report
,
Target
(TGT) - Get Target Corporation Report
,
Tiffany
(TIF) - Get Tiffany & Co. Report
and
Payless Shoes
(PSS)
.