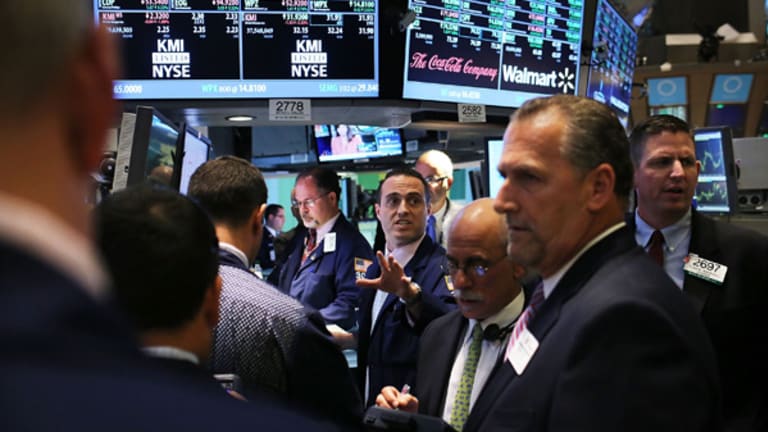 Stocks Skid to Lower Close
An eventful weekend in currency markets greets traders returning from Memorial Day.
Updated from 4:10 p.m. EDT
Stocks opened the holiday-shortened week with losses Tuesday, as mixed economic data and a blow to European unity roiled currency markets and had traders playing defense after a long weekend.
The
Dow Jones Industrial Average
fell 75.07 points, or 0.71%, to 10,467.48, and the
lost 7.27 points, or 0.61%, to 1191.51. The
Nasdaq Composite
finished down 7.51 points, or 0.36%, at 2068.22, after having rallied to the break-even point during the last hour of trading.
"The Nasdaq was leading the way, but it didn't pull it off," said Bryan Piskorowski, market analyst with Wachovia Securities. "The mixed economic data muddied the water. Adding to that, there was some technical resistance. All in all, it was a pretty sideways type of session, much like the rest of the week will be."
Trading volume on the
New York Stock Exchange
was 1.83 billion shares, with decliners even with advancers. Volume on the Nasdaq was 1.58 billion shares, with decliners outpacing advancers 8 to 7.
In other markets, the 10-year Treasury was up 20/32 in price to yield 4%, while the dollar rose to an eight-month high against the euro following French rejection of the European Union constitution on Sunday. The euro recently cost $1.2336 in New York, compared with $1.2584 late Friday.
The Dow was pressured by losses in
IBM
(IBM)
, which was down 2%, and
Alcoa
(AA)
, which fell 1.3% after saying late Friday that it had received a grand jury subpoena related to an investigation of the aluminum fluoride sector.
On the economic front, the Conference Board said that consumer confidence for May rose unexpectedly to 102.2 from 97.5 in April. Economists had expected the index to fall to 95.9. Meanwhile, the Chicago purchasing managers index fell to 54.1% in May from 65.6% the previous month. The decline was greater than expectations of a 61.1% reading.
"The market is focusing on the disappointing PMI more than the improvement in the confidence number," said Michael Sheldon, chief market strategist with Spencer Clarke. "There's a lot of profit-taking, with a lot of sectors down fractionally. One of the drivers today is the continued strength in the dollar, leading to more profit-taking in commodities."
Oil rose thanks to the strong dollar. The July crude contract, which rose 6% last week, was up another 12 cents to close at $51.97 a barrel. Meanwhile, shares of oil producers
Exxon Mobil
(XOM)
and
Chevron
(CVX)
were lower despite analyst upgrades.
"The big rally in energy stocks since May 16 threatens to signal a shift in leadership away from technology," said Ken Tower, chief market strategist with CyberTrader.
Stronger areas Tuesday included utilities, homebuilding and airlines, which received a boost after Merrill Lynch upgraded shares of
Northwest Airlines
undefined
to buy from neutral. Weaker sectors included technology, financials, energy and drugs.
Among companies,
American International Group
(AIG)
declined after filing its long-delayed 10-K with the
Securities and Exchange Commission
. The filing detailed a $2.26 billion reduction in shareholder equity related to the insurer's accounting misdeeds. Shares of AIG fell 85 cents, or 1.5%, to $55.55.
Calpine
(CPN)
agreed to sell its Saltend power plant in Britain for $925 million to a partnership between
International Power
(IPR)
and Japan's
Mitsui
. The deal, which is expected to close in late July, should help Calpine cut its debt. Calpine jumped 10.4%, up 28 cents to close at $2.98.
During its midquarter update,
Novellus
undefined
said it expects second-quarter earnings between 20 cents and 22 cents a share and revenue between $325 million and $330 million. Analysts had expected earnings of 19 cents a share and revenue of $326 million, according to Thomson First Call. Novellus added 77 cents, or 3%, to $26.69, but was unable to keep the Philadelphia Semiconductor sector index from slipping into negative territory.
Ameritrade
(AMTD)
confirmed it has held talks about a merger with TD Waterhouse, a unit of Canadian bank
Toronto-Dominion
(TD)
. Ameritrade gained 47 cents, or 3.3%, to $14.86. Toronto-Dominion was higher by $1.18, or 2.8%, to finish at $42.53.
Cingular Wireless, a unit of
SBC Communications
undefined
and
BellSouth
(BLS)
, said it will offer
Good Technology's
GoodLink wireless messaging service to its business customers. SBC fell 29 cents, or 1.2%, to $23.38, while BellSouth was off 5 cents, or 0.2%, to $26.76.
Meanwhile,
Research In Motion
(RIMM)
, rival of privately held Good Technology, rose $2.45, or 3%, to $82.82.
Shares of
Tibco Software
(TIBX)
rose 0.2% after the company said preliminary results indicate second-quarter earnings will miss expectations because of a slowdown in closing deals. The business software maker expects to earn 4 cents a share before items, on sales of $100 million to $102 million. Analysts were expecting earnings of 6 cents a share before items on sales of $114 million, according to Thomson First Call. Tibco was up 1 cent to close at $6.34.
Drugmaker
Renovis
undefined
said Tuesday it signed a collaboration and licensing agreement with
Pfizer
(PFE)
to research and develop treatments for pain, urinary incontinence and other diseases. Renovis plummeted $3.90, or 22.8%, to $13.20, while Pfizer lost 45 cents, or 1.6%, to $27.90.
Magal Security Systems
(MAGS)
said Tuesday it signed contracts totaling more than $13 million to install its security products at locations in Europe and Africa by year-end 2006. Magal added 51 cents, or 5.6%, to $9.62.
On Saturday, retail giant
Wal-Mart
(WMT)
said sales for the month of May grew 2.5% compared with the company's guidance of 2% to 4% for the month. Shares fell 4 cents, or 0.1%, to $47.23.
In rating news, brokerage Bear Stearns upgraded
AstraZeneca
(AZN)
to outperform from market perform, citing the company's stroke drug Cerovive's increased chances of reaching the market. The stock dipped 43 cents, or 1%, at $42.52.
Google
(GOOG)
rose 4.2% after brokerage Piper Jaffray upped its stock price target on the search-engine giant to $300 from $275. Shares were up $11.27 to $277.27, a record closing high.
Overseas markets were mixed, with London's FTSE 100 down 0.4% at 4964 and Germany's Xetra DAX falling 0.4% to 4460. In Asia, Japan's Nikkei rose 0.1% overnight to 11,277, while Hong Kong's Hang Seng rose 0.2% to 13,867.
To view Gregg Greenberg's video take on today's market, click here
.