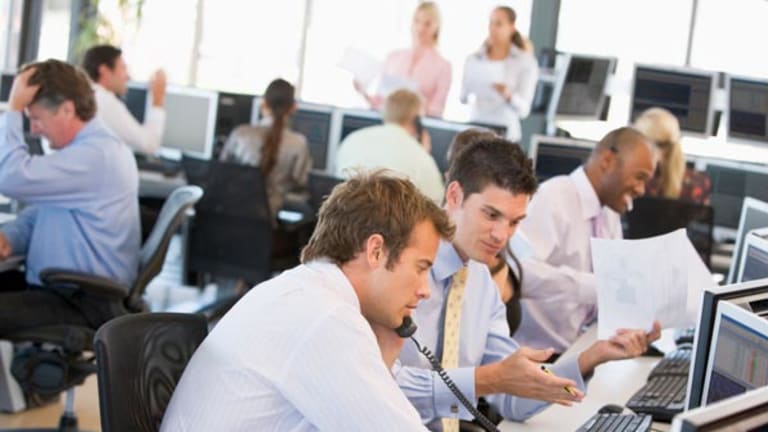 Publish date:
Stocks Sink Late as Recession Fears Win Out
The market in New York had another erratic session Monday as traders worried about the extent and duration of a potential downturn around the world. Frank Curzio reviews the action in The Real Story (above).
The market in New York had another erratic session Monday as traders worried about the extent and duration of a potential downturn around the world. Frank Curzio reviews the action in The Real Story (above).
Updated from 11:58 a.m. EDT
U.S. stocks traded erratically Monday, as has been the story for weeks, and ultimately closed lower as the prospect of a
continued to loom.
After a lower open and a sizable rally in afternoon trading, the three major averages sold off sharply into the close. The
Dow Jones Industrial Average
swung in a 450-point range, and then ended with a loss of 203.18 points, or 2.4%, at 8175.77. The
S&P 500
lost 27.85 points, or 3.2%, to 848.92. The
Nasdaq
was down 46.13 points, or 3%, at 1505.90.
When the new week began, financial firms, major players in the global crisis, were in focus. The
Financial Times
Web site reported that
(GS) - Get Report
chief Lloyd Blankfein approached
Citigroup
(C) - Get Report
head Vikram Pandit about a merger. Pandit turned down the proposal, which was made in September, the report said. Goldman dropped 7.5% to $92.88, and Citi gave back 3.4% to $11.73.
Also, as the Treasury Department's $700 billion
to buy equity stakes in troubled banks got underway, several companies announced their participation in the initiative. Among them,
KeyCorp
(KEY) - Get Report
and
Huntington Bancshares
(HBAN) - Get Report
announced they would take part in the
to purchase stock in banks facing liquidity troubles.
KeyCorp shares edged down 2% to $9.92, and Huntington gained 15% to $9.17.
SunTrust
(STI) - Get Report
, meanwhile, said it would slash its dividend 30% and apply to sell stock and warrants to the government. Shares added 0.7% to $35.34.
The
Federal Reserve
was also working to shore up short-term debt markets and get companies to lend to one another. The Fed said it will give companies a rate of 1.88% for three-month, high-grade commercial paper and buy asset-backed debt for 3.88%. Three-month dollar Libor, a measure of the rate banks charge one another for large loans, ticked down to 3.51% from 3.52% Friday. The overnight Libor rate was at 1.27%.
Kenny Landgraf, president and founder of Kenjol Capital Management, said that the government's actions are welcome, but it will take time for the Fed and Treasury's impact on the crisis to be realized. He said that banks have yet to resume lending, and homeowners and the lending markets face added risks if unemployment rises.
Nevertheless, major financial institutions have benefitted from the intervention. "Morgan Stanley is still in business, and about a month ago they were on the chopping block," said Landgraf. He also pointed to
PNC's
(PNC) - Get Report
recent acquisition of
National City
( NCC) as evidence that the TARP is helping financial institutions. PNC shed 0.4% to $58.63, and National City slippped 2.4% to $2.02.
Amid speculation that there will be additional interest-rate cuts, European Central Bank chief Jean-Claude Trichet said his agency may cut rates at its Nov. 6 meeting. Expectations of a rate cut from the U.S. Fed increased ahead of its two-day meeting, which begins Tuesday.
Also making headlines was conglomerate
Loews Corp.
(L) - Get Report
, which said it will buy $1.25 billion of preferred stock in insurer
CNA Financial
(CNA) - Get Report
. Loews owns a 90% stake in CNA, which swung to a third-quarter loss because of a downturn in its investment portfolio and hurricane-related claims. Loews' stock plummeted 18% to $25.65, while CNA dropped 33% to $11.90.
The state of the U.S. automakers was once again looking precarious.
Bloomberg
reported that
General Motors
(GM) - Get Report
requested support from the Treasury Department to help it merge with
Chrysler
. GM shares lost 8.4% to $5.45.
Elsewhere on the merger front,
CenturyTel
(CTL) - Get Report
reached an agreement to acquire
Embarq
(EQ) - Get Report
in a stock swap the companies are valuing at around $11.6 billion. CenturyTel fell 13% to $25.62, and Embarq added 2.2% to $30.38.
As for
, telecom-services provider
(VZ) - Get Report
announced quarterly results that were in line with Wall Street's estimates. The stock climbed 10% to $27.61.
Looking at the day's economic data, the Census Bureau released its September new-home sales figures. The agency reported that September sales came in at an annual rate of 464,000, up from 460,000 in August. Economists were anticipating 450,000 units sold. Inventories, meanwhile, declined to 394,000 from 425,000. However, sales of new houses declined year over year, and home prices hit a four-year low.
In the realm of commodities, crude oil for December delivery lost 93 cents to settle at $63.22 a barrel. Gold climbed $12.60 to $742.90 an ounce.
Longer-dated U.S. Treasury securities were falling in price. The 10-year was down 12/32 to yield 3.73%, and the 30-year was losing 12/32, yielding 4.09%.
The dollar was continuing the wild swings seen at the end of last week, making big gains against the euro and pound but taking losses vs. the yen.
Abroad, European exchanges were mixed, as the FTSE in London edged down and the DAX in Frankfurt gained ground.
, such as Japan's Nikkei and Hong Kong's Hang Seng, closed on the downside.
(