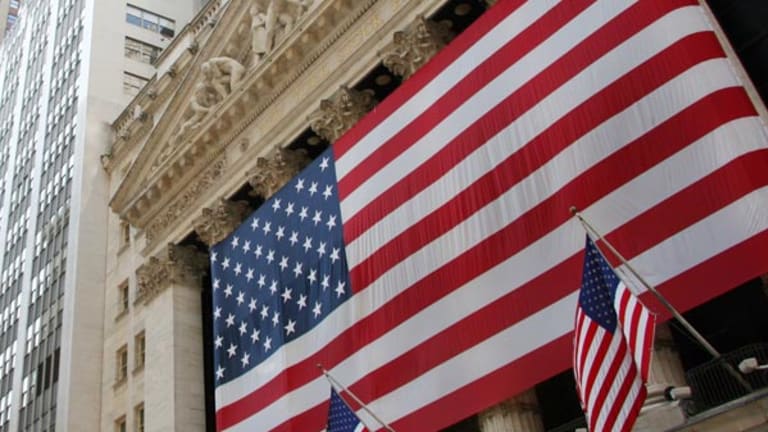 Stocks Sink Despite Apple's Shine
The major indices resume their 2005 slump as another jump in oil prices spooks investors.
Updated from 4:04 p.m. EST
Stocks fell hard and fast Thursday, as surging oil prices and concerns about a debt downgrade at
General Motors
(GM)
took the shine off
Apple's
(AAPL)
big quarter.
The
Dow Jones Industrial Average
fell 111.95 points, or 1.05%, to 10,505.83; the
was off 10.25 points, or 0.86% to 1177.45; and the
Nasdaq
was down 21.97 points, or 1.05%, to 2070.56, a new seven-week low.
"This market has been under pressure since the beginning of the year, with one interrupted day yesterday," said Barry Hyman, equity market strategist with Ehrenkrantz King Nussbaum. "A lot of this can be related to oil, but the market has been below resistance levels this whole week and now it's just accelerated even lower. Clearly, we've taken out the support and its turned into a pretty broad rout."
The 2005 slide is beginning to look a bit ominous. The Dow, for example, is now within 50 points of its Dec. 31, 2003, close of 10,454 and almost 280 points below its Dec. 31, 2004 close of 10,783.
Volume on the
NYSE
was 1.51 billion shares, with decliners beating advancers by a ratio of 6 to 5. Volume on the Nasdaq was 2.10 billion shares, with decliners outpacing advancers by a ratio of about 2 to 1.
Verizon
(VZ)
was the biggest Dow percentage loser, falling 3% after CSFB downgraded the stock to neutral from buy. The brokerage cited the looming threat of voice-over-Internet-protocol competition. Verizon fell $1.13, or 3%, to $37.10.
GM also tanked despite telling investors it expects to hit previously issued earnings estimates for this year and next. The stock came under pressure early in the session on concerns about a possible debt downgrade and, despite a brief recovery, finished off $1.07, or 2.8%, to $37.32.
In other markets, the 10-year Treasury bond rose 15/32 in price to yield 4.17%, while the dollar was slightly higher against the yen and euro.
The February crude oil contract closed up $1.67 to $48.04 a barrel, driven higher by concerns about production snags in Nigeria, Norway and along the Gulf Coast. The benchmark contract closed above the $48 level for the first time since late November.
In economic news, the Commerce Department said U.S. retail sales increased 1.2% in December, ahead of expectations of a 0.9% increase. Excluding auto sales, retail sales rose 0.3%, matching expectations. Sales in 2004 increased 8%, the largest annual increase since 1999.
In addition, the Labor Department said first-time unemployment claims were up 10,000 to 367,000 last week, the highest since September. Economists had expected a decline to 339,000. The four-week moving average of new claims rose 12,750 to 344,000.
"Overall, it's been a very data-charged market," said Bryan Piskorowski, market analyst with Wachovia Securities. "The weekly job claims were disappointing, the dollar is still having its issues, and slowly but surely oil prices are rising. We're looking to see the market continue to level off. I think we're still giving back a lot of 2004's anticipation."
After the bell Wednesday, Cupertino, Calif.-based Apple reported first-quarter earnings of $295 million, or 70 cents a share, on a 74% jump in revenue to $3.49 billion. Analysts had been forecasting earnings of 49 cents a share on revenue of $3.18 billion. For the current quarter, the technology company forecast earnings of 40 cents a share on revenue of $2.9 billion. Wall Street was expecting 33 cents a share on revenue of $2.74 billion.
Analysts had effusive praise for the results, with Bank of America raising the shares to buy from neutral and upping the price target by $10 to $85. While Apple's earnings beat reflected exploding sales of its iPod digital music player, Bank of America focused on the potential for market-share improvement in Apple's computer business. The stock was up $4.34, or 6.6%, to $69.80.
"I think the big picture is that not one company does a market make," added Piskorowski. "Just because Apple sold a ton of iPods doesn't mean you're going to see other computer makers do well. Apple is still a very specific subset of the whole market."
Taser
undefined
rallied Thursday morning after the Defense Department backed company claims concerning the safety of its stun guns. Taser is being investigated by the
Securities and Exchange Commission
over statements that its nonlethal weapons don't pose an undue threat, so the Pentagon's support comes at a crucial time. Shares soared, up $3.79, or 22.3%, to $20.80.
RadioShack
(RSH)
edged up after saying fourth-quarter sales were $1.59 billion, about $30 million above Wall Street forecasts. The electronics chain affirmed its full-year earnings estimate of $2.07 to $2.09 a share. The stock gained $1.80, or 5.7%, to $33.45.
Homebuilder
MDC
(MDC)
gained after it reported a doubling in fourth-quarter earnings. The Denver company earned $143 million, or $3.17 a share, in the quarter, compared with $67 million, or $1.52 a share, last year. Analysts had been expecting earnings of $2.82 a share. The stock rose $3.45, or 5.2%, to $69.33.
Kenneth Cole
(KCP)
lowered its fourth-quarter earnings expectations to 43 cents to 45 cents a share on revenue of $133 million to $135 million. The company sees annual earnings of $1.72 to $1.74 a share. The Thomson First Call consensus estimates are 56 cents a share for the quarter and $1.88 for the year. Kenneth Cole fell $2.31, or 7.9%, to $27.01.
The Food and Drug Administration warned
Pfizer
(PFE)
in a letter late Wednesday that its ads for arthritis drugs Celebrex and Bextra are misleading. Pfizer was one of the major blue-chip decliners, losing 70 cents, or 2.7%, to $25.33.
Home Depot
(HD)
affirmed 2004 earnings guidance and said it expects profit growth of 10% to 14% and sales growth of 9% to 12% for 2005. It put same-store sales growth at 4% to 7% for 2005 and said it plans to add 175 new stores while continuing to upgrade existing stores. Shares dipped 47 cents, or 1.1%, to $41.73.
Online music retailer
Napster
( NAPS) said its number of subscribers grew by 50% in its third quarter ended Dec. 31. Napster gained 270,000 paid subscribers during the holiday period. Shares finished flat at $7.19 after holding gains for most of the session.
Overseas markets were little changed, with London's FTSE 100 closing higher by 0.3% to 4800 and Germany's Xetra DAX finishing unchanged at 4212. In Asia, Japan's Nikkei fell 0.8% overnight to 11,358, while Hong Kong's Hang Seng sat still at 13,573.