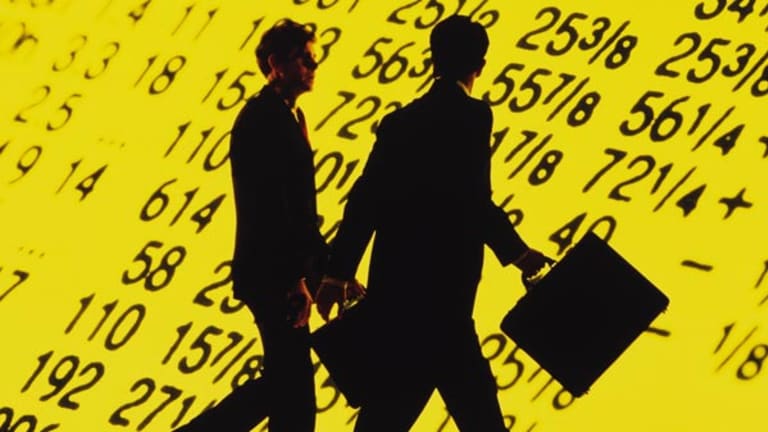 Stocks Sink as Oil Spikes
Crude futures surge to $51 a barrel and the dollar tanks, sending the Dow to its largest one-day point drop since May 2003.
Crude futures surge to $51 a barrel and the dollar tanks, sending the Dow to its largest one-day point drop since May 2003.
Updated from 4:12 p.m. EST
Stocks fell sharply Tuesday, with blue chips suffering their largest loss in almost two years as surging oil prices and a selloff in the dollar spooked investors.
The
Dow Jones Industrial Average
closed down by 174.02 points, or 1.6%, to 10,611.20; the
S&P 500
finished lower by 17.43 points, or 1.4%, at 1184.16, while the
Nasdaq
lost 28.30 points, or 1.4%, to 2030.32.
It was the worst single-day point loss for the Dow since May 19, 2003, and the S&P 500's biggest decline in more than six months. Volume on the
New York Stock Exchange
was 1.74 billion shares, with decliners beating advancers by a ratio of about 3 to 1. Volume on the Nasdaq was 2.05 billion shares, with decliners beating advancers 8 to 3.
In other markets, the 10-year Treasury note was down 5/32 in price to yield 4.29%, while the dollar fell over 1.4% against the yen and was down sharply against the euro, the most it has fallen in more than six months.
Stocks were victimized Tuesday by two related catalysts: higher oil, which reflected continued cold weather in the Northeast, and the falling dollar, which reflected overseas political developments and also contributed to the rise in oil. The dollar fell sharply against the yen and euro on a report suggesting South Korea might consider selling some of its Treasury bonds in an effort to diversify its foreign reserve portfolio.
Crude for April delivery added $2.80 to finish at $51.15 a barrel in Nymex floor trading, a three-month high. Despite the gain, the Philadelphia Stock Exchange Oil Service Sector Index lost 1.5%.
"We knew oil and South Korea's news would put pressure on us," said Larry Perruzi, equity trader with Boston Company Asset Management. "Oil hitting $51 dropped the market down to its next level. Unless we see oil pull back to $50 or below, the Dow is just going to continue to keep falling. Unless we get some earnings with substantially higher numbers, I think the next bit of news that could possibly help us would be tomorrow's CPI number."
According to
Reuters
, South Korea's central bank told the country's National Assembly on Monday that it plans to diversify its roughly $200 billion in foreign reserves, pumping more money into Australian and Canadian securities. That fanned fears that demand for dollar-denominated debt will wane around the world. South Korea's central bank owns about $69 billion in U.S. Treasury securities, according to
Bloomberg
, making the Asian country's investors the fifth-largest foreign holder.
"It's a prudent standpoint for South Korea," said Peter Boockvar, equity strategist with Miller Tabak & Co. "This follows talk from a few different central banks that it will continue, and it takes away one of the pillars in the U.S. Treasury market. While a weaker dollar can help some, if this were to continue with other central banks, it would obviously be a negative."
The Nasdaq's decline pressured early strength in chip stocks. The Philadelphia semiconductor index reversed and fell 0.5% even after brokerage Smith Barney raised its rating on the sector to overweight Tuesday morning.
On the economic front, the Conference Board reported that consumer confidence slipped slightly in February -- as expected -- to 104.0 from a revised 105.1 in January. The government's consumer price index will be released tomorrow, a reading that will be closely watched after inflation surfaced in a wholesale report on Friday.
On Monday, Cleveland Federal Reserve Bank President Sandra Pianalto said businesses are facing difficulties passing on higher costs, and said that is helping to keep inflation in check. In a speech, Pianalto also said she does not see excessive risk in the bond markets and noted that the
Federal Reserve
has a good track record of bringing down inflation without setting a target.
"We have been fairly successful without setting targets," said Pianalto. "While I continue to stay alert and aware of whether I see an increase in inflationary pressures, I don't see them at this time. Business people I talk to continue to say they continue to see some rising input costs. But they are not able to fully translate these rising input costs into their own prices."
Tuesday's corporate news was reasonably strong, with
Home Depot
(HD) - Get Report
reporting a 10% rise in fourth-quarter earnings, matching expectations. The home-improvement retailer earned $1.04 billion, or 47 cents a share, in the latest quarter, compared with $951 million, or 42 cents a share, last year. Sales rose 11% to $16.81 billion. Still, Home Depot lost $1.74, or 4.1%, to $40.28.
Rival
Lowe's
(LOW) - Get Report
is scheduled to report earnings tomorrow. Another huge retailer,
Wal-Mart
(WMT) - Get Report
, said over the weekend that it still sees February same-store sales rising in a 2%-4% range. Lowe's finished down $1.22, or 2.1%, to $57.53. Wal-Mart fell 72 cents, or 1.4%, to $52.
The battle for long-distance carrier
MCI
(MCIP)
continues to rage, with reports Tuesday saying
Qwest
(Q)
plans to make a revised offer sometime this week. MCI is currently betrothed to
Verizon
(VZ) - Get Report
for $6.75 billion. Qwest -- and several big MCI shareholders -- complained last week that MCI's board never fairly considered Qwest's first offer. MCI added 34 cents, or 1.5%, to $22.65.
A month after reporting a $400 million quarterly loss, supermarket chain
Winn Dixie
(WIN) - Get Report
filed for Chapter 11 bankruptcy protection Monday. The company, which employs about 80,000 people, got an $800 million credit line from Wachovia to fund operations during the reorganization. Winn-Dixie said it must improve operations and cut costs in order to return to profitability. Shares were unchanged at $1.47.
Federated Department Stores
posted a fourth-quarter profit of $440 million, or $2.55 a share, compared with $460 million, or $2.50 a share, a year ago. Last year's income, however, included a one-time tax benefit of 21 cents a share. The parent of Macy's and Bloomingdale's beat the Thomson First Call consensus earnings estimate by a penny. Shares were off $1.43, or 2.5%, to $55.29.
Domino's Pizza
(DPZ) - Get Report
reported fourth-quarter earnings of $27 million, or 38 cents a share, vs. $21.3 million, or 33 cents a share, last year. Earnings included a charge of 2 cents a share because of a change in accounting for leases. Revenue rose to $478.5 million from $433 million last year. Analysts had expected earnings of 39 cents a share, according to the Thomson First Call average estimate.
Looking ahead, the pizza delivery company reiterated its 2005 outlook, forecasting net income growth of 11% to 13% on sales growth of 4% to 6%. The company also raised its dividend to 10 cents a quarter, totaling 40 cents a year. Shares rose 56 cents, or 3.3%, to $17.67.
On Monday, Swiss pharmaceutical giant
Novartis
(NVS) - Get Report
agreed to buy German firm Hexal AG and U.S.-based
Eon Labs
(ELAB)
in a combined deal worth about $8.3 billion. The transaction will make Novartis the world's leading generic drug supplier. Its shares gained $1.56, or 3.2%, to $50.46.
In brokerage action, SunTrust Robinson upgraded
Merck
(MRK) - Get Report
to buy after a Food and Drug Administration advisory committee on Friday voted to allow the company's Vioxx arthritis drug to be sold in the U.S. Despite the vote late Friday, Merck fell $1.40, or 4.3%, to $31.21.
Markets overseas finished mostly lower, with London's FTSE 100 down 0.6% to 5032 and Germany's Xetra DAX losing 0.7% to 4323. In Asia, Japan's Nikkei added 0.1% overnight to 11,647, while Hong Kong's Hang Seng lost 0.2% to 13,996.
On Wednesday, minutes from the
Federal Open Market Committee's
last meeting will be released. Earlier this month, the central bank raised interest rates a quarter percentage point for the sixth time since late June, taking the federal funds rate up to 2.5%. The CPI is expected to rise 0.2% in January after a 0.1% decrease in December.