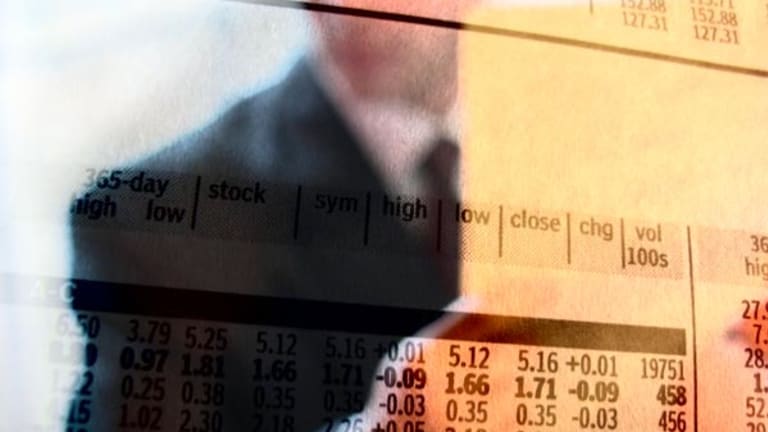 Stocks Sigh to Lower Close
A solid quarter from Lowe's and good news in the drug space fail to inspire investors.
Updated from 4:06 p.m. EST
Stocks finished lower Monday as strong earnings results from the home-improvement retail space and some positive developments for drugmakers failed to generate optimism.
The
Dow Jones Industrial Average
closed down 93 points, or 1.1%, at 8486, while the
Nasdaq
lost 17 points, or 1.2%, at 1393, and the
S&P 500
fell 9 points, or 1%, at 900.
Brokerage, gold, retail, homebuilding, software and defense issues were lower, while wireless, biotech, health, oil services and airline shares showed some strength. The Philadelphia Semiconductor Index, or SOX, was relatively flat, and the AMEX Biotech Index was up 1.6%. Overall, market breadth was negative. Decliners outpaced advancers 9 to 7 on the
New York Stock Exchange
, where 1.3 billion shares traded. On the Nasdaq, losers beat out winners 10 to 7 on volume of 1.7 billion shares.
"Weak retailers and brokerage stocks appear to be weighing on the tape," said Keith Keenan, vice president and partner at Wall Street Access. "Decent numbers from Lowe's failed to generate enthusiasm." Keenan noted that Nasdaq names are behaving better than Dow and S&P members because the shorts are nervous right now and afraid of getting squeezed.
Lowe's
(LOW) - Get Lowe's Companies, Inc. Report
said third-quarter profit rose 35%, beating analysts' expectations by 3 cents a share on an 18% revenue increase. Shares slipped $1.80, or 4.2% at $40.70, however.
Wal-Mart
(WMT) - Get Walmart Inc. Report
warned that same-store sales in November will be at the low end of its previous guidance, which was for an increase of 2% to 4%. Shares fell $1.81, or 3.3%, at $53.68.
Bristol-Myers
(BMY) - Get Bristol-Myers Squibb Company Report
was up after it and Otsuka received clearance from the FDA to market their schizophrenia drug Abilify. The drug joins a host of other schizophrenia treatments on the market, but analysts say its clean safety profile could make it a $2 billion-a-year blockbuster. The shares traded up 49 cents, or 2%, to $24.54 on the news.
Software giant
Computer Associates
announced the retirement Monday of its 58-year-old chairman, Charles Wang. Wang will be succeeded in the post by the company's CEO, Sanjay Kumar, who inherits several controversies including an accounting probe. Shares of CA tacked on 23 cents, or 1.5%, to $15.35.
"I don't think the market can rally further unless end-demand starts to improve," Keenan said. "This is normally a strong seasonal period for software and hardware names. The first quarter of 2003 will be an important test because that is normally a seasonally weak period for tech." The trader added that he isn't optimistic on the market going forward because he thinks 2003 guidance will be weak.
On the research front, Lehman Brothers analyst Blake Bath lowered his investment rating on
AT&T
to underweight from equal-weight, citing the decline of its consumer business. Bath said he does not see a near-term catalyst that would reverse its declining revenue. The shares, which are waiting to be separated from the broadband operation being merged with
Comcast
(CMCSA) - Get Comcast Corporation Class A Report
dropped 35 cents, or 2.5% to $13.51.
UAL
(UAL) - Get United Airlines Holdings, Inc. Report
said its United Airlines unit plans to cut 9,000 jobs and further scale back capacity as it maneuvers for approval by the federal government of $1.8 billion in loan guarantees. The company, which has lost about $1.7 billion already this year and is burning cash at a rate of $7 million a day, says the restructuring should produce an operating profit by 2004. The airline's stock climbed 55 cents, or 18.6%, to $3.50.
In other news,
Tenet Healthcare
(THC) - Get Tenet Healthcare Corporation Report
, the nation's second-largest hospital operator, saw its shares rise more than 14.8% to $18.75 after announcing that it has met with the
Securities and Exchange Commission
regarding its billing practices. The practices are the subject of a government audit into the way it handles expensive procedures that require reimbursement above what Medicare generally covers.
In the option pits,
Comverse Technology
was seeing some heavy interest today as investors flocked to the Jan. 10 calls, snatching up 10,200 contracts compared with an open interest of 3,355 contracts. A call option is the right to buy a particular stock at a set price during specified period of time. The stock turned in a solid performance Friday after a major brokerage firm stated that it expects the company to meet third-quarter financial targets. In fact, the stock is up more than 50% since hitting a 52-week low of $6.65 back on Sept 30. Comverse traded down 2.2% to close at $10.36.
Meanwhile, U.N. chief weapons inspector Hans Blix characterized the atmosphere in Baghdad as "tense" as he arrived with a team of assistants to search for weapons of mass destruction.
Treasury bonds staged a late-session rally, with the 10-year note rising 7/32 to yield 4.00%. The 30-year bond was up 16/32, yielding 4.88%.
Overseas markets were mostly higher, with London's FTSE 100 up 0.6% at 4116 and Germany's Xetra DAX up 0.7% at 3213. In Asia, Japan's Nikkei lost 1.9% to 8346, while Hong Kong's Hang Seng added 0.6% to 9920.