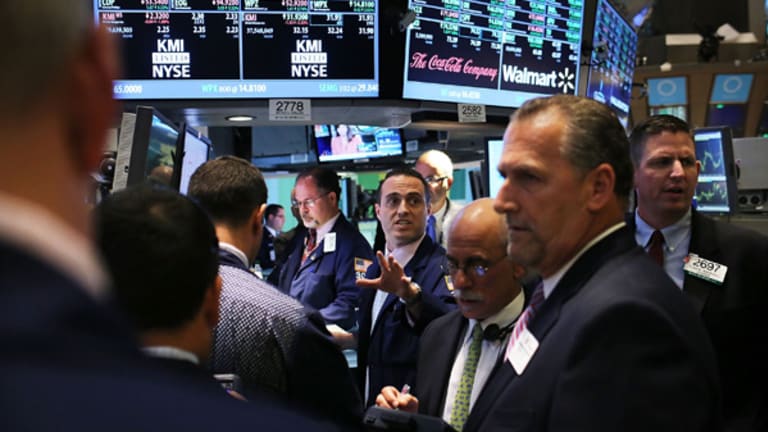 Stocks Shrug Off Inflation Scare
The S&P 500 flirts with its recent 40-month high despite a jump in producer prices.
Updated from 4:04 p.m. EST
Stocks closed little changed Friday, recovering from an dip as a positive reading on consumer sentiment offset an uptick in wholesale inflation.
The
Dow Jones Industrial Average
shed 9.6 points, or about 0.1%, to 10,543.22; the
S&P 500
lost 1.24 points, or 0.1% to 1188, closing just 3 points below its 40-month high set last week; and the
Nasdaq
was off by 0.94 point at 2128. While the Dow and S&P 500 notched small losses for the week, the Nasdaq lost about 19 points, almost 1%.
Volume on the
NYSE
was 1.44 billion, with advancers beating decliners 9-to-7. Volume on the Nasdaq was 1.79 billion, with advancers beating decliners 8-to-7.
In other markets, the 10-year Treasury note was up 3/32 in price to yield 4.15%, while the dollar rose against the yen and euro.
The University of Michigan said its preliminary reading on consumer sentiment for December came in at 95.7, beating forecasts for about 93. Earlier, the Commerce Department said its producer price index rose 0.5% in November, about four-tenths of a percentage point more than economists were forecasting. The core number, which excludes food and energy prices, rose 0.2%, matching estimates.
Crude oil futures closed sharply lower and at a four-month low on the Nymex, losing $1.82 to $40.71 a barrel, even though OPEC agreed to cut production by 1 million barrels a day. Oil is down 26% from its late-October high of $55.17.
"OPEC thinks it needs to cut supply, but we were already expecting that," said Arthur Hogan, chief market analyst with Jefferies "The reaction the market is having is correct. It's just a sideways day."
In other economic news, the U.S. federal budget deficit increased to $57.9 billion in November from $43 billion a year ago, the Treasury Department said. The deficit hit a record in the prior fiscal year.
Among stocks,
Sprint
(FON)
is reportedly negotiating a $30 billion merger with
Nextel
(NXTL)
, a transaction that would create the nation's third-largest wireless carrier. The talks are ongoing and could fall apart,
The Wall Street Journal
reported, and other suitors could emerge.
Dow Jones
reported Friday that
Vodafone
(VOD) - Get Report
does not plan to make a competing bid for Nextel.
Sprint, after being up most of the day, lost 14 cents, or 0.6%, to $24.14; Nextel lost 5 cents, or 0.2%, to $29.76; and Vodafone finished down 41 cents, or 1.5%, to $27.18.
Ciena
(CIEN) - Get Report
traded lower Friday afternoon even after the shares were upgraded by CSFB. Shares of the network-gear maker rallied 25% Thursday after it forecast sequential sales growth as high as 10% in the first quarter. On Friday, CSFB hailed the improved visibility and said the stock's risk/reward calculus was balanced. It raised its rating to neutral from underperform. Ciena was down 3 cents, or 1%, to $2.85.
Advanced Micro Devices
(AMD) - Get Report
couldn't shrug off a UBS downgrade. The broker said that increasing competition with rival chipmaker
Intel
(INTC) - Get Report
will limit the company's valuation. AMD ended down 27 cents, or 1.2%, to $21.83. Meanwhile, Intel was off 20 cents, or 0.9%, to $22.56.
Johnson & Johnson
(JNJ) - Get Report
traded heavily in Friday's premarket after the
Journal
reported that it could close its acquisition of
Guidant
(GDT)
over the weekend. J&J is expected to exchange stock and cash worth about $75 for each Guidant share. Directors of both companies are expected to meet Sunday for final approval of the transaction. Johnson & Johnson dropped $1.06, or 1.7%, to $60.25, while Guidant lost $2.20, or 3%, to $71.55.
Sirius
(SIRI) - Get Report
was setting up for another volatile session after CIBC raised its price target on the stock to $9 from $6.50. The brokerage said the satellite radio system has a leg up over competitor
XM Satellite
(XMSR)
, including a lower monthly fee and Howard Stern. It forecast a progressive increase in market share to 45% by 2007. Sirius rose 42 cents, or 5.9%, to $7.59, while XM gained 52 cents, or 1.4%, to $38.64.
Delphi
(DPH)
shares fell after the auto-parts maker lowered its fourth-quarter outlook, citing lower production volumes and increases in commodity prices. The company also plans to cut 8,500 jobs next year as part of an expanded restructuring plan. Delphi finished down 34 cents, or 3.9%, to $8.30.
General Electric
(GE) - Get Report
raised its dividend 10% from 20 cents a share to 22 cents a share. The company's board also authorized a $15 billion stock buyback over the next three years. GE gained 67 cents, or 1.9%, to $36.69.
Overseas markets closed mixed, with London's FTSE 100 unchanged at 4690 and Germany's Xetra DAX gaining 0.6% to 4174. In Asia, Japan's Nikkei fell 0.2% overnight to 10,757, while Hong Kong's Hang Seng lost 0.8% to 13,902.