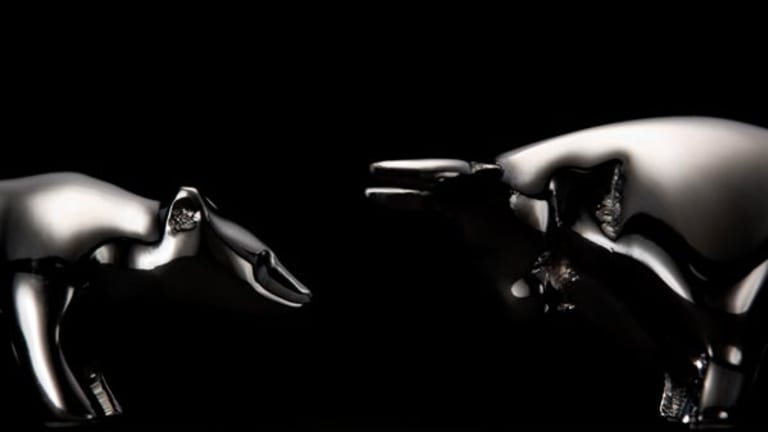 Stocks Show Some Sparkle
The Nasdaq adds 1% as investors celebrate the economy.
The Nasdaq adds 1% as investors celebrate the economy.
Updated from 4:08 p.m. EDT
Stocks closed with broad-based gains Tuesday, as well-rested investors turned bullish on the economy and decided to rotate funds out of the bond market.
The
Dow Jones Industrial Average
rose 68.36 points, or 0.66%, to 10,371.80. The
S&P 500
gained 10.55 points, or 0.88%, to 1204.99. The
Nasdaq
jumped 21.38 points, or 1.04%, to 2078.75. The 10-year Treasury bond was down 17/32 in price to yield 4.11%, while the dollar rose against the yen and euro.
"Today's performance is encouraging with oil prices flirting with the $60 level, which always creates a headwind for the economy," said Michael Sheldon, chief market strategist with Spencer Clarke LLC.
Trading volume on the
New York Stock Exchange
was 1.24 billion shares, with advancers beating decliners by a 2-to-1 margin. Volume on the Nasdaq was 1.43 billion shares, with advancers also beating decliners 2 to 1.
Tuesday's run-up followed a research note from Prudential equity strategist Ed Keon urging institutional clients to allocate all their assets into stocks. Keon said corporate earnings as a percentage of stock prices are at historically high rates compared with bond yields, a valuation formula known as the "Fed model."
"The Fed model shows that stocks look cheaper compared to bonds then they have at any time going back to 1980," he wrote. "The model also shows that stocks look as cheap compared to bonds as bonds were compared to stocks during the equity bubble."
Oil continued to rise after adding more than $2 a barrel on Friday. Lifted by tropical storm warnings in the Gulf of Mexico, the August contract -- which fell in three of last week's five sessions -- finished up 84 cents to $59.59 a barrel in Nymex floor trading, having briefly hit the $60 intraday.
Exxon Mobil
(XOM) - Get Report
was one of the best-performing stocks on the Dow, adding 3.1%.
"Energy and utilities have been the standout sectors for the past six weeks, while the rest of the market treads water or worse," says Ken Tower, chief market strategist with CyberTrader. "This is remarkably similar to the pattern we've seen several times in the past 18 months, where an overall market rally gives way to energy sector leadership."
Other stocks that performed well on the Dow included
Intel
(INTC) - Get Report
, up 1.8%;
American International Group
(AIG) - Get Report
, higher by 1.5%; and
Home Depot
(HD) - Get Report
, up 1.5%.
After a weak opening, stocks turned positive when the Commerce Department said May factory orders rose 2.9%. Economists expected orders to increase 3% after a 0.9% rise in April.
"Constructive economic reports show growth, which is what the market wants," says John Hughes, equity strategist with Shields & Co. "It provides a decent-enough background for the time being. There's very few people around, and there's light trading today, so you can't
read too much."
Stronger areas Tuesday included energy, techonology, semiconductors, health care, homebuilders and retail. The only weaker sector was airlines.
Wal-Mart
(WMT) - Get Report
was the best-performing stock on the Dow after the retail giant raised its estimate for June same-store sales, firing back at skeptics who said high gasoline prices would continue to sap its comps. The company sees same-store sales up 4.5% last month.
The shares were upgraded to buy on Tuesday by Oppenheimer & Co. Wal-Mart gained $1.52, or 3.2%, to $49.80.
The second-quarter earnings season kicks off this week with
Alcoa
(AA) - Get Report
slated to report Thursday. Until then, investors are bracing for the last round of earnings warnings.
One came Tuesday from
Mercury Interactive
( MERQ), which said weak new orders and currency movements will leave its second-quarter earnings and sales below estimates. The stock fell 0.7% to $37.96, down 25 cents.
Meanwhile,
BP
(BP) - Get Report
on Tuesday pegged its second-quarter production growth at 3.5%, about twice what some analysts were forecasting. That's good news for investors in energy companies, which are supposed to show earnings growth of roughly 30% in the second quarter. Shares rose $2.77, or 4.4%, to $66.
Alvarion
(ALVR)
slid 22.5% after widening its second-quarter loss forecast and cutting sales guidance because of project delays and slower-than-expected installations. The stock fell $2.58 to $8.88.
Boston Scientific
(BSX) - Get Report
rose after a Delaware jury found that a cardiac stent made by
Johnson & Johnson
(JNJ) - Get Report
borrows technology covered by a Boston Scientific patent. J&J said it will try to have the ruling overturned. Boston Scientific was up $1.71, or 6.4%, to close at $28.60.
Mohawk
(MHK) - Get Report
made another move in the flooring business Monday, agreeing to acquire Belgian ceramic-tile maker
Unilin
for $2.6 billion. Mohawk bought Dal-Tile three years ago. Shares rose $5.30, or 6.5%, to $87.50.
After its "You Pay What We Pay" discount helped sales jump 41% in June,
General Motors
(GM) - Get Report
said it will extend the program until Aug. 1. GM was up 15 cents, or 0.4%, to finish at $34.80.
Ford
(F) - Get Report
followed suit by announcing the "Ford Family Plan," matching GM's employee discount deal. The program takes effect Wednesday and will also run through Aug. 1. Shares gained 0.9%, up 9 cents to $10.40.
Eye care company
Bausch & Lomb
( BOL) agreed to acquire a 55% stake in China's Shandong Chia Tai Freda Pharmaceutical for $200 million in cash, sending the stock near its 52-week high. Bausch & Lomb added $5.72, or 7%, to $87.50.
In brokerage moves, First Albany raised its third-quarter earnings forecast for
Apple Computer
(AAPL) - Get Report
to 34 cents a share from 29 cents a share and its revenue forecast to $3.4 billion from $3.3 billion. The brokerage set a price target of $44, citing higher sales of its new Tiger operating system and increased iPod sales. Apple was up $1.48, or 4.1%, to close at $37.98.
Shares of
Amazon
(AMZN) - Get Report
rose 3.6% after brokerage Legg Mason raised its rating to buy from hold, setting a price target of $42. Amazon added $1.17 to $34.08.
Piper Jaffray cut its price target for
Radware
(RDWR) - Get Report
to $16 from $22 after the company cut its second-quarter guidance below analysts' expectations on Friday. The stock gained 4 cents, or 0.3%, to $15.36 after dropping more than 15% Friday.
Banc of America downgraded college operator
Corinthian Colleges
(COCO)
to sell from neutral, citing concerns over declining enrollment. The brokerage also cut its stock-price target to $10 from $14 and 2006 earnings estimate to 52 cents a share from 94 cents a share. Corinthian Colleges was off 9 cents, or 0.7%, to finish at $12.84.
Overseas markets were mostly lower. While London's FTSE 100 was up 0.1% at 5190, Germany's Xetra DAX fell 0.4% to 4603, Japan's Nikkei fell 0.3% to 11,617 and Hong Kong's Hang Seng lost 0.4% to 14,125.
To view Aaron Task's video take on today's market, click here
.