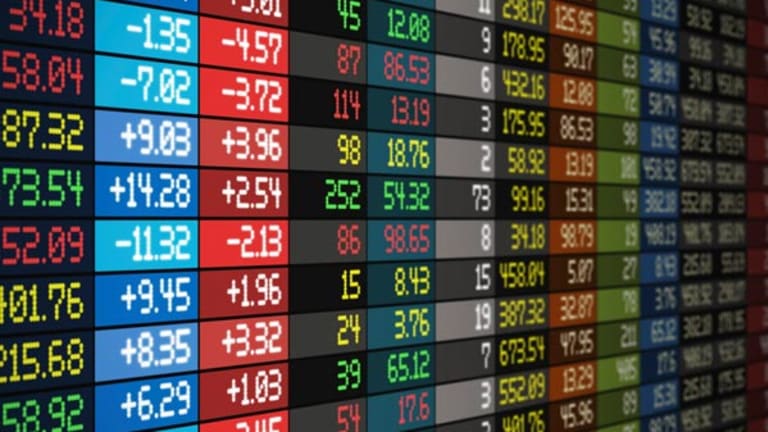 Stocks Show Off Staying Power
U.S. stocks close in positive territory, demonstrating resilience after disappointing economic data.
U.S. stocks close in positive territory, demonstrating resilience after disappointing economic data.
Updated with Treasuries, stock and commodity prices.
Stocks flaunted their resilience after Wednesday's rally, pulling off another, albeit smaller, win despite disappointing data.
After an up-and-down day, the
Dow Jones Industrial Average
ultimately tacked on 36.58 points, or 0.4%, to 9398.19, with more than 5% gains in components
Alcoa
(AA) - Get Report
and
Bank of America
(BAC) - Get Report
. The
S&P 500
advanced 6.92 points, or 0.7%, to 1012.73, and the
Nasdaq Composite
added 10.63, or 0.5%, to 2009.35.
Earlier in the day, disappointing retail, foreclosure, and jobless claims data took away some of the excitement that followed an unexpected increase in GDP in France and Germany and the Fed's most recent release. But observers were again impressed by the market's staying power.
"No matter what's thrown at this market, it continues to stay strong: You have negative news, you go sideways, you have positive news, the market goes up," says Ryan Detrick, senior technical strategist at Schaeffer's Investment Research.
"It all says the market is predicting we had a major bottom in the economy recently, and now the market is forward-looking, and there are negatives out there, sure, but overall we think things look much, much better," says Detrick. Click below to hear more from Detrick on the market and economy.
The indices got a short-lived upward nudge after a successful Treasury auction wrapped up early Thursday afternoon. The U.S. government sold $15 billion in 30 year notes, with a high yield of 4.541%, and a bid to cover ratio -- an indication of demand - of 2.54, topping the recent average of 2.3.
On the negative side, the Labor Department said new claims increased slightly more than expected last week to a seasonally adjusted 558,000, from 554,000 the previous week. But the number of people remaining on the benefit rolls fell to 6.2 million from 6.34 million the previous week, while analysts had expected a slight decline.
As for
, the Department of Commerce reported an 0.1% drop in July, while analysts had expected an increase of 0.8%. Factoring out autos, sales fell by 0.6%, vs. expectations for an 0.1% increase.
"The data are going to be uneven, and that's what we're seeing here," says Jeffrey Kleintop, chief market strategist for LPL Financial. "We'll look back at July and see it as a downward dip in what was a pretty solid rebound in a lot of the economic data."
"When you look at the charts and what the market has done, I really think the market is telling us the consumer will slowly come back," agrees Schaeffer's Detrick. "But it is getting to make-or-break time, they need to start doing it in the next two to three months here."
One potentially positive sign,
Wal-Mart
(WMT) - Get Report
reported
second-quarter income little changed from a year ago, but beat analyst expectations. The retailer also raised the low end of its profit outlook, although it cautioned that conditions will continue to be difficult. Shares were added 2.7% at $51.88.
Retailer
Kohl's
(KSS) - Get Report
also
beat expectations
, despite a 3% decline in profit, and raised its outlook. Kohl's shares added 0.2% to $52.39.
Meanwhile, the Department of Commerce said business inventories fell 1.1% in June, slightly more than expected, after a 1.2% decline in May.
On a dimmer note Thursday, RealtyTrac reported that foreclosure filings were reported on 360,149 U.S. properties in July, an increase of nearly 7% from June and up 32% from July 2008.
"Despite continued efforts by the federal government and state governments to patch together a safety net for distressed homeowners, we're seeing significant growth in both the initial notices of default and in the bank repossessions," noted James J. Saccacio, chief executive officer of RealtyTrac.
Economic data overseas were more promising, however. Gross domestic product in the euro region fell by a less-than-expected 0.1% in the second quarter, compared with a 2.5% contraction in the first quarter and less severe than expectations for a 0.5% drop, the European Union's statistics office reported.
But the real surprise came from Germany and France, the region's two largest economies, which saw unexpected growth. Both economies expanded by 0.3%.
That data, paired with the Federal Open Market Committee's post-meeting statement, which brought no surprises, good or bad, helped to juice futures before Thursday's open.
Commodities were also advancing, with crude oil futures up 36 cents at $70.52 a barrel, while gold added $4 to $956.50 an ounce. The dollar, meanwhile, was stronger vs. the yen, but weaker against the pound and euro.
In other news, British insurer
Prudential
(PUK) - Get Report
said its net loss narrowed by 74% in the first half of 2009, helped by the best U.S. sales in its history. Shares popped 11.4% to $17.68.
Also, the Dutch firm
Aegon
(AEG) - Get Report
, which owns U.S. insurer
Transamerica
, said it planned to sell up to 1 billion euros in stock to repay part of a capital injection of 3 billion euros it received from the Dutch state.
Aegon separately reported a second-quarter loss of 161 million euros ($229.6 million), due in part to a loss on the sale of its Taiwanese life insurance operations and impairments related to the U.S. housing market, sending shares down 6.2% to $7.70.
Stocks overseas were higher. In Europe, Frankfurt's Dax and London's FTSE 100 were up 1% and 0.8%, respectively. In Asia, Hong Kong's Hang Seng and Japan's Nikkei gained 2.1% and 1.8%, respectively, during their session.
Longer-dated Treasuries were rising in price, falling in yield. The 10-year was up 30/32 to yield 3.6%, while the 30-year gained 1-26/32, yielding 4.42%.
-- Written by Elizabeth Trotta in New York
.
Copyright 2009 TheStreet.com Inc. All rights reserved. This material may not be published, broadcast, rewritten, or redistributed. AP contributed to this report.