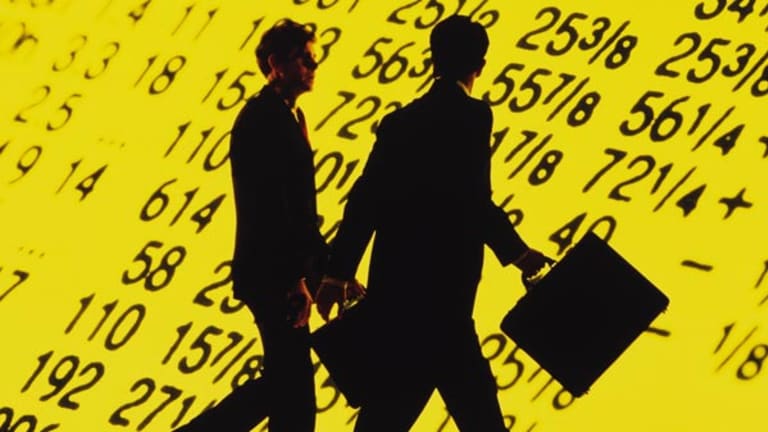 Stocks Shake Off Surprise Fed Move
The major indices initially sink following the central bank's decision to hold the fed funds rate steady, but rumors on aid for ailing AIG help buoy sentiment.
Updated from 2:50 p.m. EDT
Stocks in New York were on the rise Tuesday afternoon on reports that woebegone insurer
AIG
(AIG) - Get American International Group, Inc. Report
may gain support from the
Federal Reserve
as it struggles to raise capital.
The
Dow Jones Industrial Average
was up 128 points at 11,045, and the
S&P 500
was up 17 points to 1210. The
Nasdaq
was up 21 points to 2201.
The prospect of a loan package from the Fed for the ailing AIG, believed by some to be essential to the continued function of U.S. financial markets, helped buoy the indices. Citing a person familiar with the negotiations,
Bloomberg
reported that the central bank is looking to provide AIG with a loan package to support it as it faces a crippling liquidity crunch.
Separately, former AIG CEO Hank Greenberg looked to be attempting to take control of his former company.
C.V. Starr
, Greenberg's current company, said in a regulatory filing that it would pursue strategic options including a purchase of AIG's private assets, taking the company private, or initiating a proxy battle to buy it.
Earlier, the markets took a brief dive after the Fed's board of governors decided to
keep its target interest rate at 2%
. In a statement accompanying the decision, the Federal Open Market Committee said that economic growth has slowed and that it continues to monitor credit-market conditions.
After brokerage
Lehman Brothers
(LEH)
filed for bankruptcy protection on Monday, traders shifted their focus to AIG, whose balance sheet is crippled by its sale of insurance on subprime-related securities. Late Monday, the firm suffered a downgrade of its credit ratings by S&P, Moody's and Fitch.
"This is probably the greatest financial crisis since the Great Depression," said Brian Gendreau, investment strategist at ING Investment Management. He said that, as
Fannie Mae
undefined
,
Freddie Mac
undefined
, Lehman,
Merrill Lynch
(MER)
and now AIG are in the hunt for capital, and as global growth slows, the situation requires a strong response from the Federal Reserve. "We're in deep gravel here," he said. "This is a once-in-a-generation, once-in-a-two-generation event."
"Ultimately, AIG will work out," said Neil Hennessy, manager at Hennessy funds. He said that many of AIG's businesses are solid, but insufficiently liquid. As the company formulates a plan to raise capital, the situation will prove favorable for other firms that want to buy solid businesses at reduced prices, he said. "It's just going to take a little doing," he said.
Hennessy said the broader economic situation resembles that of the early 1990s, when a financial crisis claimed hundreds of banks and savings and loans. "We're stomaching the same thing now," he said. He also pointed out that in this environment the market is overreacting to each new headline.
"As much as everyone's gut is tightening and we all look like we've got abs, this is just like a bad kidney stone," he said. "It will pass; it's just going to hurt."
Elsewhere, Barclays said it was in discussions to buy certain of Lehman's assets. The British bank had previously refused an outright acquisition of the company. Lehman shares stopped trading on the
NYSE
around 3:17 p.m. EDT.
Bill Stone, chief investment strategist at PNC Wealth Management, said that there is less worry in the markets if it appears someone can pick up remaining assets after a firm goes bankrupt. He also said that a Barclays purchase of Lehman assets improve the prospects for Lehman's creditors. "At least somebody's finding value in the operations," he said.
A lack of information is the main source of pessimism around AIG and the financial sector, said Bill Stone, chief investment strategist at PNC. He said the company is clearly under a great deal of stress. "We're watching just to see some news."
Ahead of Tuesday's trading, investment bank
reported a 71% drop in third-quarter profit but it still beat Wall Street earnings estimates. During its earnings call, Goldman said that AIG's precarious situation is making it more cautious. The company also said it did not intend to merge with a commercial bank.
"Goldman Sachs' number didn't calm people down necessarily, but ... it wasn't a disaster," said Stone. He said investors are now questioning the business model of standalone brokerages now that Bear Stearns, Lehman and Merrill have now either gone bankrupt or merged with steadier partners.
As financial firms struggled to find new capital and preserve their remaining cash, the cost of overnight borrowing doubled from 3.33% to 6.44%, its highest rate since 2001.
To help cope with the buckling financial system, the
Federal Reserve
allocated
to an overnight repurchasing agreement for the money markets. The liquidity injection comes on top of a $20 billion boost already scheduled and is designed to prop up firms as they deal with mounting credit woes.
Outside the financials space, news wasn't much sunnier. Electronics retailer
Best Buy
(BBY) - Get Best Buy Co., Inc. Report
, however, fell short of Wall Street's projections as its fiscal
second-quarter profit declined
19% from a year ago.
Further reflecting a souring tech market, PC maker
Dell
(DELL) - Get Dell Technologies Inc Class C Report
that it foresees decreased demand for the current quarter and expects to incur costs as it adjusts to the tough environment.
In the realm of economic data, the Bureau of Labor Statistics reported that consumer prices fell 0.1% for August, down from a 0.8% increase in July and in line with economists' expectations. The core rate of price increases came in at 0.2%, down slightly from the previous month.
Shifting to commodities, crude oil lost $4.56 to $91.15 a barrel. Gold was adding $5.10 to $785.60 an ounce.
Longer-dated U.S. Treasury securities were lower. The 10-year note was shedding 26/32 to yield 3.48%, and the 30-year was dropping on 1-6/32, yielding 4.09%. The dollar was falling vs. the yen and gaining on the euro and pound.
Abroad, markets such as the FTSE in London and the Dax in Frankfurt were mostly trading lower.