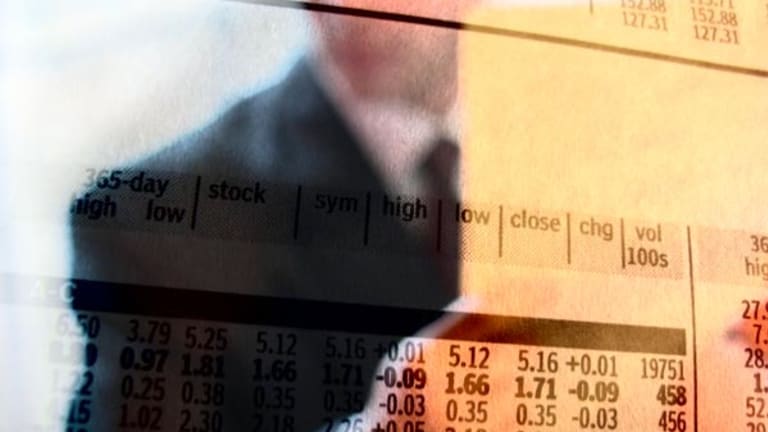 Stocks Shake Off Data
The three major averages put in a good day despite discouraging inflation, housing and employment data. Frank Curzio weighs in with The Real Story (above).
Updated from 3:28 p.m. EDT
Stocks in the U.S. ended Thursday's session with decent winnings as a decline in oil prices helped investors shrug off both the biggest rise in inflation in more than a decade and a substantial increase in home-foreclosure rate.
The
Dow Jones Industrial Average
added 82.97 points, or 0.7%, to 11,615.93, and the
S&P 500
climbed 7.1 points, or 0.6%, to 1292.93. The
Nasdaq
jumped 25.05 points, or 1%, to 2453.67.
On Wednesday, the major indices spent nearly all day in negative territory, pounded by somewhat discouraging retail sales data and an uptick in crude-oil prices.
Ahead of the new session, several economic data releases served to dampen investor enthusiasm initially, but the market recovered. The Bureau of Labor Statistics' July consumer price index showed a 0.8% increase, down from 1.1% in June but much higher than economists' expectations for a 0.4% bump in prices. Year over year, prices rose 5.6%, the largest such gain since January 1991. The core inflation rate came in at 0.2%, less than 0.3% in June and in line with consensus estimates.
Real estate data compiler RealtyTrac also said that foreclosures in the U.S. rose 55% year over year to 272,000 homes in July. It also reported that more than 77,000 homes were repossessed in the same period.
In a separate report, the National Association of Realtors said that the median home sales price in the U.S. fell 7.6% in the past year, to $206,500, reflecting the rise in foreclosures.
Phil Flynn, vice president and senior market analyst at Alaron Trading, said that the CPI data are a bearish signal for oil. "If inflation gets really hot, then the Fed can't cut interest rates anymore," he said. Such a scenario offers strength to the dollar and stems inflation risk, he said. "In this weird scenario, bad news is good news."
Flynn also said that rising foreclosures shouldn't be a surprise, because the stock market has priced in a worst-case scenario for housing. He said that happened when Treasury Secretary Henry Paulson said the government would back
Fannie Mae
undefined
and
Freddie Mac
undefined
. In the past months, traders had been buying commodities as a hedge against risk in the economy, the falling dollar and bank failures, he said.
Also on the economic calendar, the Department of Labor's initial jobless claims for the week ended Aug. 9 came it at 450,000, a higher reading than analysts had forecast. The figure for the previous week was revised upward to 460,000 from 455,000.
Carl Weinberg, chief economist at High Frequency Economics, wrote in a research note that weekly jobless claims data can be distorted because people who file for additional benefits get counted among initial claimants. "Since the Labor Department has no idea how many people are in this position, the claims data are essentially useless right now ... even more so than usual," he wrote.
Before the data release, traders had shown optimism on
Wal-Mart's
(WMT) - Get Walmart Inc. Report
better-than-expected second-quarter earnings report and raised full-year profit outlook. Consumer-sensitive stocks including
Lowe's
(LOW) - Get Lowe's Companies, Inc. Report
and
Target
(TGT) - Get Target Corporation Report
rallied. Wal-Mart added 0.4% to $58.10, Lowe's jumped 3.2% to $23.81 and Target rose 3.3% to $49.65.
Also leading the comeback was a bounce by financial firms Fannie, Freddie Mac,
Bank of America
(BAC) - Get Bank of America Corp Report
and
Wachovia
. Wachovia gained 6.8% to $15.81, and Bank of America was up 4.6% to $30.18.
The Securities Industry and Financial Markets Association relaxed loan restrictions on Fannie and Freddie, helping spur a rally in their shares. Fannie climbed 7.7% to $8.23, and Freddie tacked on 7% to $5.94.
Elsewhere in the sector,
JPMorgan Chase
(JPM) - Get JPMorgan Chase & Co. Report
and
Morgan Stanley
(MS) - Get Morgan Stanley Report
agreed to buy back more than $7 billion in auction-rate debt following an investigation by New York Attorney General Andrew Cuomo and other regulators into the firms' sale of those securities.
Meanwhile,
InBev
the Belgian brewer slated to buy
Anheuser-Busch
(BUD) - Get Anheuser-Busch InBev SA/NV Report
, reported improved earnings and said it expected to increase its profit margins for the remainder of the year. Anheuser-Busch finished the day up fractionally at $68.02.
Garment vendor
Urban Outfitters
(URBN) - Get Urban Outfitters, Inc. Report
also announced growth in second-quarter profits and said same-store sales were swinging upward. Shares added 4% to $35.40.
As for commodities, the price of crude oil lost 99 cents to settle at $115.01 a barrel, and gold shed $17 to close at $814.50 an ounce.
U.S. Treasury securities were climbing. The 10-year note was adding 10/32 to yield 3.89%, and the 30-year was tacking on 22/32, yielding 4.52%. The dollar was adding value against the euro, yen and pound.