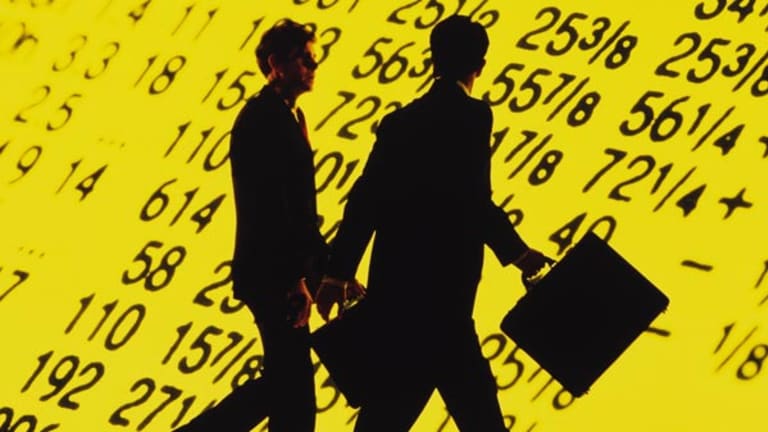 Stocks Shake Early Jitters
The market steadies as Procter & Gamble leads the Dow to its fourth winning session in the past five.
Updated from 4:06 p.m. EDT
Stocks closed modestly higher Monday as investor confidence slowly increased throughout the session, helping mute the impact of a government warning about new evidence of planned terrorism in Manhattan and northern New Jersey.
The
Dow Jones Industrial Average
closed up 39.45 points, or 0.4%, to 10,179.16. The
Nasdaq Composite
added 4.73 points, or 0.3%, to 1892.09, while the
S&P 500
was up 4.9 points, or 0.4%, to 1106.62.
Trading was light, with about 1.28 billion shares traded on the
New York Stock Exchange
, while 1.53 billion shares were traded on the
Nasdaq
. Advancers beat decliners by a 3-to-2 margin on the NYSE, with just six Dow components closing the session lower. Meanwhile, losers beat winners by a 5-to-4 margin on the Nasdaq.
The 10-year Treasury bond was up 5/32 in price to yield 4.45%, while the dollar was lower against the euro. Gold futures were up 10 cents at $394.50 an ounce.
"I'm not surprised that the stock market did not decline sharply as a result of the warnings on terrorism," said Hugh Johnson, chief investment officer at First Albany. "The warnings about terrorist acts have become a part of our daily financial market ... We've learned to live with this."
But President Bush's announcement that he will ask Congress to create the position of national intelligence director as his main intelligence adviser likely helped the market gain some footing, said Bernadette Murphy, chief market analyst at Kimelman & Baird.
"It's a sense of confidence that
the Bush administration has things in hand and that they're working with the 9/11 Commission," Murphy said. "It's certainly not the earnings. The outlook is positive, price-to-earnings multiples have been declining, all the good things that we wanted have happened, and it's not that. It's the external factors that are periodically shaking investor confidence."
On Sunday, the government raised the federal terror alert level to orange, or high, in northern New Jersey and the Manhattan financial district. New York, which operates under a separate threat codification from the federal government, has been on orange since the September 2001 attacks.
Trader Giri Cherukuri said he didn't think the terror warning would have much of an overall impact on the market, and stocks were generally down only marginally in morning trading. "Since the market has been down -- it was a bad July -- eventually things are going to be more optimistic," said Cherukuri of Oak Brook Investments.
"Earnings are over, so that's not going to be a big impact," he added. "The market is digesting the economic news and digesting the earnings news. We won't see any strong move in August, unless we get some really bad news."
Early in the session, the Institute for Supply Management reported a reading of 62 for manufacturing activity in July, matching economists' forecasts and up from the prior month's reading of 61.1.
Johnson said the most important question currently weighing on the market is whether the economic slowdown seen in June, and consequently the second quarter, is temporary. "In the eyes of many, the ISM report answered that question in the affirmative," he said. "I don't share that view. I think the ISM was weak and that there is evidence that manufacturing activity has not recovered from the malaise that took over in June."
Meanwhile, construction spending in June dropped 0.3%, below analysts' consensus for an unchanged reading but flat with the prior month's 0.3% increase.
The mixed economic news wasn't likely to give the market a catalyst in either direction anyway, said Bill Rhodes, chief investment strategist at Rhodes Analytics. "When the trend is for things to come in below consensus, people get weary of it, and when economics come in at or above consensus, people become accustomed to that, too. I don't think one or two readings from day to day will move the market unless it's something that really sticks out," he said.
Instead, Rhodes generally agreed with Cherukuri, saying the major indices will likely hover for the rest of August without any major moves and with the usual suspects keeping general sentiment on edge: terrorism, oil and the election.
"I don't think yesterday's announcement has that great of an impact on the
market performance going forward," said Rhodes. "It is just simply an open statement by the government of what people have been concerned about now for months. For the U.S. market, the peak came back in March, right before the Madrid
terrorist train attacks, and we haven't exceeded those peaks, even though the internals of the market, and the dynamics of a normal market, would lead you to believe that you should have gone higher... Under normal circumstances, you would buy this market."
Oil futures were higher but off their highs, with Nymex crude for September delivery recently trading at $43.79 a barrel, down a penny, and off an earlier high of $43.92.
The scene around the NYSE was tense but orderly Monday, with police intensifying traffic checks that have been carried out sporadically in Lower Manhattan ever since the Sept. 11 attacks. The news media and a surprisingly large number of tourists swarmed the Wall Street area. The opening bell was rung by New York City Mayor Michael Bloomberg.
"We are deploying our full array of counterterrorism resources," Bloomberg said Sunday. "We have ramped up security even further at the named locations as well as at other potential targets."
Several newspapers reported that the new terrorism evidence consisted of site reconnaissance discovered last week in Pakistan. The evidence, collected from a now-broken al Qaeda cell, discussed security precautions around "iconic" U.S. buildings, their proximity to fire departments and hospitals, and how explosives might be positioned near them for maximum impact.
Some of those buildings were the
Citigroup
(C) - Get Citigroup Inc. Report
headquarters in Manhattan, the World Bank and International Monetary Fund in Washington, the Prudential Financial building in Newark, N.J., and the NYSE, Homeland Security Chief Tom Ridge told reporters Sunday.
"Fundamentally, we believe this is a very safe place to work, and we intend to keep the place open," said NYSE CEO John Thain Monday morning.
Citigroup's stock closed up 38 cents, or 0.9%, to $44.47 after falling earlier.
Several reports characterized the al Qaeda evidence as possibly dated, although speculation was also rife that parts of it came from Mohammed Ahmed Khalfan Ghailani, the operative arrested last week in Pakistan for the bombing of the U.S. embassies in Kenya and Tanzania in 1998.
Secretary Ridge added that the specificity and quality of information, which came from "multiple sources and multiple places" around these sites, warranted naming them. Reports indicated, and Ridge confirmed, that the type of attack could be a car or truck bomb.
Ridge noted that New York is already operating at a "very high" security level as it prepares for the Republican National Convention to be held at the end of this month. In particular, he noted the increased security already in place at Madison Square Garden and the New York transportation system ahead of the GOP convention.
Monday earnings news was light with consumer products giant
Procter & Gamble
(PG) - Get Procter & Gamble Company Report
reporting that quarterly profit surged 44% to $1.37 billion, beating analysts' consensus, while revenue increased to $12.96 billion, up 19%. Shares of Procter & Gamble ended up $1.19, or 2.3%, at $53.34.
Among other Monday market movers, shares of
Corinthian Colleges
(COCO) - Get Vita Coco Company, Inc. Report
fell 45% after the company lowered its June and September earnings estimates to below the Wall Street consensus. It cited higher marketing costs and other expenses. The stock closed off $8.43 at $10.29.
News from
Cox Communications
(COX)
boosted Monday's optimism, however. The shares skyrocketed 20% to $33.16 after its parent company, Cox Enterprises, made a bid to take it private in a $32-a-share offer totaling about $8 billion.
Enhancing shareholder value is really what drives a bull market, said Johnson. "If the company has the reason to do that, they'll do it. If there's a mantra today that could drive the market, it would be 'enhance shareholder value.' I think that's the real issue."
Overseas markets ended the day mostly lower, with London's FTSE 100 up 0.06% to 4416 and Germany's Xetra DAX down 0.8% to 3863. In Asia, Japan's Nikkei lost 0.9% to 11,222, while Hong Kong's Hang Seng lost 0.3% to 12,201.
On Tuesday, July auto and truck sales will be released with analysts expecting each to increase from June levels. In addition, data on personal income and consumption for June will be released, with analysts calling for a 0.3% increase in personal income, with consumption expected to drop 0.1%.
The back end of the quarterly earnings parade continues with notables including
Martha Stewart Living Omnimedia
(MSO)
,
InterActiveCorp
(IACI)
,
Tyco International
(TYC)
,
Watson Pharmaceuticals
(WPI)
and
Tenet Healthcare
(THC) - Get Tenet Healthcare Corporation Report
.