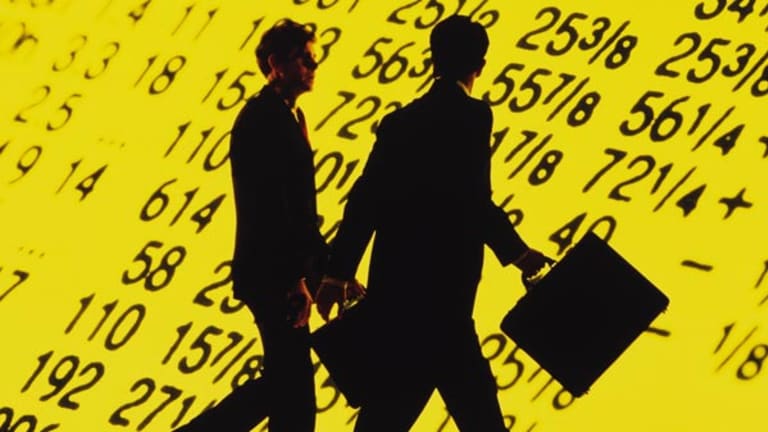 Stocks Set Back
The major indices erase most of a two-session run.
Updated from 4:06 p.m. EST
Stocks closed in the red Wednesday with the
Nasdaq
leading the fall, as a clutch of mostly positive earnings and economic news couldn't relieve investors' recent jitters.
The
Dow Jones Industrial Average
fell 88.82 points, or 0.84%, to 10,539.97, the
slid 11.35 points, or 0.95%, to 1184.63; and the Nasdaq fell 32.45 points, or 1.54%, to 2073.59, after the major indices posted their first back-to-back winning sessions of the year yesterday. The tech index had just regained the 2100 level Tuesday for the first time since Jan. 4 but is now back near its 2005 low.
Volume on the
NYSE
was 1.50 billion shares, with decliners beating advancers by a ratio of 3 to 2. Volume on the Nasdaq was 2.22 billion shares, with decliners outpacing advancers 11 to 5.
In other markets, the 10-year Treasury note was up 2/32 in price to yield 4.18%, while the dollar was higher against the yen and euro.
Crude oil prices eased after reversing a rally Tuesday that took the price of a barrel over $49 for the first time in seven weeks. The benchmark crude contract closed down 83 cents to end at $47.55 a barrel ahead of an Energy Department report that is expected to show a 300,000-barrel build in distillate stocks and a 900,000-barrel build in crude and gas stocks.
"Day to day, the trend has been iffy at best, as far as trying to recover from the first two weeks of the year," said Barry Hyman, equity market strategist with Ehrenkrantz King Nussbaum. "The market is certainly aware and concerned about what more aggressive
Fed
behavior means. I think the market is under a cloud of concern about what the Fed is going to do, and how it will affect growth in 2005. It's another reaction to an unknown the market has to deal with."
The government said consumer prices fell 0.1% in December, led by a 1.8% drop in energy prices. The core index, which excludes the energy-price drop, rose 0.2%, matching analysts' expectations. The CPI increased 3.3% in 2004, the largest increase since 3.4% in 2000.
The Federal Reserve released its December-January beige book, which said the economy continued to post steady growth during the period. The Fed added that inflationary pressures remained largely in check, with price inflation "relatively steady in recent weeks." The report also said labor markets were firmer in late 2004, but that wage pressures generally continued to be modest.
"The beige book report was consistent with the previous reports and doesn't indicate any economic malaise," said Peter Cardillo, chief market analyst with S.W. Bach & Co. "The market here is certainly not responding to some of the better reports, focusing on negative earnings reports instead. The fear factor is beginning to build up again that the Fed will be more hawkish in the coming months, and it's got the market on the skids."
In other economic releases, jobless claims fell 48,000 to 319,000 last week, the largest decline in three years, while housing starts rose 10.9% to an annual pace of 2 million units. November's starts were revised higher to 1.81 million units.
Corporate America ladled out a huge helping of technology results after the bell Tuesday, with most of the companies reporting better-than-expected earnings.
IBM
(IBM)
,
Motorola
(MOT)
and
Yahoo!
(YHOO)
churned out combined fourth-quarter profits from continuing operations of more than $4.1 billion, while a handful of aggressively traded smaller firms, including
Juniper
(JNPR)
, also posted impressive numbers.
"I'm a little surprised at the action, considering the background was favorable," said Larry Wachtel, senior market analyst with Wachovia Securities. "Earnings were good but not great. Still, I'm puzzled by the lack of response. The psychology of caution from the first two weeks must still be hanging around."
At IBM, fourth-quarter earnings were $3.1 billion, or $1.81 a share, up from $2.7 billion, or $1.56 a share, last year. Revenue rose 7% from a year ago to $27.7 billion. Analysts had been calling for earnings of $1.76 a share on revenue of $27.5 billion. The company forecast 2005 revenue growth of 6%, a percentage point higher than expected. The stock fell $1.80, or 1.9%, to $93.10.
For Motorola, earnings surged 56% to $687 million, or 28 cents a share, in the fourth quarter, reflecting strong sales of its new Razr cell phone. Revenue jumped 27% to $8.84 billion. Analysts had been expecting earnings of 24 cents a share on sales of $8.46 billion in the quarter.
Looking ahead, Motorola put first-quarter earnings at 17 cents to 20 cents a share on sales of $7.7 billion. Analysts were expecting earnings of 20 cents a share on sales of $7.58 billion. The stock lost $1.23, or 7.1%, to $16.20.
"In general, Motorola put a sour taste in tech," said Brian Williamson, an equity trader with Boston Company Asset Management. "You can't blame it on one stock, but a lot of the other earnings didn't have the lower guidance that Motorola gave, especially since it's such a broad-based company. It seems like there's a bigger focus on negative news because of that. Now the market is focusing more on the negatives across the board."
Yahoo! said fourth-quarter earnings were $373 million, or 25 cents a share, up from $75 million, or 5 cents a share, a year ago. Excluding a gain, the company earned 13 cents a share in the 2004 quarter, 2 cents better than expected. Revenue jumped 54% from a year ago to $785 million.
For the first quarter of 2005, Yahoo! sees revenue of $765 million to $805 million and operating income before depreciation and amortization of $290 million to $310 million. Analysts had been looking for revenue of $773 million and OIBDA of $321 million. Shares still fell, losing 73 cents, or 2%, to $36.45.
Juniper earned $66 million, or 11 cents a share, in the fourth quarter ended Dec. 31, up from $15 million, or 3 cents a share, a year ago. Excluding charges, the company earned 15 cents a share in the most recent quarter. Revenue more than doubled from a year ago to $430 million.
Analysts had been forecasting earnings of 14 cents a share before charges on sales of $414 million at the network-equipment maker. The company also guided first-quarter sales higher. But Juniper fell 72 cents, or 2.7%, to $25.74.
Elsewhere,
Fannie Mae
undefined
cut its quarterly dividend in half in an effort to conserve cash amid its ongoing accounting woes. The mortgage giant will pay a 26-cent dividend next month in a move that will save about one-quarter of a billion dollars. Fannie Mae was off $2.27, or 3.3%, to $67.43.
McDonald's
(MCD)
said same-restaurant sales rose 4.9% last month, handily beating Wall Street estimates. In the U.S., same-store sales rose almost 7%, making 2004 the first time in a decade the company has produced higher comps in every month of the year. McDonald's gained 2 cents, or 0.06%, to $31.62.
Pfizer's
(PFE)
fourth-quarter earnings more than quadrupled from a year ago. The company earned 58 cents a share, a penny shy of expectations. Pfizer lost 42 cents, or 1.7%, to $24.88.
Lucent
(LU)
earned 4 cents a share, vs. 7 cents a share a year ago, while revenue rose 3%. Shares dropped 28 cents, or 7.6%, to $3.42.
General Motors
(GM)
reported fourth-quarter earnings of $630 million, or $1.11 a share, down from $1 billion, or $2.13 a share, from a year ago. Excluding items, earnings were $1.01 a share, higher than the Thomson First Call consensus of 91 cents a share but short of last year's earnings of $1.47 a share. GM dipped 6 cents, or 0.1%, to $36.71.
J.P. Morgan
(JPM)
missed analysts' earnings expectations by 4 cents a share in the fourth quarter. The company earned 64 cents a share on an operating basis. The quarter was marked by charges, with $650 million alone relating to its acquisition of Bank One. Shares were lower by 56 cents, or 1.5%, to $37.84.
Sallie Mae
(SLM)
said fourth-quarter earnings hit $650 million, or $1.40 a share, compared to $264 million, or 54 cents a share, a year ago. Excluding items, the company earned 58 cents a share, slightly better than Thomson First Call expectations of 57 cents a share. Sallie Mae closed down $1.34, or 2.5%, to $52.94.
Merrill Lynch upgraded
Seagate Technology
(STX)
to neutral from sell, citing a stronger new-product cycle and encouraging guidance. After the bell Tuesday, Seagate reported second-quarter earnings of $144 million, or 29 cents a share. Sales were up almost 5% to $1.85 billion from $1.76 billion last year. Seagate finished down $1.13, or 6.2%, to $17.22.
Brokerage Piper Jaffray upgraded
Advanced Micro Devices
(AMD)
to market perform from underperform, citing continued strength in the processor business as well as more certainty about the flash storage business. While shares of AMD finished flat at $15.50, the Philadelphia Semiconductor Index was down, losing 2.1% for the session.
Piper Jaffray also upgraded
Abercrombie & Fitch
(ANF)
to outperform from market perform. The brokerage noted continued strength of the Hollister brand and feels the company will be a beneficiary of strong demand for high-quality, unique clothing over the next few quarters. Shares gained $1.75, or 3.5%, to $52.13.
UBS upgraded
Pepsi Bottling
(PBG)
to buy from neutral, saying that earnings forecasts can be achieved thanks to solid innovation from the company, as well as easier sales and cost comparisons. Pepsi shares gained 58 cents, or 2.2%, to $26.78.
Overseas markets closed mostly lower, with London's FTSE 100 and Germany's Xetra DAX both down 0.1%, to 4818 and 4245, respectively. In Asia, Japan's Nikkei fell 0.2% overnight to 11,405, while Hong Kong's Hang Seng gained 0.6% to 13,679.