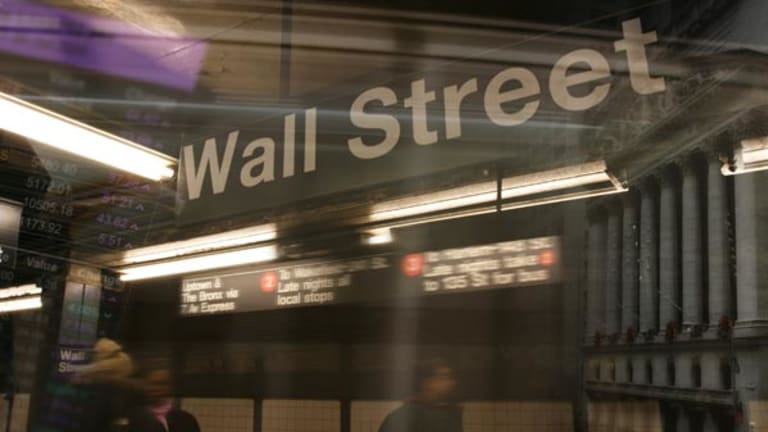 Publish date:
Stocks Sell Off Under Cloud of Worries
Stocks closed sharply lower Thursday as recent dour economic data weighs. Alix Steel has The Real Story.
Stocks closed sharply lower Thursday as recent dour economic data weighs. Alix Steel has The Real Story.
NEW YORK (
) -- Stocks finished Thursday under broad pressure and near their lows of the session as a spate of recent data soured investors' sentiment about the economic landscape.
The
Dow Jones Industrial Average
finished the day lower by 146 points, or 1.4% at 10,153. The
S&P 500
shed 18 points, or 1.7%, at 1074 and the
Nasdaq
fell off by 37 points, or 1.6%, at 2217.
"All of it is sort of related to weaker than expected economic data," said Art Hogan, chief market strategist at Jefferies, who said the mood could linger until investors get a read on the government's June jobs report and the next batch of significant earnings.
Following disappointing housing stats unveiled earlier in the week, the
Fed
offered more tempered rhetoric about the recovery, and after today's jobs and durable goods data appeared to offer little traction, Hogan said, "clearly, investors are concerned about the pace of the economic recovery, and the view in the month of May is discouraging to the say the least."
"Right now, the market is going to shoot first and ask questions later," he added.
Mike Shea, managing partner at Direct Access Partners, pointed to Friday's rebalancing of the Russell indices as one possible reason for the session's weakness.
"The U.S. markets can sometimes trade a little squirrelly in the week of the Russell rebalancing as trading houses get themselves in shape ahead of the rebalance," he said, adding that markets weren't helped by Thursday's lackluster data.
Overseas on Thursday, Hong Kong's Hang Seng slipped 0.6% lower while Japan's Nikkei inched up by 0.05%. The FTSE in London lost 1.5%, and the DAX in Frankfurt shed 1.4%.
>>The Economy
>>Company News
>>Commodities and the Dollar
>>Treasuries
The Economy
The Labor Department said initial jobless claims shed 19,000 to 457,000 in the week ended June 19, from 476,000 previously. Economists had been expecting claims of 460,000, according to
Briefing.com
.
The Department of Commerce reported a slightly larger-than-expected decline of 1.1% to durable goods orders in May, which follows a jump of 3% in April. Economists had projected a 1.3% decline. Excluding transportation-related orders, May's level grew 0.9%, which was lower than the 1.3% increase that the market had been looking for and compares to a decline of 0.8% in April.
The Energy Information Administration said natural gas supply levels rose by 81billion cubic feet in the week ended June 18. The increase was within analysts' expected injection range of 78 to 82 billion cubic feet, according to a Platts poll.
>>Overview
>>Company News
>>Commodities and the Dollar
>>Treasuries
Company News
Johnson & Johnson
(JNJ) - Get Report
and
Merck
(MRK) - Get Report
were the only Dow components in positive territory as the equities fell in a broad-based decline that appeared to more squarely hit energy, consumer, semiconductor and banking names.
The financial sector, in particular, found little relief from various news stories reporting House and Senate lawmakers are attempting to wrap-up negotiations on a financial regulatory reform package by this evening.
Pfizer
(PFE) - Get Report
and
Alcoa
(AA) - Get Report
were among the Dow's worst-performing stocks, as were
Home Depot
(HD) - Get Report
,
Bank of America
(BAC) - Get Report
and
American Express
(AXP) - Get Report
.
Apple's
(AAPL) - Get Report
iPhone 4 hit stores in the U.S., France, Germany, Japan and the U.K. on Thursday. But the stock ended $1.97 lower, or 0.7%, at $269.
Boeing's
(BA) - Get Report
St. Louis-based defense division has launched a series of entrepreneurial efforts aimed at creating start-ups.
ConAgra Foods
(CAG) - Get Report
reported fourth-quarter earnings that fell short of Wall Street estimates and said it anticipates that the next fiscal year's earnings growth will be concentrated in the second half of the year.
Homebuilder
Lennar
(LEN) - Get Report
swung to a second-quarter profit on improved operating margins. The company also said new sales orders fell.
BP
(BP) - Get Report
said the oil containment system it has been using has been reinstalled and is once again collecting oil and gas. On Wednesday, the system went offline after a collision with a robotic submarine, causing oil and gas to gush into the Gulf of Mexico for about 10 hours.
Morgan Stanley
(MS) - Get Report
reached a $103 million settlement, based on allegations by Massachusetts prosecutors that the bank backed dicey subprime mortgages it knew to be such, according to a report from
The Associated Press
.
After the closing bell, shares of
Oracle
(ORCL) - Get Report
were moving higher after unveiling laudable fourth-quarter numbers and beating adjusted earnings per share expectations by 4 cents, landing at 60 cents a share.
But despite surpassing EPS expectations of its own late today,
BlackBerry-maker
Research in Motion
(RIMM)
offered underwhelming first-quarter sales numbers that appeared to drag down shares in after-hours trading.
>>Overview
>>The Economy
>>Commodities and the Dollar
>>Treasuries
Commodities and the Dollar
Following the EIA's supply report, the July natural gas contract shed nearly 6 cents to settle at almost $4.75 per million British thermal units. Meanwhile, crude oil for August delivery settled 16 cents higher at $76.51 a barrel.
Elsewhere in commodity markets, the August gold contract traded $11.10 higher to finish at $1,245.90 an ounce.
The dollar was trading lower against a basket of currencies, with the
dollar index down by 0.02%.
>>Overview
>>The Economy
>>Company News
>>Treasuries
Treasuries
The Treasury Department auctioned off $30 billion in 7-year notes, resulting in a bid-to-cover at 3.01, or the highest since the beginning of 2009, according to MarketWatch. The auction also brought in a yield at 2.575%.
The benchmark 10-year Treasury was higher by 1/32, diluting the yield to 3.123%.
The two-year note rose advanced 1/32, dragging the yield down to 0.672%. The 30-year bond slipped 12/32, increasing the yield to 4.091%.
--Written by Melinda Peer and Sung Moss in New York
.
>>Overview
>>The Economy
>>Company News
>>Commodities and the Dollar