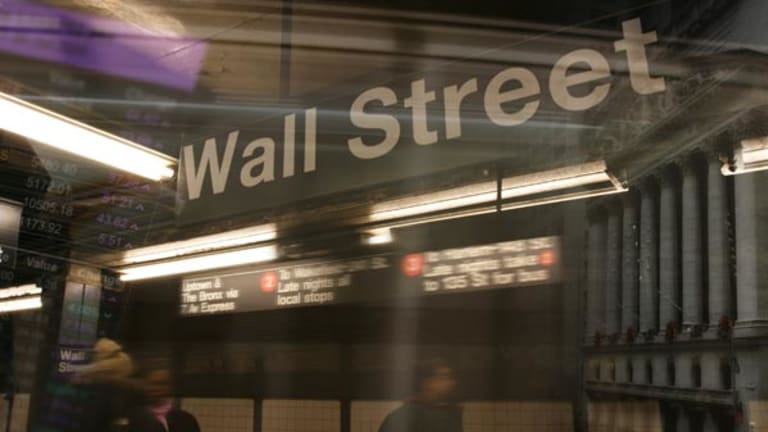 Stocks Sell Off Late
Stocks slumped in New York after the conclusion of the Fed's two-day meeting. Crude oil was down almost $3. Gregg Greenberg reviews the action in The Real Story.
Stocks slumped in New York after the conclusion of the Fed's two-day meeting. Crude oil was down almost $3. Gregg Greenberg reviews the action in The Real Story.
Updated with commentary, stock and commodity prices.
NEW YORK (
) -- Late-day selling in energy and commodity stocks left the major averages up to 1% lower Wednesday as Wall Street brushed off the
Federal Reserve's
latest statement.
The
Dow Jones Industrial Average
fell 81.32 points, or 0.8%, to 9748.52, while the
S&P 500
gave up 10.79 points, or 1%, to 1060.87. The
Nasdaq Composite
ticked down 14.88 points, or 0.7%, to 2131.42.
The Federal Reserve Open Market Committee
, although it did say that economic activity has "picked up" -- a change of wording from the previous release, which said things were "leveling out" -- and extended its timeline for buying mortgage-backed securities.
Stock Wrap: The Real Story, September 23
var config = new Array(); config<BRACKET>"videoId"</BRACKET> = 41724425001; config<BRACKET>"playerTag"</BRACKET> = "TSCM Embedded Video Player"; config<BRACKET>"autoStart"</BRACKET> = false; config<BRACKET>"preloadBackColor"</BRACKET> = "#FFFFFF"; config<BRACKET>"useOverlayMenu"</BRACKET> = "false"; config<BRACKET>"width"</BRACKET> = 265; config<BRACKET>"height"</BRACKET> = 255; config<BRACKET>"playerId"</BRACKET> = 1243645856; createExperience(config, 8);
While the Fed's statement was certainly a preoccupation of the market and prompted a slight afternoon lift,
is ultimately keeping pressure on the commodity-driven energy and materials sectors, says Jeffrey Kleintop, chief investment strategist at LPL Financial. "This illustrates that the Fed news wasn't the most important news of the day," he says.
Crude oil futures fell $2.79 to $68.97 after the Energy Information Administration reported a surprise, 2.8 million-barrel increase in crude stocks last week. Analysts were expecting a drop of 2.25 million barrels.
Gasoline stockpiles rose by 5.4 million barrels, vs. forecasts for a lesser increase of 800,000 barrels.
As expected, the FOMC left its key interest rate unchanged at a record low rate, maintaining that "economic conditions are likely to warrant exceptionally low levels of the federal funds rate for an extended period."
The committee added that conditions in financial markets have improved further, and activity in the housing sector has increased. Household spending "seems to be stabilizing" but is still pressured by job losses and slow income growth, among other things, and businesses are still scaling back fixed investment and staffing but at a slower pace, it said.
"It's obviously an upgrade to the economy, but there's nothing on the other side of that to say they are worried about inflation," says Kleintop. "So I think that's likely to keep the trends in place, which is stock markets steadily moving higher and probably the dollar moving lower -- keeping rates low for 'an extended period' just means that dollar deposits are going to be less attractive. "
It's "good news for those who were looking for it, but some weakness for the dollar," he says.
The Federal Reserve said it will continue to employ a "wide range of tools to promote economic recovery and to preserve price stability." The committee said it will extend its purchase of $1.25 trillion in mortgage-backed securities into next year, aiming to wrap it up by the end of the first quarter, gradually slowing them to promote a smooth transition.
"Previously, the chairman said he thought the recession was ending, but at the same time, we're not out of it, which gives him a lot of leeway to keep most of the programs in place," said Doug Roberts, chief investment strategist for ChannelCapitalResearch.com. Click below to here my entire conversation with Roberts, author of
Follow the Fed to Investment Success
, on the Fed statement, the G-20 meeting and what else to watch for this week.
Among stocks,
Ford
(F) - Get Report
gained 5% as CEO Alan Mulally said the
was showing signs of recovery, and he expects the industry will see sales rise over the next two years.
Also,
General Mills
(GIS) - Get Report
gained 4.6% on better-than-expected earnings.
Early Wednesday, the Mortgage Bankers Association said the market composite index, a measure of mortgage loan application volume, increased 12.8% on a seasonally adjusted basis last week from one week earlier, which was a holiday-shortened week. The refinance index increased 17.4% from the previous week as the 30-year fixed rate dipped below 5% for the first time since mid-May, according to the report.
Elsewhere, the U.S. Treasury auctioned $40 billion in five-year notes, in the second leg of $112 billion in debt sales this week. The sale had a high yield of 2.47% and a bid-to-cover ratio -- an indication of demand -- of 2.40, which is relatively weak compared to Tuesday's auction of two-year notes.
The market will focus Thursday on any developments in financial regulation that come out of a meeting between President Obama and the Group of 20 leaders in Pittsburgh.
Stocks in Europe moved slightly lower, with London's FTSE 100 and the DAX in Frankfurt off by 0.1% each.
In Asia, the Hang Seng in Hong Kong edged down 0.5%, while the Shanghai Composite fell 1.9%.
-- Written by Elizabeth Trotta in New York.