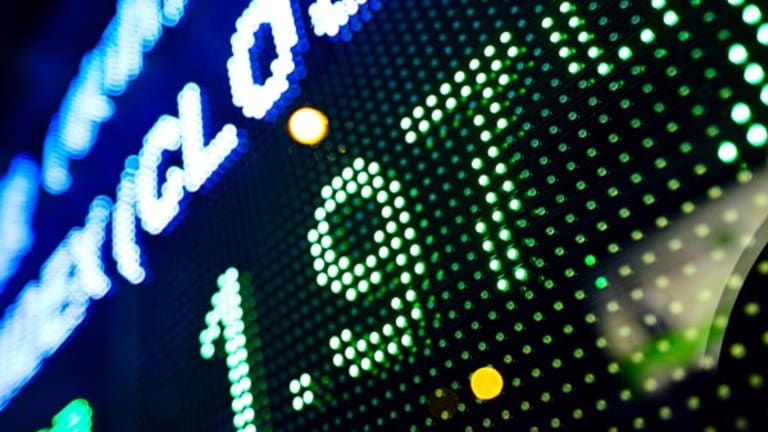 Stocks Sell Off in the End, Dow Loses 99 Points
Stocks ended a choppy trading day with losses as investors sorted through Morgan Stanley's loss and weighed a fresh oil-production cut from OPEC. Frank Curzio reviews the action in The Real Story video (above).
Stocks ended a choppy trading day with losses as investors sorted through Morgan Stanley's loss and weighed a fresh oil-production cut from OPEC. Frank Curzio reviews the action in The Real Story video (above).
Updated from 4:21 p.m. EST
Stocks on Wall Street ended a choppy trading session Wednesday with losses as investors were dealt another round of earnings reports and weighed a cut in oil production from OPEC.
The
Dow Jones Industrial Average
ended down 99.8 points, or 1.1%, at 8824.34, and the
S&P 500
lost 8.76 points, or 1%, to 904.42. The
Nasdaq
finished down 10.58 points, or 0.7%, at 1579.31.
Oil-exporting cartel
said Wednesday it will cut its production target by another 2.2 million barrels a day starting in January.
The cut, which could help stabilize oil prices that have fallen with global economic hardships, was slightly more than expected. But crude oil settled $3.54 lower at $40.06 a barrel.
"Right now the market doesn't care about the supply part of the equation," says Darin Newsom, DTN Senior Analyst. "It's dealing with lack of demand from consumers -- and investors - at this point," he says.
(MS) - Get Report
helped set the tone Wednesday morning, posting a wider-than-expected loss ahead of the opening bell. The bank holding company said it lost $2.37 billion, or $2.34 a share, in the fiscal fourth quarter. Analysts had forecast a loss of 34 cents a share. Shares, however, added 2.3% to $16.50.
(C) - Get Report
garnered headlines and gave up 4.9% to $7.83 Wednesday.
The Wall Street Journal
reported that federal banking regulators are involved in the internal discussions about the bank's strategic direction and are discouraging executives from pursuing certain acquisitions. Separately, the
Financial Times
reported that Citi plans to merge its investment and corporate banking operations in an attempt to break down barriers between its businesses.
ConAgra Foods
(CAG) - Get Report
recorded in-line second-quarter profit of $168.1 million, or 37 cents a share, which marks a 31% slump from a year ago when the maker of Chef Boyardee and other brands posted $244.8 million, or 50 cents a share. Investors gave the stock an 8% bump, however, to $16.25.
General Mills
(GIS) - Get Report
posted second-quarter earnings of $378.2 million, or $1.09 a share, which was down from the $390.5 million, or $1.14 a share, the cereal maker recorded a year earlier. Shares rose by a dime to $61.35.
Citing weakening demand for its hard drives,
(WDC) - Get Report
will cut 2,500 jobs, or about 5%, of its global workforce, as well as executive pay. Shares ticked up 1.8% to $12.72.
As U.S. automakers
General Motors
(GM) - Get Report
,
Ford
(F) - Get Report
and
Chrysler
continued to wait on word from the White House of an
auto-industry rescue plan
, Tokyo-based
Honda
(HMC) - Get Report
cut its profit forecast and announced a 10% pay cut for its managers.
Honda shares gave up 7.1% to $21.22, while GM added 2.8% to $4.37 and Ford edged up a penny to $3.14.
In
,
(AAPL) - Get Report
sank 6.6% to $89.16 Wednesday after suffering a downgrade to perform at Oppenheimer. Apple says
will not appear at Macworld 2009, and that news again brings the CEO's health into question.
Meanwhile, the fallout from the
Bernard Madoff
scandal continued to play out. Late Tuesday,
Securities and Exchange Commission
Chairman Christopher Cox demanded an internal investigation of why regulators from his agency failed for a decade to investigate the Wall Street money manager, who last week was charged with running an elaborate and far-reaching Ponzi scheme that lost an estimated $50 billion for investors. A formal investigation of complaints would have forced Madoff to provide documentation years ago.
On Tuesday, the Fed cut its federal funds rate target to a range of 0% to 0.25%, a steep cut that surprised Wall Street and set a historic low for the key rate.
On Wednesday, the 10-year Treasury was up 27.5/32 to yield 2.2%, while the 30-year note was up 2 15.5/32 to yield 2.6%. The
was mixed against other major currencies. Gold was rising 60 cents to $869.10 an ounce.
In Asia, Japan's Nikkei and Hong Kong's Hang Seng ended higher. In Europe, Germany's DAX and France's CAC-40 edged lower.
Copyright 2008 Associated Press. All rights reserved. This material may not be published, broadcast, rewritten or redistributed. AP contributed to this report.