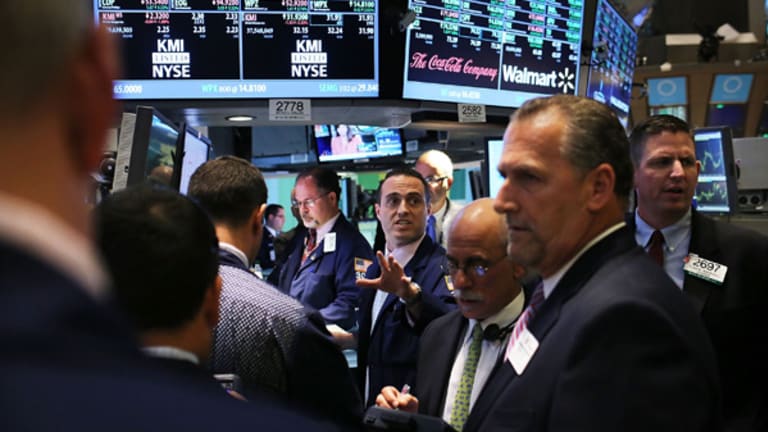 Stocks Sell Off Hard
Wall Street is unable to run its winning streak to three days as the major averages pull back.
Updated from 4:09 p.m. EST
Stocks in the U.S. started the session higher Friday, but the major averages slipped into the red and closed with losses as investors lightened up on some of their recent buys ahead of next week's earnings and
Federal Reserve
meeting.
The
Dow Jones Industrial Average
dropped 171.44 points, or 1.38%, to 12,207.17, and the
S&P 500
was off 21.46 points, or 1.59%, at 1330.61. The
Nasdaq Composite
was off 34.72 points, or 1.47%, to 2326.20.
Despite the decline, blue chip indices ended the holiday-shortened week ahead. The Dow tacked on 0.9% for the week, and the S&P 500 added 0.4%. The Nasdaq lagged, losing 0.6% for the week after a near 20% drop in shares of
Apple
(AAPL) - Get Report
.
"The big question is if this is a short-term correction in a bear market or are we still in a volatile bull market," said Art Hogan, chief market analyst with Jefferies. "The good news is that we looked at earnings that weren't from financial companies and we could see some bright spots on an otherwise bleak horizon."
Volume was strong while breadth was negative. On the
New York Stock Exchange
4.69 billion shares changed hands, as decliners topped advancers by a 10-to-7 margin. Volume on the Nasdaq reached 2.60 billion shares, with losers beating winners 8 to 7.
Traders were nervous over what the
Federal Reserve
will do when it convenes for a two-day meeting on Tuesday. Earlier this week, the Fed took the unusual step of making a 75-basis-point cut before its regularly scheduled meeting. The central bank said it made the move in light of a "weakening economic outlook and increasing downside risks to growth."
"There are questions being raised over whether the Fed will cut next week," said Robert Pavlik, chief investment officer with Oaktree Asset Management. "Stocks have been rebounding, which takes more pressure of the Fed, but we have to question whether this will be a long-term rally. If this recovery continues to move forward, there's an argument to be made that the Fed might not cut at all."
Last time out, the Dow climbed 108.44 points, or 0.88%, to 12,378.61. The S&P 500 was up 13.47 points, or 1.01%, at 1352.07. The Nasdaq gained 44.51 points, or 1.92%, to 2360.92.
Marc Pado, U.S. market strategist with Cantor Fitzgerald, said he was expecting to see more caution heading into the weekend.
"Technically, yesterday was day two of the reversal rally," said Pado. "It is still too early to be definitive, but we are at the point where the economic data is a reflection of where rates were and not considered an indication of the future."
Microsoft
(MSFT) - Get Report
fell into negative territory despite posting quarterly results late Thursday that beat estimates on both the top and bottom lines. The software giant also lifted its full-year forecast for earnings and revenue. After opening sharply higher, Microsoft ended down 31 cents, or 0.9%, at $32.94.
Two Dow components were out with quarterly results before the new session.
Honeywell
(HON) - Get Report
posted an 18% rise in fourth-quarter profits and
Caterpillar
(CAT) - Get Report
had a 14% increase in earnings from last year. Both matched the consensus forecasts. Honeywell was higher by 3.7% to $58.25, and Caterpillar was up 1% to close at $65.93.
Financials slipped after a
Reuters
report that
Goldman Sachs
(GS) - Get Report
would cut about 5% of its workforce, or about 1,500 employees. The investment bank said the information was misinterpreted, but shares of Goldman finished down 3.8% at $191.37.
Among subsector indices, the NYSE Financial Sector Index fell 2.1%, and the Amex Securities Broker/Dealer Index slid 2%.
Also in financials,
E*Trade Financial
(ETFC) - Get Report
rallied 8.1% to $3.76. The advance came after the company said it plans to cut costs in 2008 by $360 million following a fourth-quarter loss of $1.7 billion.
Commerce Bancorp
(CBH) - Get Report
said that fourth-quarter profit fell by 47% from the year-ago period as credit losses swelled. Commerce, which is being acquired by Canada's
Toronto-Dominion Bank
(TD) - Get Report
, was down 0.8% to close at $36.85.
Shares of
Ambac Financial
( ABK) jumped early on speculation billionaire investor Wilbur Ross would acquire the troubled bond insurer. By the end of the session, the stock was unchanged at $11.33. Fellow bond insurer
MBIA
(MBI) - Get Report
lost 2.7% to $14.01.
Away from equities, U.S. Treasury prices rallied. The 10-year note was up 1-10/32 in price to yield 3.55%, and the 30-year bond was higher by 2-12/32 in price, yielding 4.26%.
Commodity prices were also stronger. Oil advanced $1.30 to close at $90.71 a share, and gold futures tacked on $4.90 to $910.70 an ounce.
Overseas, European stocks gave back some of the previous day's rebound. Germany's Xetra Dax and London's FTSE 100 dipped 0.1%. Asian markets surged overnight. Hong Kong's Hang Seng soared 6.7%, and Japan's Nikkei 225 rose 4.1%.