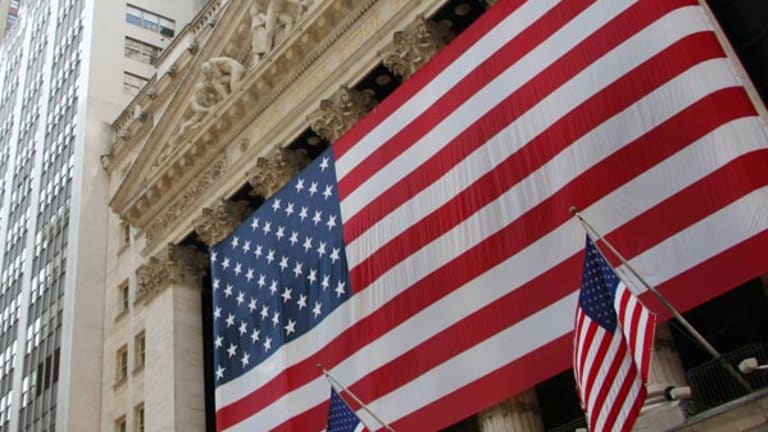 Stocks Slump as Crude Struggles to Hold $58
Stocks slump on Tuesday as crude oil struggles to hold onto a level above $58 a barrel.
NEW YORK (TheStreet) -- Stocks slumped on Tuesday as crude oil struggled to hold onto a level above $58 a barrel. 
A stronger U.S. dollar hit commodities which were viewed as more expensive to international markets. West Texas Intermediate crude closed 2.8% lower to $58.03 a barrel. Shares of Exxon Mobil (XOM) - Get Free Report, BP (BP) - Get Free Report, Royal Dutch Shell (RDS.A) and Chevron (CVX) - Get Free Report all were lower.
Equities were under pressure after signs of economic recovery exacerbated fears the Federal Reserve would hike rates sooner than expected. Data placed an emphasis on Fed Chair Janet Yellen's comments from Friday that a hike would come when the economy improved as expected. Click here for more.
The S&P 500 was down 1.2%, the Dow Jones Industrial Average fell 216 points or 1.2%, and the Nasdaq dropped 1.3%. The Volatility Indexundefined, or 'fear' index, jumped 20.5% to 14.61.
The U.S. dollar gained against a basket of international currencies on better-than-expected data on home prices and consumer confidence. The greenback has surged this year since it's viewed as a safe-haven asset as the Fed looks to tighten policy while the European Central Bank introduces stimulus.
"When you take a look at the data, it was supportive of Yellen's comments Friday -- certainly more supportive of raising rates than not," Paul Nolte, portfolio manager at Kingsview Asset Management, told CNBC.
New-home sales bounced back in April, climbing 6.8% to an annual rate of 517,000 after a poor performance in March due to winter weather. Economists had expected sales of 490,000.
U.S. house prices rose 0.9% in March, according to the Case-Shiller Home Price Index, pulling the year-on-year increase up to 5%. Nineteen of 20 cities measured showed gains, led by a 3% increase in San Francisco. The increase was as economists had expected.
Durable goods orders dropped 0.5% in April after jumping 4.4% in March. The reading was in line with economists' forecasts. Excluding transportation, durable goods rose 0.5% after a 0.4% increase in March, better than an expected 0.3% increase.
Orders for core capital goods climbed 1% for a second straight monthly gain, a sign of increasing business investment.
"April's durable goods figures confirm that, following the earlier disruption caused by the unseasonably cold weather in the Northeast and the West Coast port dispute, the factory sector was getting back on track as spring approached," said Paul Ashworth, chief economist at Capital Economics.
Consumer confidence came in better than expected in May, ticking up to 95.4 from a reading of 95.2 in April. Economists had expected the measure to ease to 95.1.
"The pickup in consumer confidence is particularly encouraging as it could be a early indication that a rebound in consumer spending activity -- which will be essential to resuscitating the flagging U.S. economic recovery -- could be on the horizon," said Millan Mulraine, deputy head of U.S. strategy at TD Securities. 
Deals news dominated business headlines on Tuesday. Time Warner Cable (TWC) added 6.9% after Charter Communications (CHTR) - Get Free Report announced a $55 billion deal to acquire the cable operator. The deal marks a 14% premium to Time Warner's closing price on Friday. The acquisition, if approved, will make waves in the cable industry by combing the second- and fourth-largest cable operators in the U.S. Click here for more.
EMC (EMC) agreed to acquire privately held cloud software company Virtustream for $1.2 billion. The deal is expected to close in the third quarter and should add to revenue and earnings in 2016.
General Motors (GM) - Get Free Report was slightly lower on a Wall Street Journal report that said federal prosecutors are closing in on criminal charges against the automaker over a faulty ignition switch linked to more than 100 deaths. Click here for more.
Twitter (TWTR) - Get Free Report was slightly higher on reports the social network attempted to purchase mobile reader app Flipboard for $1 billion. The company had reportedly been in ongoing negotiations, though they have since hit a snag, according to Re/code. Click here for more.
AutoZone (AZO) - Get Free Report shares were on watch after the company reported a mixed quarter. The car parts retailer reported same-store sales up 2.3%, though overall revenue of $2.49 billion missed by $10 million.
Apple (AAPL) - Get Free Report is seeing a C-suite shakeup as designer Jony Ive has been named chief design officer. Ive's day-to-day management duties will be assumed by executives Richard Howarth and Alan Dye on July 1.
Amazon (AMZN) - Get Free Report will start paying taxes in a number of European countries where it has large operations, halting the practice of funneling sales through low-tax haven Luxembourg. The European Union has been in battle with tech companies including Apple and Amazon for making low-tax agreements in the eurozone.