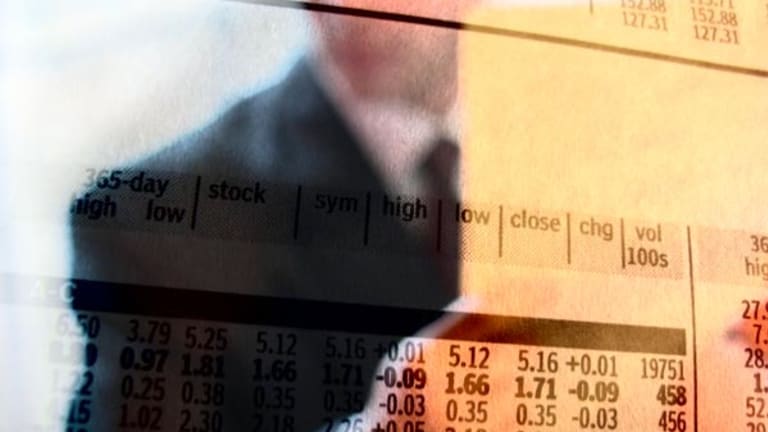 Stocks Seesaw to Flat Close
The market has an up-and-down session as the Supreme Court put the brakes on the sale of Chrysler and a Nobel-prize winning economist says the recession's end is near.
The market has an up-and-down session as the Supreme Court put the brakes on the sale of Chrysler and a Nobel-prize winning economist says the recession's end is near.
Updated from 4:42 p.m. EDT
Stocks in New York closed near the flat line on Monday after an up-and-down session as the Supreme Court put the brakes on the sale of
Chrysler
to
Fiat
and Nobel-prize winning economist Paul Krugman predicted the recession's end is near.
The
Dow Jones Industrial Average
added 1.36 points, or 0.02%, to 8764.49, while the
S&P 500
lost 0.95, or 0.1%, to 939.14. The
Nasdaq
fell 7.02 points, or 0.4%, to 1842.40.
Stocks spent most of the day in negative territory but reversed about the same time media reports emerged that Nobel Prize-winning economist Paul Krugman said the U.S. economy will
from the recession by the end of the summer.
"I would not be surprised if the official end of the U.S. recession ends up being, in retrospect, dated sometime this summer," Krugman said in a lecture at the London School of Economics. "Things seem to be getting worse more slowly. There's some reason to think that we're stabilizing."
The late-day rally smoldered back to the flat line, however, about the time the Supreme Court issued a stay, effectively halting the sale of Chrysler to Fiat for now.
It's been a pretty thin day of trading, and the market has been getting pushed around both directions without a lot of volume either way, said Michael James, managing director at Wedbush Morgan Securities. "But this market is very resilient right now, and just not wanting to really go down."
Pressures on commodities-related stocks and some worries that the
Federal Reserve
might opt to lift interest rates, also played negatively on equities early on. "But no matter what's thrown at this market, buyers always seem to step up," says Ryan Detrick, senior technical strategist at Schaeffer's Investment Research. "It's impressive."
Banks were higher throughout the day after a lower start. The KBW Bank Index rose 1.3% as the deadline has arrived for
capital-raising plans
at the U.S. banks found in need after the stress tests. It is also a deadline for management reviews at said banks.
At the same time, the government is expected to announce that other banks, which performed better on the stress tests, are cleared to repay taxpayer aid.
Bank of America
(BAC) - Get Report
added 1.7%,
JPMorgan Chase
(JPM) - Get Report
climbed 2.4%, and
Wells Fargo
(WFC) - Get Report
tacked on 2.7% on the Dow.
On the downside,
Alcoa
(AA) - Get Report
and
DuPont
(MCD) - Get Report
were two of the worst performers on the Dow, losing 1.6% and 2.9%, respectively.
They were joined by McDonald's, which fell 1.9%. The hamburger-maker said same-store sales rose 5.1% in May, less than the 6.9% increase it saw in April, and that U.S. same-store sales increased slightly less than expected. The golden arch icon warned that foreign exchange rates could have a negative impact of 8 cents to 9 cents a share for the quarter and about 20 cents a share for the year.
Shares of
Apple
(WFC) - Get Report
, which is holding its worldwide developers conference, were down 0.6%.
Apple introduced the new iPhone 3G S, its fastest, most powerful iPhone yet. A 16-gigabyte version of the 3G S will cost $199, a 32GB model will cost $299, and Apple cut the price of its 8GB iPhone 3G to $99. It also introduced two lower-priced
laptops
and also lowered the price of another.
Aside from new products, investors were also watching for any indication of if and when Steve Jobs might return to the helm. Apple has previously said he would be back as chief executive at the end of June but did not provide further detail on Monday.
The major indices ratcheted up 2% to 4% last week as better-than-expected data fueled buying. Perhaps also weighing on the market Monday, there was no data on the docket for the start of the week.
"We've strung together some good weeks, but we're in an air pocket for data," says Bill Stone, chief investment strategist at PNC Wealth Management. "Since macro does seem to be driving the market one way or the other, when you have a slow week of data you get a good bit of profit-taking."
Economically sensitive sectors, such as industrials, that did better last week with the far-better-than-anticipated jobless data are showing more weakness today, says Stone.
In other bank news,
Barclays
(BCS) - Get Report
that it is in talks with
BlackRock
(BLK) - Get Report
as it aims to sell its Global Investors business. The U.K. bank said, however, that it's received interest from a number of parties. The
Financial Times
reported that
Bank of New York Mellon
(BK) - Get Report
could be interested if a deal is not reached with BlackRock.
Barclays fell 1.5%, while BlackRock added 3.4% and Bank of New York Mellon climbed 1.1%.
Also,
SunTrust
(STI) - Get Report
shares were up about 2.2% after it said it has raised almost all of the $2.16 billion required of it to satisfy the stress test results.
Outside of the financials,
Palm
(PALM)
and
Sprint Nextel
(S) - Get Report
were also in focus as the Pre went on sale over the weekend. Palm shares sold off 6.5% Monday.
Meanwhile,
Qwest Communications
(Q)
said bids for its long-distance business
to warrant a sale, sending shares down 5.8%.
The dollar was stronger against the yen, but weaker against the pound and euro. Longer-dated Treasuries were mixed with the 10-year falling 14/32, yielding 3.88%, and the 30-year rising 6/32 to yield 4.62%.
Crude oil rose 35 cents to $68.09 a barrel, while gold lost $10.10 to settle at $952.50 an ounce.
Stocks overseas were mostly lower, with sharp losses in Europe. London's FTSE 100 and Frankfurt's Dax were down 0.8% and 1.4%, respectively. In Asia, Japan's Nikkei was up 1%, while Hong Kong's Hang Seng fell 2.3%.