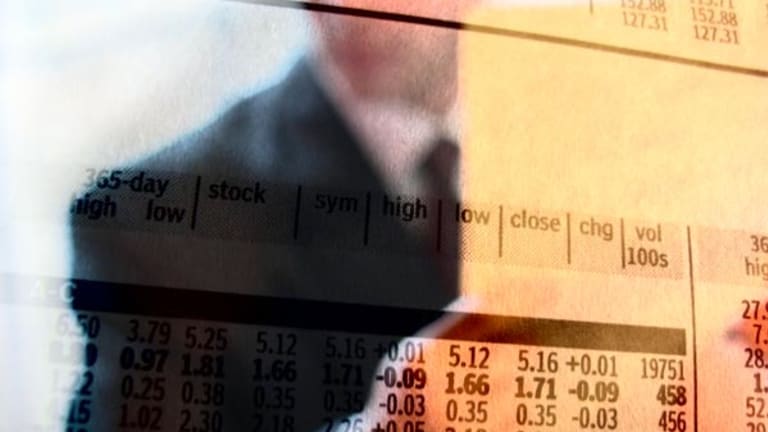 Stocks See Post-Katrina Pop
Falling energy prices help the Dow gain more than 140 points.
Updated from 4:11 p.m. EDT
Stocks closed just short of their session highs Tuesday as oil's sharp decline heartened traders who spent much of last week trying to sort through the effects of Hurricane Katrina on the Gulf Coast and the U.S. economy.
The
Dow Jones Industrial Average
ended up 141.87 points, or 1.36%, to 10,589.24, while the
S&P 500
added 15.37 points, or 1.26%, to 1233.39. Both indices had their best sessions since July 8. The
Nasdaq Composite
gained 25.79 points, or 1.2%, to 2166.86, posting its biggest point gain since July 19. The 10-year Treasury lost 13/32 in price to yield 4.08%, and the dollar rose against the yen and euro.
"The drop in energy prices and the improvement along the Gulf Coast welcomed investors back from the holiday weekend," said Robert Pavlik, chief investment officer with Oaktree Asset Management. "If the situation hadn't improved in the Gulf region, we would've seen a different reaction today. Regardless, today's action showed that market participants still see some value and bargains and still have faith in the market and economy."
The Dow was boosted by
Home Depot
(HD)
, which gained 3.4%, and
American Express
(AXP)
, which rose 2.9%.
About 1.41 billion shares changed hands on the
New York Stock Exchange
, with advancers beating decliners by a 12-to-5 margin. Trading volume on the Nasdaq was 1.44 billion shares, with advancers outpacing decliners 2 to 1.
Crude for October delivery dropped $1.61 to close at $65.96 a barrel after a pledge from the International Energy Agency to add 60 million barrels of oil to world markets to help ease the Katrina crunch. Gasoline futures, which added 30% last week, were down 13 cents at $2.05 a gallon.
"The situation along the Gulf Coast seems to have been brought under control over the weekend," said Ken Tower, chief market strategist with CyberTrader. "Will the
Federal Reserve skip an interest rate rise at its upcoming meeting? Will gas prices come back down? Just how much of the economy was affected by the hurricane? So many questions, and questions are not kind to the bulls."
According to the U.S. government, roughly 1 million barrels of daily crude production remains offline in the Gulf Coast, down from about 1.4 million barrels on Sunday. While
Marathon Oil
(MRO)
restarted two storm-damaged refineries over the weekend, four other processing plants in the region look likely to be closed for weeks or months.
The same time frame is being placed on efforts to pump floodwaters out of New Orleans, where the Army Corps of Engineers reported success Monday in plugging holes in the protective levees that were pierced by the Aug. 29 storm. President Bush made his second tour of the battered Gulf Coast on Monday.
Asked about the potential death toll in New Orleans, Mayor Ray Nagin said Monday: "It wouldn't be unreasonable to have 10,000."
Wal-Mart
(WMT)
says all but 18 of its Gulf Coast stores have been reopened and that 65% of its 340,000 area employees have been contacted. The discount chain has warned that September sales could be hurt by the storm. Wal-Mart shares gained $1.14, or 2.6%, to $45.69.
Meanwhile,
Walgreen
(WAG)
said 49 of its 74 stores are still closed along the Gulf Coast because of Hurricane Katrina, and the drugstore operator will incur expenses in the fourth quarter for the shutdowns. The amount of expenses from the loss of inventory and property hasn't been determined, and the company isn't sure when its stores will reopen. Walgreen finished up 65 cents, or 1.4%, at $45.78 after opening lower.
In another Katrina-related warning,
Carnival
(CCL)
said lost business and the cost of chartering ships to aid in the relief effort will shave 5 cents off its per-share earnings, mostly in the fourth quarter.
Entergy
(ETR)
, whose utility holdings encompass New Orleans, on Tuesday withdrew its financial guidance for this year and next, citing remediation costs in the Southeast. The company has "sufficient liquidity" to pay its bills.
On the economic front, the Institute for Supply Management said its nonmanufacturing index rose to 65.0 for August. Economists expected the index to have dipped to 60.0 last month from 60.5 in July.
"The ISM number is pre-Katrina, and the information may not have much of an effect on the market," said Peter Cardillo, chief market analyst with S.W. Bach & Co. "Still, the aftermath of Katrina is the main focus."
Stronger sectors Tuesday included homebuilding, retailers, biotech and airlines. Oil refiners and drillers were among the laggards.
Away from the storm, an independent board committee of
Chiron
( CHIR) says
Novartis'
(NVS)
$40-a-share takeover offer is too low. Novartis offered roughly $4.5 billion for publicly held shares of Chiron last week. Chiron gained 72 cents, or 1.7%, to $43.51.
XM Satellite Radio
( XMSR) plans a new talk and lifestyle channel aimed at women featuring daily radio broadcasts of
The Ellen DeGeneres Show
and
The Tyra Banks Show
. The channel is slated for an October launch. XM rose 66 cents, or 1.9%, to $35.14.
American Eagle Outfitters
( AEOS) said its board has authorized an additional 2.1 million shares for its repurchase program. The company already had 1.4 million shares available for repurchase. American Eagle was up 61 cents, or 2.4%, to close at $26.06.
Among the companies reporting quarterly results,
JoS. A Bank Clothiers
(JOSB)
said second-quarter earnings rose to $5.3 million, or 37 cents a share, beating the Thomson First Call consensus of 33 cents a share. The retailer also provided fiscal-year earnings guidance in a range between $2.15 and $2.19 a share, which would top the consensus estimate. The stock climbed $2.34, or 5.6%, to $43.86.
Lehman Brothers upgraded shares of
Cisco
(CSCO)
to overweight from equal weight, citing demand that looks solid in the seasonally weak first quarter. The brokerage maintained a $21 price target for the stock. Cisco added 48 cents, or 2.7%, to $18.20.
Banc of America upgraded
Coca-Cola
(KO)
to buy from neutral, raising the stock price target to $48 from $45. The firm cited better-than-expected volume growth for the year and expects higher profit growth in 2006. Coca-Cola was up 62 cents, or 1.4%, to finish at $44.52.
Overseas markets were mixed, with London's FTSE 100 adding 0.4% to 5359 and Germany's Xetra DAX rising 1.2% to 4968. In Asia, Japan's Nikkei lost 0.3% overnight to 12,599, while Hong Kong's Hang Seng fell 0.4% to 15,161.
To view Gregg Greenberg's video take on today's market, click here
.