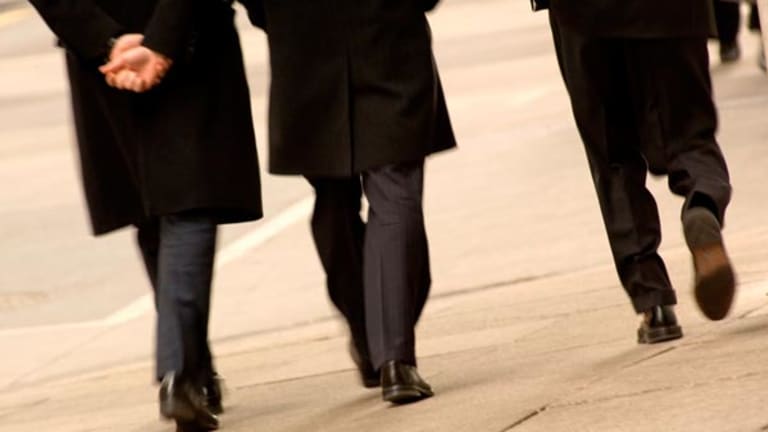 Stocks Creep Higher as Fed's Beige Book Muddies Rates Outlook
Stocks creep higher on Wednesday afternoon on hopes the latest read on the U.S. economy could stay the Federal Reserve's hand in next raising rates.
Stocks creep higher on Wednesday afternoon on hopes the latest read on the U.S. economy could stay the Federal Reserve's hand in next raising rates.
Stocks crept higher Wednesday afternoon on hopes the latest evaluation of the U.S. economy could stay the Federal Reserve's hand on interest rates.
The S&P 500 was up 0.17% and the Dow Jones Industrial Average rose 0.07%. The Nasdaq added 0.17%.
The release of the central bank's Beige Book, which gives an overview of the economy, showed most of the Fed's 12 districts reported "modest" growth since mid-April, except for Chicago and Kansas City, which said growth had slowed, while New York noted growth was flat.
While most U.S. industries expanded, some did so sluggishly. The services sector plowed on, though one national firm said growth appeared "disappointingly stable." Employment grew modestly across the districts, albeit with wage and price pressures. 
Investors have been on the lookout for any data that may give the Fed pause in raising rates at coming meetings ever since the majority of Fed members suggested a summer rate hike is on the table. A June rate hike currently has a 23% probability, according to CME Group.
Construction spending declined 1.8% in April, coming back from a solid March. The decline fell well short of estimates for a 0.7% increase. The surprise drop was mostly due to unexpectedly weaker residential spending, which dropped 1.5%, according to the Commerce Department. Public construction spending slid 2.8%. 
Disappointing construction spending led Barclays analysts to downgrade their second-quarter GDP estimates to 2.2% from 2.6% at the end of May. 
U.S. manufacturing slightly recovered in May, though underlying signs of weakness remained. Manufacturing rose to 51.3 in May from 50.8 in April, according to the Institute for Supply Management's index, above estimates for a decline to 50.2. A level above 50 indicates expansion.
"The details of the report were far less encouraging than suggested by the headline strength, given that the swing factor was the big move in suppliers' deliveries sentiment," Millan Mulraine, deputy chief U.S. macro strategist at TD Securities, wrote in a note.
Two fewer selling days in May compared to a year earlier contributed to less foot traffic in manufacturers' showrooms. Ford (F) - Get Report reported a nearly 6% decline in total vehicle sales over the month. General Motors (GM) - Get Report suffered an 18% decline in overall sales, tied to a 13% drop in retail revenue. 
Fiat Chrysler (FCAU) - Get Report managed to lift sales by 1.1% over the month, thanks to a surge in demand for its Jeep brand. Overall sales had their best May in 11 years, driven by a 14% jump in sales for Jeeps.
More signs of a weak manufacturing sector emerged from China overnight. A closely watched index monitoring China's manufacturing sector showed another decline in May, the 15th straight month in contraction territory. The Caixin Purchasing Managers' Index, a nonofficial measure compiled with Markit Economics, settled at 49.2 in May, down from 49.4 in April.
The measure conflicts with official data showing manufacturing expansion in the world's second-largest economy, a worrying disconnect for investors uncomfortable with uncertainty. The government's data showed manufacturing PMI unchanged at 50.1 in May, just above the 50-level indicative of expansion.
Fresh worries over China sent crude oil prices lower. Supply worries were already pressuring commodities as Organization of Petroleum Exporting Countries ministers gathered in Vienna to discuss the demand-supply imbalance. West Texas Intermediate crude oil dropped 0.2% to $49.01 a barrel on Wednesday.
"The crude complex is heading lower to start the day as any lingering expectation of meaningful OPEC action at tomorrow's meeting fades," said Robbie Fraser, commodity analyst at Schneider Electric. "With both Brent and WTI prices trading near $50/bbl and U.S. crude production steadily falling since mid-January, Saudi Arabia and other [Gulf Cooperation Council] members should see little reason to change course."
Nike (NKE) - Get Report weighed on the Dow Jones index after two separate downgrades. Bank of America (BAC) - Get Report downgraded the footwear retailer to neutral from buy, noting that the company is losing market share and that future orders may have peaked. Morgan Stanley (MS) - Get Report downgraded the stock to equal weight with a $60 price target and said that growth headwinds are building.
Vera Bradley (VRA) - Get Report fell 1% after beating first-quarter estimates but guiding for a miss in its second quarter. The handbag and accessories retailer earned 6 cents a share in its recent quarter, a penny above estimates, though revenue fell short of forecasts. Second-quarter earnings guidance between 13 cents and 15 cents a share missed forecasts of 18 cents.
Demandware (DWRE) surged more than 50% after Salesforce.com (CRM) - Get Report agreed to buy the enterprise cloud-software company for roughly $2.8 billion. Salesforce will offer $75 a share, a 56% premium to Tuesday's close. The acquisition is expected to close in the second quarter ending in July.
Alibaba (BABA) - Get Report fell 4% after its largest shareholder, SoftBank, said it planned to sell at least $7.9 billion of its stake. SoftBank's new stake will amount to around 28%, down from 32%.